Xiao Zhan Won The Most Handsome Man of 2020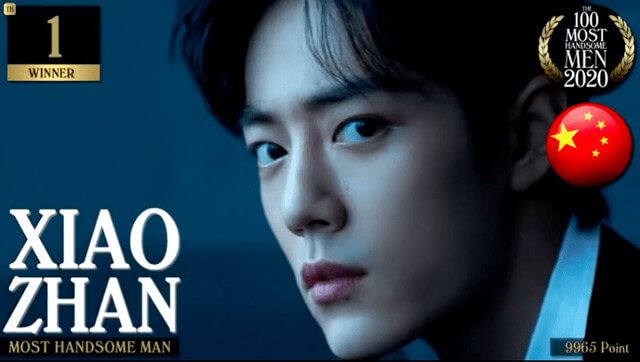 The first person in Asia! In the "2020 World's 100 Most Handsome Man" selected by TOP BEAUTY WORLD, Xiao Zhan won the title with a high score of 9965 and was the first Asian to win the title.
TOP BEAUTY WORLD's scoring criteria is based on the proportion of facial features (50%), fan votes (30%), combined with personality, body, charity work, and wisdom (20%). Previously, the man who won the most handsome man in the world were Hollywood artists, including Robert Pattinson, Leonardo DiCaprio, Tom Cruise, Chris Hemsworth, and others.

In China, Xiao Zhan took the top spot, followed by Wang Yibo who took 12th place. Others on the list included Huang Xuxi (28th), Yang Yang (30th), Jackson Wang(31st), Lu Han(42nd), Cai Xukun (49th), and Kris Wu(55th).
Related Posts
Xiao Zhan (Sean Xiao) Profile

Is Xiao Zhan and Wang Yibo's Relationship Getting Worse?

Xiao Zhan Dramas, Movies, and TV Shows List

Xiao Zhan Photos

Xiao Zhan Party Denied Rumors of Dating, Getting Married And Having A Baby Secretly.

What A Pity Of Xiao Zhan And His Girlfriend In College

How Is the Relationship Between Xiao Zhan, Yang Zi?

Wang Yibo Xiao Zhan's Controversial Interactions - Another Infighting Between "Bojun Yixiao"?

Did X NINE Disband? Xiao Zhan, Xia Zhiguang are going their own way.

Xiao Zhan's Ideal Type Is Disclosed. Do You Meet?

What's Xiao Zhan and Li Qin Relationship?

Xiao Zhan Ranked 1st, Wang Yibo 2rd - The Most Popular Chinese Actor in Thailand

Fans Worry Xiao Zhan And Ren Min Will Fall In Love Because Of "The Longest Promise"

Xiao Zhan, Wu Xuanyi Staged Mutual Dislike On The Press Conference Of The "Douluo Continent"

Xiao Zhan And Wang Yibo Become Competitor, "Douluo Continent" and The Legend of Fei" May Be Aired at The Same Period

Xiao Zhan Helped Yang Zi With Her Dress On Weibo Night, "The Oath Of Love" CP Is So Sweet.

Will Xiao Zhan, Crystal Liu Yifei Collaborate On A New Drama?

Xiao Zhan's 3 TBA dramas occupied the expectation list 1, 2, 8 places.

Xiao Zhan Won The 2020 Asia Pacific's Most Handsome Face

Xiao Zhan, Yang Zi: "The Oath of Love" Will Be Delayed-Release? HunanTV Confirmed It