Xiao Zhan Helped Yang Zi With Her Dress On Weibo Night, "The Oath Of Love" CP Is So Sweet.
The Weibo Night let a lot of fans look forward to their favorite Cp can be in the same camera. "The Oath Of Love" let a lot of people began to ship Xiao Zhan and Yang Zi Cp. Their interaction on Weibo Night made fans feel sweet.
When they went up to the stage to receive the award, Xiao Zhan was a gentleman to help Yang Zi carry the hem of her dress. Yang Zi smiled back and looked sweetly at Xiao Zhan, this picture really like a wedding site that the groom helps the bride carry the dress.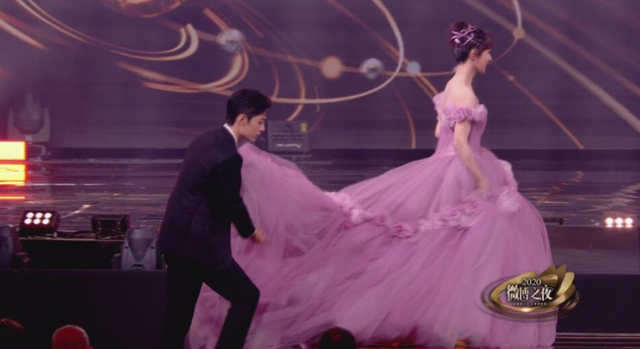 All the time, Xiao Zhan is always avoiding close interaction with female celebrities. This time he helped Yang Zi to carry the dress hem is really too sweet. There are two reasons: 1 because he is really a gentleman. 2. because "The Oath Of Love" will soon be broadcast.
They also chatted on the stage, the relationship between them is really good. They both have cheerful personalities. When they were shooting "The Oath Of Love", there are a lot of interactions between them. There were even several kissing scenes.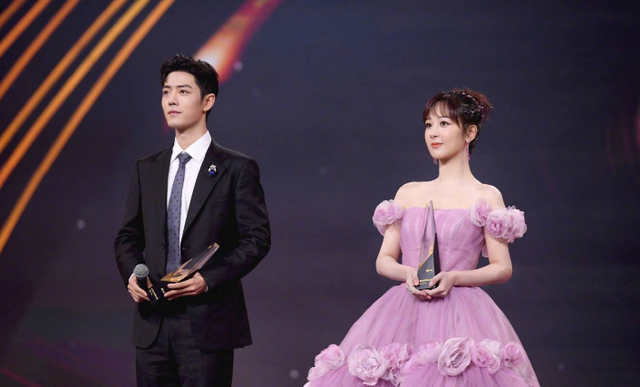 "The Oath Of Love", although doesn't have much publicity, but the popularity of them, even without publicity also has huge attention.
This time Xiao Zhan and Yang Zi have got the Weibo KING and QUEEN again, we can know how popular they are. They cooperate in a drama, the ratings naturally will not be bad. Look forward to the cooperation between them, and hope that "The Oath Of Love" will be broadcast soon.
Related Posts
Xiao Zhan (Sean Xiao) Profile

Yang Zi (杨紫) Profile

How Is the Relationship Between Xiao Zhan, Yang Zi?

Is Xiao Zhan and Wang Yibo's Relationship Getting Worse?

Xiao Zhan, Yang Zi: "The Oath of Love" Will Be Delayed-Release? HunanTV Confirmed It

Who Is Yang Zi's Boyfriend? Two Relationships Got A Lot Of Attention

Yang Zi, Xiao Zhan: What Kind Of Chemistry Will They Bring In "The Oath of Love"

Yang Zi Photos

Xiao Zhan Photos

What A Pity Of Xiao Zhan And His Girlfriend In College

Does Li Xian Like Yang Zi? How Is Their Relationship?

How Is Yang Zi and Cheng Yi's Relationship?

Yang Zi Dramas, Movies, and TV Shows List

Xiao Zhan Dramas, Movies, and TV Shows List

How is Yang Zi's relationship with Zhang Wanyi, Deng Wei, Tan Jianci in Real life?

Lay Zhang Yixing, Yang Zi Relationship Is Suspected

Fans Worry Xiao Zhan And Ren Min Will Fall In Love Because Of "The Longest Promise"

Wang Yibo Xiao Zhan's Controversial Interactions - Another Infighting Between "Bojun Yixiao"?

Xiao Zhan's Ideal Type Is Disclosed. Do You Meet?

Yang Zi Is Dating Liu Xueyi? Netizens: Boring