L.O.R.D 2 – Chen Xuedong, William Chan
L.O.R.D 2 is an all-real CG fantasy film directed by Guo Jingming, starring Chen Xuedong, William Chan, Amber Kuo, Lin Yun,  Roy Wang, Karry Wang, Jackson Yee, and Wang Duo.
The film is based on Guo Jingming's original novel "Jue Ji / 爵迹" and tells the story of Yin Chen, Qi Lin, and his team as they rescue Ji Er Jia Mei and gradually uncover a huge conspiracy in the world of psionics.
Details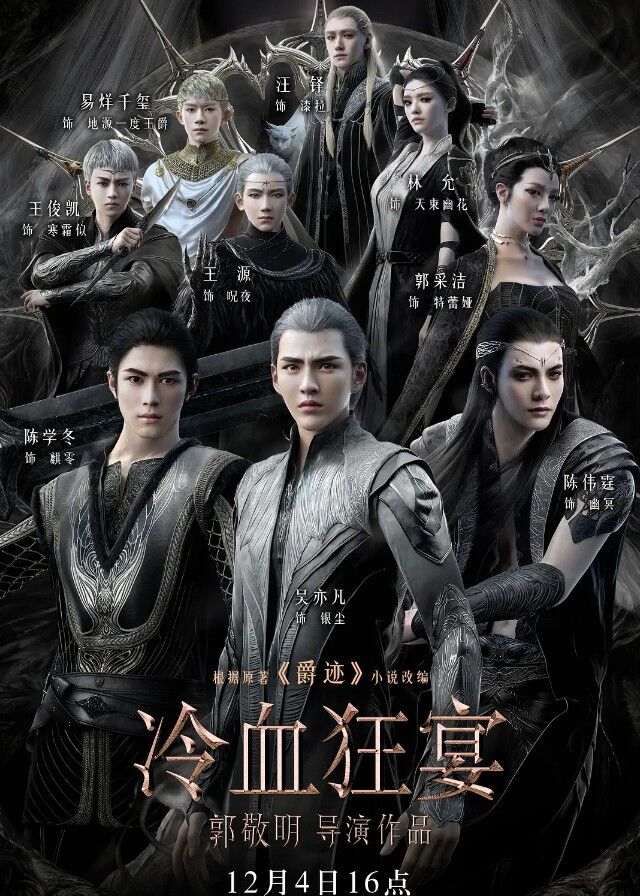 English Title: L.O.R.D 2
Chinese Title: 冷血狂宴, 爵迹2
Genre: Fantasy, Action, Drama
Duration: 129 min.
Director: Guo Jingming
Writer: Guo Jingming
Producer: Zhou Qin, Wu Liang, Liu Jun
Released Date: 2020-12-04
Boradcast Website: -
Cast
Synopsis
In order to fulfill the last wish of the Sixth Lord, Xi Liu Er, Yin Chen, Qi Ling, Tiant Shu You Hua, and others decided to embark together to rescue the former Lord, Ji Er Jia Mei Shi, who was sealed by the Silver Priest.
Overcoming numerous obstacles, they arrived at the place of imprisonment, only to unfortunately encounter the most powerful assassins dispatched by the Silver Priest: You Ming, Te Lei Ya, and Qi La.
A direct confrontation was inevitable, and the darkest secrets of the entire Ya Si Lan Empire would gradually come to light.
Reviews
You May Also Like
Related Posts
Will TFBOYS Be Disbanded?

Company Denied Rumors: TFBOYS Will Be Disbanded

Who is William Chan Girlfriend? Two Relationships Were Famous To Many People

Ouyang Nana, Zhai Zilu Relationship was Exposed?

How Is Yang Mi And William Chan's Relationship?

William Chan's Relationship Was Exposed? Dating Bruna Marth,A Brazilian Model?

William Chan, He Sui Were Exposed To Be In A Relationship

Jackson Yee Photos

Does Karry Wang have a girlfriend?

William Chan, Gulnazar Ever Had A Relationship?

Jackson Yee's "A Little Red Flower" has taken ¥800 million at the box office

Jackson Yee's 39 Quotes

Amber Kuo Dramas, Movies, and TV Shows List

Wang Duo Dramas, Movies, and TV Shows List

Chen Xuedong Dramas, Movies, and TV Shows List

Roy Wang Dramas, Movies, and TV Shows List

Lin Yun Dramas, Movies, and TV Shows List

Karry Wang Dramas, Movies, and TV Shows List

William Chan Dramas, Movies, and TV Shows List

Jackson Yee Dramas, Movies, and TV Shows List