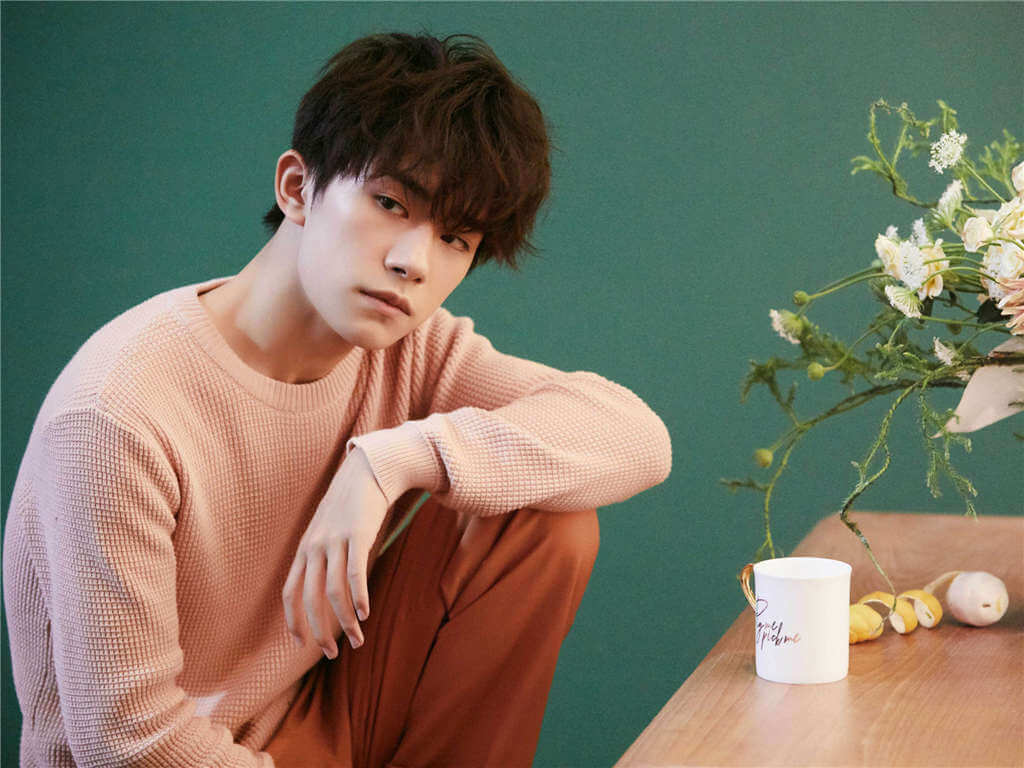 1. In the future, I will assure you that I will walk every step of my present, so I also hope that you will continue, with great interest, to engage with the world and keep walking on the road full of flowers, right?
2. Only you can be completely responsible for yourself and don't let yourself down.
3. We are all family. Take a serious stance. Sincerity and persistence will eventually lead us to where we should go. Don't look back, dash together with all your strength! I am TFBOYS Jackson Yee. Two years is fast. Let's cheer together in the future!
4. Do what you can do as hard as you can, don't let yourself down, and don't let the people who like you down.
5. I think myself just like the glutinous rice cake , which take a long time to fry to get the flavor.
6. It's hard to do something you like, so we must persevere to achieve it.
7. We are still young and do not fall in love, but we help others to fall in love.
8. If I am lucky enough to be with you in time, I will not be afraid of the ruthless world and the rush of time.
9. You want to hear the joke again? Well, this time the joke is done in one sentence! That is, from now on, SpongeBob SquarePants and Patrick Star have become friends forever.
10. Just run, teenagers, smiling softly, you have big dreams even though you are small.
11. I read the book "The Little Prince" in my junior year because many fans gave it to me as a birthday present. I also watched it again from beginning to end. What touched me most (in the movie) was the part where the pilot and the little prince are separated, which was particularly touching because I couldn't let go.

The friendship between the little fox and the little prince in the film is very touching, the little fox tells the little prince a lot of truth, just like a friend and a teacher. When I encounter difficulties in life, there will be friends who tell me the truth around to help me. I am most impressed by the words of the little fox, "What is really important cannot be seen with the eyes, the essence of things can only be seen with the mind."
12. I'd like to share one of my favorite lyrics recently, "In the blink of an eye, I suddenly see your face as if it were a lifetime ago", which struck a chord with me when I heard it. Yes, it's been 3 years, and looking back, we have really grown up to look like adults. It seems like yesterday when I think back to the child who knew nothing 3 years ago. When I was training half a month ago, listening to the old music, I thought about how often I stayed up until midnight to practice that dance. Now it seems that the old self really had that silly energy. However, I'm also glad that I was so desperate, and I'm also glad that there are you guys, thanks to you, so that I feel rewarded for my efforts, but also let me feel that the accumulation of so many years, not in vain.
13. "I have a low-key superhero living inside me," he said. "Superpowers, like talents, are a surprise from God, and there's no point in choosing in advance what you've been given, accepting it, and then getting better at it. And retaining a certain amount of private space and time is a responsibility to yourself and to the next person.
14. What do you know about please, what do you know about thank you, what do you know about I love you? Why do you care if I get hurt?
15. In fact, as a child, I'm a little tired for the high expectations of my parents.
16. I'll play hide-and-seek with you, but you shouldn't go away because you can't find me.
17. There is not so much overnight success, all the success are tempered into a steel in the fight!
18. So, I want to say to my past self: I'm sorry for only seeing you in a bad way before and giving you a lot of pressure, and for complaining and blaming because I was so eager to make you better, I'm sorry yeah. Now, I want to touch your head and tell you: what you did then and what you do now are things that people who love you are proud of, and you have to follow me and keep on going!!
19. May you have an unforgettable high school times and memories, after all, high school life is very important to everyone.
20. Do you know the Cantor-Bernstein-Schroeder theorem? Do you know the Fabry-Perodot interference at the speed of light? Do you know how to write the mathematical expression of the single-particle Schrödinger equation? You can't even know the simplest second-order linear partial differential equation, and you still have the face to read books in the exclusive study room?
21. Ten years later, no matter I am rich or poor, I will definitely go to the concert by appointment.
22. Want to be the easy bear in your hand, can not talk but can be upside down when you are not happy.
23. We are all lucky to have you guys behind us all the time, despite the many obstacles. From the TFBOYS debut promo to the first album, the first time on the show, the first time in the movie, the three of us has had you all along the way of our growth. We are the lucky guys who have gathered so much love in one, you are the thousands of eyes behind us, inspiring us to move forward. We also gather everyone's strength together to do public service and give love together, and we also do a lot of meaningful things. Every time I see the power of awakening so many people, I feel inexplicably exciting.
24. I hope to leave a very impressive mark on the world through my efforts.
25. In fact, after growing up, you are just you. I have an idol, in fact, he is a benchmark to me. I want to progress with him, and then work hard together. You want to go this way because you like it, so you keep insisting on it, but it is certainly very tired in the middle because you really like this, so you can not give up, you have to continue to go on.
26. The dubbing is very different from the actual performance. The actual performance has expressions, physical cooperation, but to dubbing, it is very obvious when the audience hears a little bit of emotion which is not right, so the dubbing is more difficult.
27. There is no shortcut to the road to success, if there is a road, the name of this road should be called persistence.
28. Usually, the changes in a year are huge for a boy. From the first time I appeared in front of you, 3 years have passed, have I become the Jackson Yee I am satisfied with, have I become the Jackson Yee you are satisfied with?
29. If do not work hard, how to afford everyone's favorite.
30. While others are still laughing and playing around, I have learned to grow up independently.
31. Speaking of dreams, one day, we will open a concert in the big stadium. By then, I believe I can also remember the little bit of our growth together.
32. I understand that youth is to learn to be strong even while being hurt.
33. Because you watered your rose with your heart and spent time on her, she became unique in the universe. It is because you watered us with love and passion that we are unique and can become what we are.
34. This year, we are three years old! In addition to sighing at how time flies, there is a look back about how much we have grown in these 3 years. Where it gets better, where it is still not as good as it should be, is considered a total price of the year.
35. I was actually in the tree, and in the end I was the only one left to look up at the stars.
36. "If one day I become more complicated, can I still sing the picture in the song" Every time I hum this lyric, I will think, I wonder how many years later what we will be like, I wonder if there will be such people who will tolerate me and care about me? I'm a little shy to say this, so here's to the future of Jackson Yee, thank you!
37. Dream is something you want to do in your dreams and then wake up and try to make it happen.
38. Do not forget to give yourself a smile in the morning, a good life begins with a smile.
39. The demand for self is not reduced by age. The learning and accumulation along the way are moving more than wealth, and I will try to use my limited time and energy to consolidate again what I have already mastered.