Somewhere Only We Know – Kris Wu, Wang Likun
Somewhere Only We Know is a romantic film directed by Xu Jinglei, starring Kris Wu, Wang Likun, Xu Jinglei, Zhang Chao, Re Yi Zha, and Gordon Alexander.
The film tells the love story of two couples, Jin Tian and Peng Zeyang, Chen Lanxin and Joseph, who straddle two eras.
Details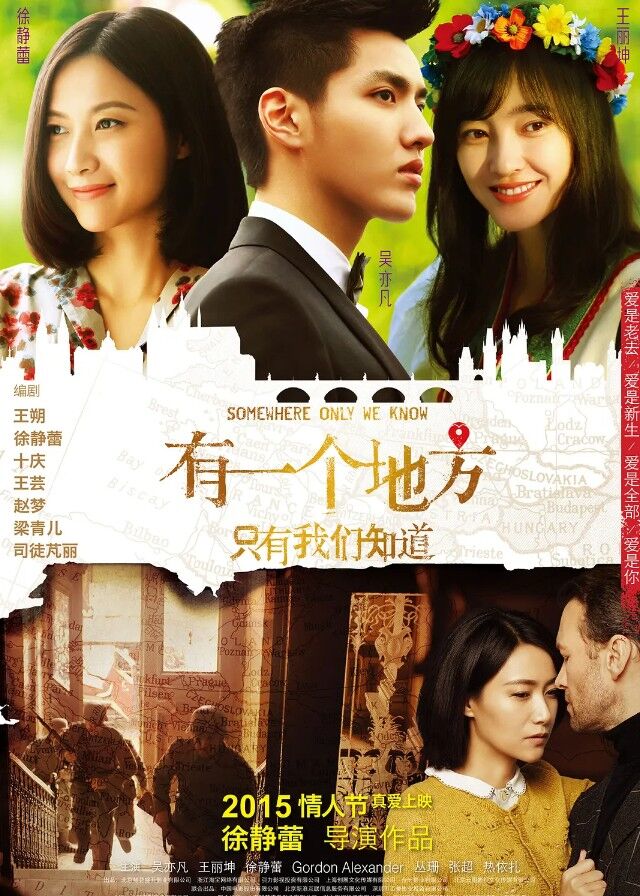 English Title: Somewhere Only We Know
Chinese Title: 有一个地方只有我们知道
Genre: Romance
Duration: 108 min.
Director: Xu Jinglei
Writer: Wang Shuo
Released Date: 2015-02-10
Boradcast Website: -
Cast
Synopsis
Jin Tian, a young white-collar worker, is going through the most difficult moment in her life: her boyfriend called off their wedding, and her beloved grandmother passed away, causing her heart to shatter. Heartbroken, she unintentionally finds herself in Prague, hoping to escape and heal her emotional pain. It is at this moment that Peng Zeyang enters Jin Tian's life.
Peng Zeyang is a cellist who lives with his mother and takes care of his own daughter. As Jin Tian and Peng Zeyang begin a romantic love story, another hidden love story from her grandmother's past slowly unfolds before her eyes.
Reviews
You May Also Like
Related Posts
Wang Likun Broke Up With Kenny Lin Gengxin, involved in the marriage rumor?

Kris Wu Yifan Has A New Girlfriend Named Chen Ziyi? Studio Defended His Privacy Rights

Who Is Claudia Wang Likun's Boyfriend? Did She get married?

Who is Du Meizhu? Dissatisfied Kris Wu's Denying Rumors, She Is Ready To Report

Did Kris Wu and Zhao Liying Have Ever Been In A Relationship?

SNH48 Member Zhang Danshan Exposed Chat Records With Kris Wu

Kris Wu Yifan was Sentenced to 13 Years For Rape Crime

Du Meizhu Had an Interview, Responding to Kris Wu's lawyer Statement

8 Most Anticipated C-Drama in 2021

Zhang Han, Wang Likun Build A Dream And Love In "One Boat, One World"

Kris Wu Yifan Was Involved In the Dating Rumors with Du Meizhu and Many Girlfriends

Kris Wu Responded To The Controversy Over His Private Life

Kris Wu Dramas, Movies, and TV Shows List

Wang Likun Dramas, Movies, and TV Shows List

Du Meizhu Threatened Kris Wu To Quit Chinese Showbiz

Kris Wu & Du Meizhu Scandal Update: She May Sent To Jail for Ten Years If She Signed The Agreement

Did Wang Likun Get Arrested due to her Fraudster Husband? Studio Urgently Denies the Rumor

The Incident of Kris Wu Yifan Affects JJ Lin and Wilber Pan, Their Studio Responded It

Kris Wu Lastest News: 10 Points Of Clarification Were Full Of Loopholes

Police Notice On Kris Wu and Du Meizhu Incident