Police Notice On Kris Wu and Du Meizhu Incident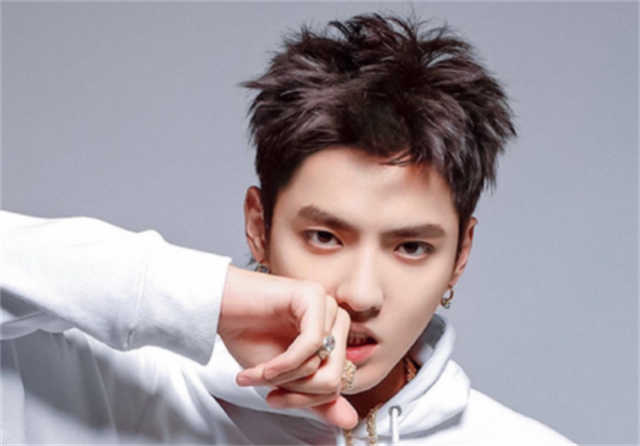 On July 22, Beijing police informed Kris Wu and Du Meizhu's incident investigation results. It shows that Kris Wu and Du Meizhu indeed had a sexual relationship, but there was another fraudulent personnel who manipulated the incident, the third-party Liu has been detained.
According to the notice, the briefing content focuses on the following: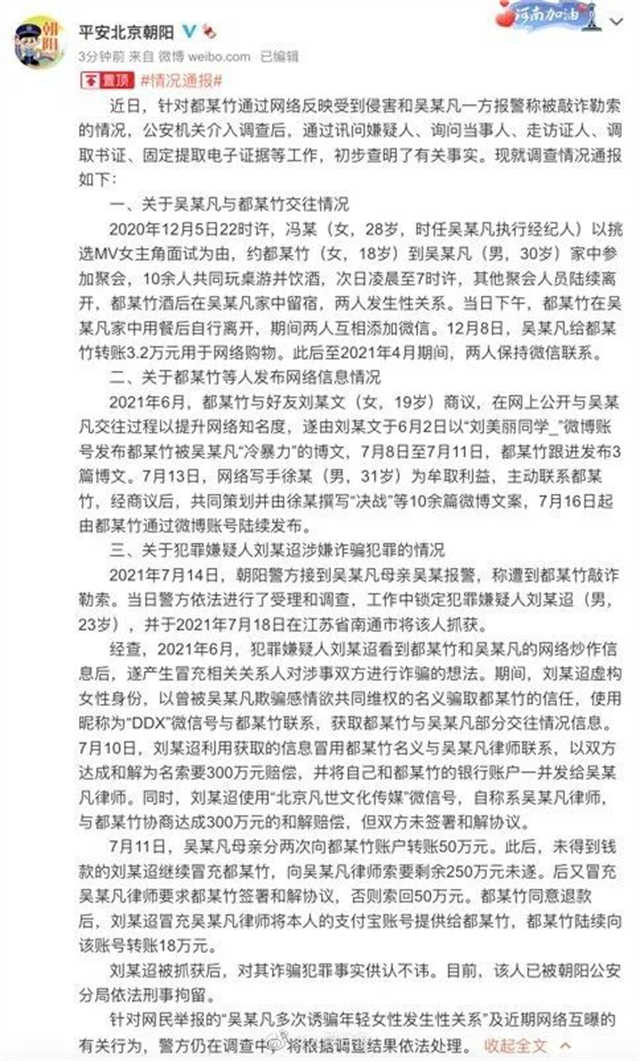 1. Kris Wu's agent had invited Du Meizhu to Wu Yifan's home for a party with the excuse of selecting an MV actress. They collected the phones, more than 10 people played board games and drunk together. After drinking, Du Meizhu stayed overnight and had a sexual relationship with Kris Wu.
On December 8th, 2020, Kris Wu gave Du Meizhu 33,000 RMB. From then until April 2021, they kept in touch with each other on Wei Chat.
2. In June, 2021, Du Meizhu hyped firstly on Weibo with a friend in order to enhance her popularity.
After that, the network writer Xu (male, 31 years old), for money, took the initiative to contact Du Meizhu, packaging and rendering of Du Meizhu's narrative and network material, writing more than 10 pieces of text, such as "duel". Then, Du Meizhu published them in her Weibo account one after another.
4. During the period, a fraud suspect Liu posed as the victim girls, Du Meizhu and Kris Wu's studio and swindled back and forth between the two parties, demanding 3 million RMB, while in fact, Kris Wu and Du Meizhu did not directly contact each other about the matter.
The suspect, Liu Moumou, has been arrested. Until Liu was arrested, he had benefited 180,000 RMB from the fraud!
5. Besides, for the netizens' report "Wu repeatedly lured young girls to have sex" and the recent exposure on the net and relevant behaviors, the police are still investigating.
Previously, Kris Wu and Du Meizhu have their own words and insisted that the other side is lying. For this incident. Kris Wu has been terminated by more than ten endorsement brands.
And the Internet screenshots of revelations were one after another, people can not distinguish the real or fake.
The case is so bizarre and twisted that it once again refreshes the public's perception of hype in showbiz.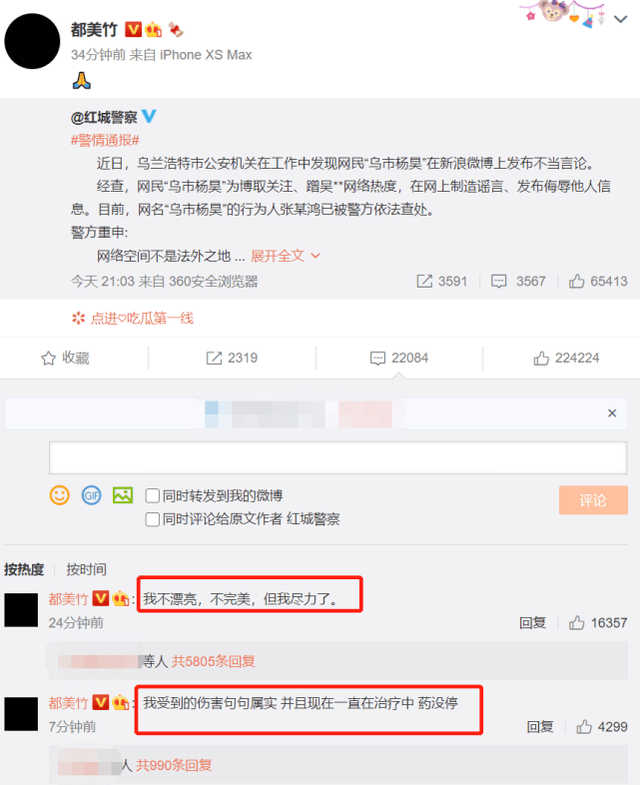 On the evening of July 22th, Du Meizhu forwarded the police notice, writing in the comment, "I'm not pretty, not perfect, but I try my best." She added subsequently: "The damage I have suffered is all true and I am in treatment and on medication."
Latter, she once again posted that Kris Wu's agent Feng Meng took the work signing a new MV actress as an excuse to meet her. After getting in the car, she knew that they were going to Kris Wu's home for a drink.
After drunk, Feng Meng sent her to Kris Wu's room. It was not her initiative, nor is she intends to stay.
At the end of the article, she said again, "I have really tried my best. I hope no more inexperienced girls will be deceived physically and emotionally.
Du Meizhu's response emphasized her identity as a victim: she was not voluntary, she did not fraud, did not receive money.
It is not known how Kris Wu will respond to it, but this police notice debunks some lies of Kris Wu Yifan.