So Young 2: Never Gone – Kris Wu, Liu Yifei
So Young 2: Never Gone is a romance film written and directed by Zhou Tuoru, produced by Zhang Yibai, led by Kris Wu and Liu Yifei, co-starring Jin Shijia, Li Qin, and Li Meng, with a special appearance by Qiao Renliang.
Based on Xin Yi Wu's novel "Yuan Lai Ni Hai Zai Zhe Li / 原来你还在这里", the film tells the story of Cheng Zheng and Su Yunjin's heartfelt love affair during their youthful years.
Details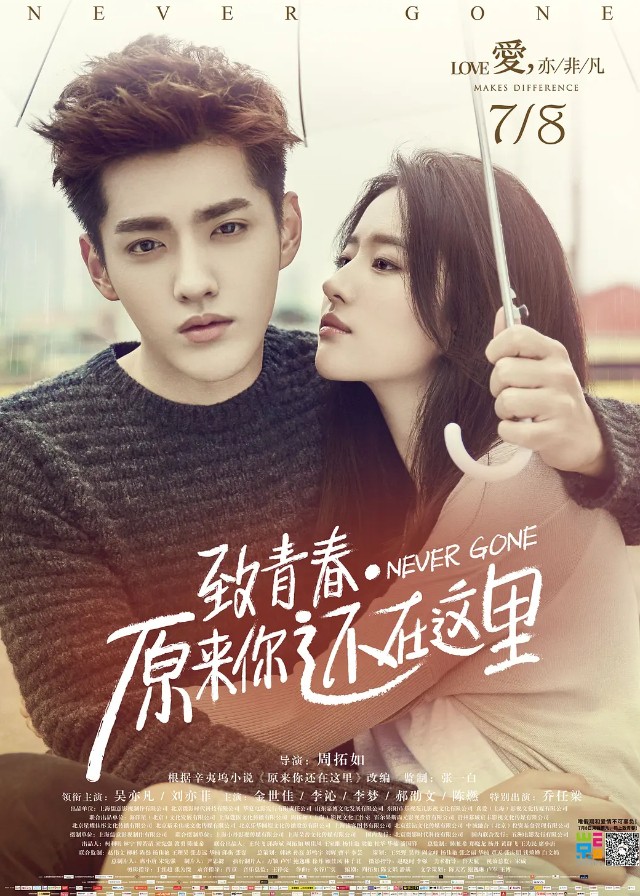 English Title: So Young 2: Never Gone
Chinese Title: 致青春·原来你还在这里
Genre: Youth, Romance, Drama
Duration: 98 min.
Director: Zhou Tuoru
Writer: Zhou Tuoru, Xin Yi Wu
Released Date: 2016-07-08
Broadcast Website: Viki, AsianCrush
Cast
Synopsis
Su Yunjin, a gentle and quiet girl, gradually fell in love with her high school classmate Cheng Zheng, who pursued her deeply.
However, the differences in their upbringing and personalities became a problem between them, and the constant conflicts eventually caused a rift in their relationship, leading to a breakup.
Several years later, Su Yunjin became a successful career woman, but her peaceful life was disrupted by Cheng Zheng's reappearance.
Their complicated feelings for each other caused them to become entangled again. They realized that neither of them had let go of their past love, but they were afraid of repeating their mistakes...
Reviews
You May Also Like
Related Posts
Hu Ge, Liu Yifei was exposed to be married?

Who Is Crystal Liu Yifei's Boyfriend? Only Song Seung Heon

Kris Wu Yifan Has A New Girlfriend Named Chen Ziyi? Studio Defended His Privacy Rights

Who is Du Meizhu? Dissatisfied Kris Wu's Denying Rumors, She Is Ready To Report

Did Kris Wu and Zhao Liying Have Ever Been In A Relationship?

SNH48 Member Zhang Danshan Exposed Chat Records With Kris Wu

Kris Wu Yifan was Sentenced to 13 Years For Rape Crime

Liu Yifei Photos

Du Meizhu Had an Interview, Responding to Kris Wu's lawyer Statement

8 Most Anticipated C-Drama in 2021

Crystal Liu Yifei Coupled With Chen Xiao in "A Dream of Splendor", A Kiss On set, A Beautiful Scene

Kris Wu Yifan Was Involved In the Dating Rumors with Du Meizhu and Many Girlfriends

Kris Wu Dramas, Movies, and TV Shows List

Liu Yifei Dramas, Movies, and TV Shows List

Kris Wu & Du Meizhu Scandal Update: She May Sent To Jail for Ten Years If She Signed The Agreement

Will Xiao Zhan, Crystal Liu Yifei Collaborate On A New Drama?

Kris Wu Responded To The Controversy Over His Private Life

Du Meizhu Threatened Kris Wu To Quit Chinese Showbiz

Kris Wu Lastest News: 10 Points Of Clarification Were Full Of Loopholes

The Incident of Kris Wu Yifan Affects JJ Lin and Wilber Pan, Their Studio Responded It