Namiya – Karry Wang, Dilraba Dilmurat, Dong Zijian
Namiya is a fantasy film directed by Han Jie, starring Wang Junkai, Dilraba Dilmurat, and Dong Zijian.
The film is based on Higashino Keigo's novel of the same name and tells the story of a shop called "Namiya", where people write their troubles on a letter at night and drop it into the delivery slot of a metal door, and the next day they can get the answer in a milk crate at the back of the shop.
Details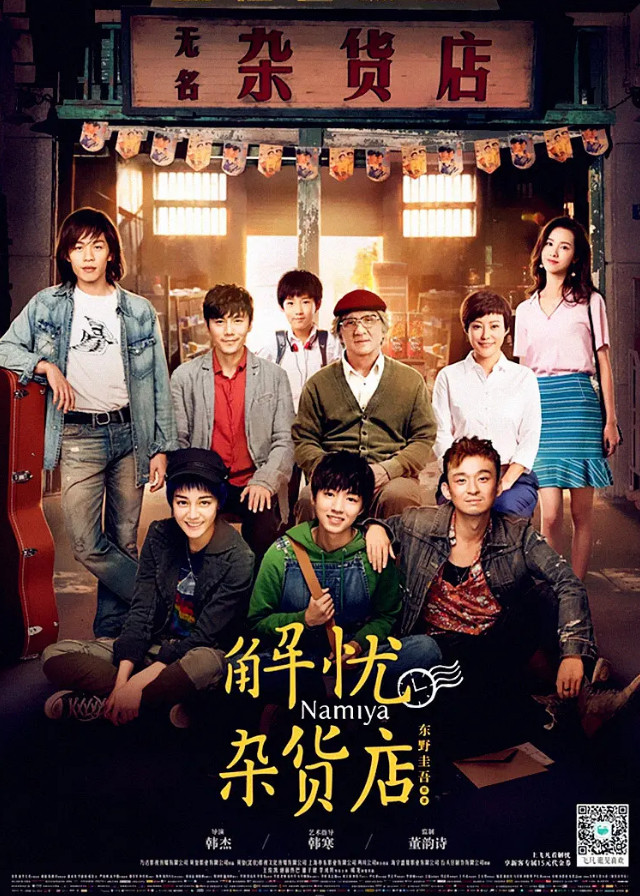 English Title: Namiya
Chinese Title: 解忧杂货店
Genre: Fantasy, Drama, Family, Life
Duration: 109 min.
Director: Han Jie
Writer: Song Xiao, Sun Siyu, Zhu Siyi, Han Jie
Producer: Dong Yunshi
Product Company: Wanda Media Co. Ltd, EMPEROR MOTION PICTURES
Released Date: 2017-12-29
Broadcast Website: Viki, 优酷, AsianCrush
Cast
Synopsis
In a grocery shop by a quiet street, if you write down your worries and drop them into the letter drop at the front door of the shop, you will get an answer in the milk crate at the back of the shop the next day.
One night, three young people, A Jie, Xiao Bo, and Tong Tong, who are lost, unwittingly break into the shop and unknowingly open a time tunnel.
Beginning with the first letter of inquiry from the past, the past links up with the future as they continue to reply and receive letters.
Qin Lang, who hesitates whether he should stick to his dream of music, Hao Bo, who hesitates whether he should move away from home with his family due to a debt, and Qing Mei, hesitates whether she should give up her job as a dancer, all make their choices from their letters and find the direction of their hearts, inadvertently linking their lives.
At the same time, these three young people receive answers to their own confusion.
Reviews
You May Also Like
Related Posts
Does Dilraba Dilmurat have a Boyfriend? Secret Marriage Rumor Troubled Her Much

Vin Zhang Binbin's Rumored Girlfriend, Who Is His Ideal Type?

Yang Yang, Dilraba: Is It Possible For them To Be In A Relationship In Reality?

Will Johnny Huang And Dilraba Declare Together After The Spring Festival Gala

Luo Yunxi and Dilraba His Favorite Actress on the same stage

Dilraba and Johnny Huang were suspected of being in love, fans asked the studio to disprove the rumor.

Will TFBOYS Be Disbanded?

Dilraba Dilmurat Photos

Dilraba, Leo Wu Lei Playing A Couple In "The Long Ballad" Led A Hot Discussion On The Net.

Sun Yi, Dong Zijian Announced Their Divorce

Diliraba's Suspected Pregnancy Triggered The Discussion Once Again

Yang Yang, Dilraba: The Wedding Scene Of "Jing Tu CP" Was Exposed In Advance.

Dong Zijian Dramas, Movies, and TV Shows List

Karry Wang Dramas, Movies, and TV Shows List

Dilraba Dilmurat Dramas, Movies, and TV Shows List

Does Karry Wang have a girlfriend?

Company Denied Rumors: TFBOYS Will Be Disbanded

The Two Sweet Dramas Starred By Yang Yang, Ding Yuxi, Who Will You Choose?

Karry Wang's 20 Quotes