Hidden Blade – Tony Leung Chiu Wai, Wang Yibo
Hidden Blade is a suspense film written and directed by Cheng Er, led by Tony Leung and Wang Yibo, with special appearances by Zhou Xun and Huang Lei, co-starring Sen Bozhi, Dong Chengpeng, Wang Chuanjun, Jiang Shuying, and Zhang Jingyi.
The film tells the story of underground workers who risk their lives to deliver information and defend the motherland with their lives after the outbreak of the Comprehensive Anti- Japanese War.
Details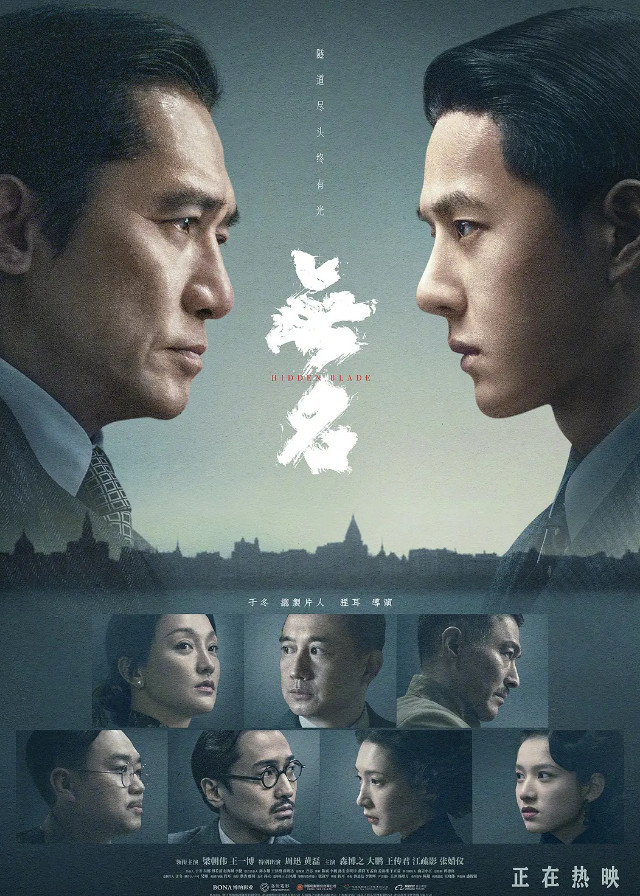 English Title: Hidden Blade
Chinese Title: 无名
Genre: Suspense, Thriller, War, Drama
Duration: 128 min.
Director: Cheng Er
Writer: Cheng Er
Product Company: BONA
Released Date: 2023-01-22
Watch On: –
Cast
Synopsis
On December 7, 1941, Japan attacked Pearl Harbour. The following day, Wang Jingwei's Puppet Regime followed Japan's declaration of war against Britain and the United States. Japan symbolically occupied all of Shanghai.
With the outbreak of the Pacific War, the war situation in China changed completely.
The Communist Party of China's Special Branch was in Shanghai, maneuvering between Chongqing, Wang, and the Japanese spy agencies, using an intricate system of intelligence to obtain information, kill traitors and build a broader united front until the eve of victory.
Reviews
Related Posts
Is Xiao Zhan and Wang Yibo's Relationship Getting Worse?

Wang Yibo is Once Again Rumored to be in Love, The Girl is Emily Qi Meihe

Wang Yibo's Ideal Type - How To Be Yibo's Girlfriend

Who is Emily Qi Meihe? Is Wang Yibo Chaseing After Her?

How is Wang Yibo, Cheng Xiao's Relationship, Will They Be In Love?

Wang Yibo Xiao Zhan's Controversial Interactions - Another Infighting Between "Bojun Yixiao"?

Wang Yibo's 70 Quotes

Wang Yibo Photos

Xiao Zhan Ranked 1st, Wang Yibo 2rd - The Most Popular Chinese Actor in Thailand

Xiao Zhan And Wang Yibo Become Competitor, "Douluo Continent" and The Legend of Fei" May Be Aired at The Same Period

Wang Yibo's web drama "My Strange Friend" was aired, it's really laughable

Wang Yibo Agency Denied The Relationship With Li Zixuan

Tony Leung Chiu Wai Dramas, Movies, and TV Shows List

Wang Yibo Dramas, Movies, and TV Shows List

Zanilia Zhao Liying And Wang Yibo's Second Coopertion Rumor Led To Fan's Boycott

Studio Denied Li Zixuan's Dating Rumors, The Boy Is Not Wang Yibo

Wang Yibo's "Legend Of Fei" Was Aired, Xie Yun is so charming that even CCTV comes to support!

Wang Yibo's new drama "Luoyang" was announced, Huang Xuan is the leading role

Wang Yibo Released New Song "Youth Comes In Time"

The Fans of Wang Yibo And Cai Xukun Are Quarreling. Top Popular Idols Have More Matter Of Right And Rrong