One Week Friends – Zhao Jinmai, Lin Yi
One Week Friends is a young school film directed by Lin Xiaoqian, starring Zhao Jinmai, Lin Yi, Shen Yue, Wang Jiahui, and Fan Shiran.
The film is based on the manga of the same name created by Ye Yue Mo Cha and tells the story of a girl who forgets her friends every week and re-friends her classmates over and over again.
Details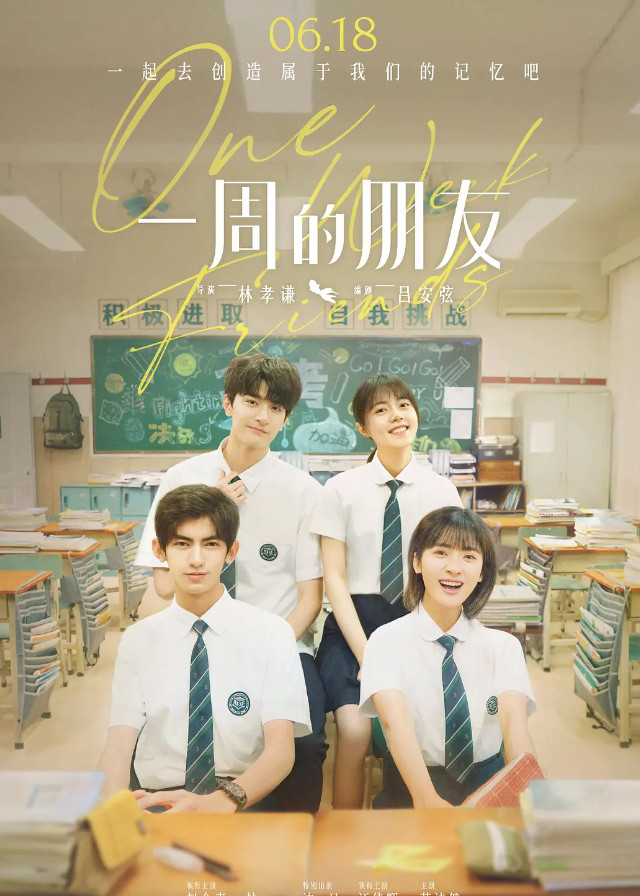 Cast
Synopsis
After a car accident, high school sophomore Lin Xiangzhi's memory of her friends can only lasts for a week.
She gradually isolates herself in her class to avoid misunderstandings or sadness, and she becomes withdrawn as a result. It is not until she transferred to another school that she meets her classmate Xu Youshu.
By chance, Xu learns the truth and he insists on befriending Xiangzhi once a week, every week. His kindness and insistence make Xiangzhi open her heart.
They are determined to face the past together, to find the truth of the memories, and to redeem their future.
Reviews
Related Posts
What's Shen Yue and Chen Zheyuan's Relationship?

Who is Shen Yue's Boyfriend? Dating Sun Ning

What's The Relationship Between Dylan Wang And Shen Yue?

Does Lin Yi Have A Girlfriend? His Ideal Type Is Zhou Jieqiong

What's The Relationship Between Fair Xing Fei And Lin Yi?

Shen Yue and Hu Yitian Greet Each Other After Rumors

How Is The Relationship Between Shen Yue, Darren Chen?

Lin Yi Photos

Shen Yue Photos

Does Angel Zhao Jinmai Have A Boyfriend? Relationship With Edward Lai Guanlin Is A Mystery

Lulu Xu Lu, Lin Yi- Sweet Love In "Love scenery", A Star Falls In Love With Science Geek

Keep Running announced the new lineup: Bai Lu, and Lin Yi Join, Cai Xukun Quit

Wang Jiahui Dramas, Movies, and TV Shows List

Fan Shiran Dramas, Movies, and TV Shows List

Lin Yi Dramas, Movies, and TV Shows List

Shen Yue Dramas, Movies, and TV Shows List

Zhao Jinmai Dramas, Movies, and TV Shows List

Does Edward Lai Guanlin Have A Girlfriend? The Relationship With Zhang Caicai Is Ture Or Not?

Shen Yue And Rumored Boyfriend Sun Ning's Relationship Is Suspected To Be Exposed

Bai Jingting, Angel Zhao Jinmai Bring The First Hit Drama Of The New Year