Once Upon a Time – Liu Yifei, Yang Yang
Once Upon a Time is a historical fantasy film directed by Zhao Xiaoding and Anthony LaMolinara, led by Liu Yifei and Yang Yang, co-starring Luo Jin, Yan Yikuan, Li Chun, Gu Xuan, and Peng Zisu.
The film is based on the full-length novel "San Sheng San Shi Shi Li Tao Hua / 三生三世十里桃花", which tells the story of the love affair between the Qingqiu empress Bai Qian and the heavenly crown prince Ye Hua.
Details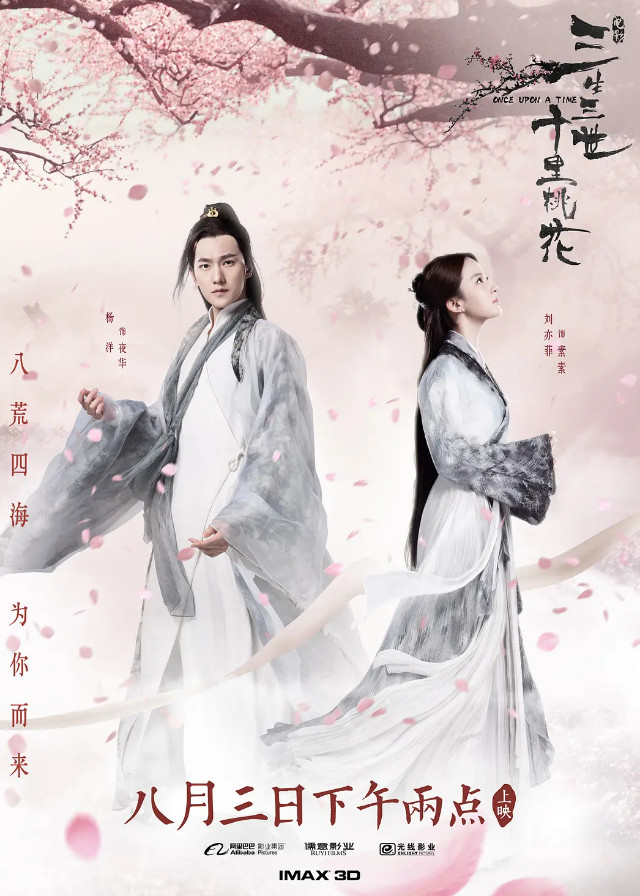 English Title: Once Upon a Time
Chinese Title: 三生三世十里桃花
Genre: Historical, Fantasy, Romance, Immortal
Duration: 109 min.
Director: Zhao Xiaoding, Anthony LaMolinara
Writer: Li Han, Liu Han, Mai Ling, Zhang Yaliang
Producer: Sha Zhi Lei
Product Company: Alibaba Pictures, Ruyi Film
Released Date: 2017-08-03
Watch On: Viki, Prime Video, YouTube
Cast
Synopsis
Mo Yuan, the God of War of the Heavenly Clan, seals the ghostly ruler, Qing Cang, in the Wuwang Sea. His soul is scattered and his immortal body is frozen in the Qinqiu Yanhua Cave.
Bai Qian, the Qingqiu empress, has an engagement with Heavenly Clan's crown prince, Ye Hua, but they have never met.
It is not until the banquet at the East Sea that Ye Hua discovers that Bai Qian looks just like his late wife Su Su, and he decides to live in Bai Qian's Qingqiu, in order to solve the mystery of Bai Qian and Su Su.
However, his concubine Su Jin becomes jealous and secretly helps the Queen of the Ghost Tribe, Xuan Nu steal Mo Yuan's immortal body.
Bai Qian gets angry and fights in a bloody battle against the Ghost Clan in Daziming Palace, and is seriously injured. She is finally saved by Ye Hua.
Bai Qian follows YeHua to the Heavenly Clan and recovers her memory through the Heavenly Clan's magic lantern. When she gains the memory of Ye Hua hurting her, she can't forgive him.
Su Jin, who framed Bai Qian, was punished and sent to the Wuwang Sea. She becomes crazy that she uses the blood of A Li, the son of Ye Hua, to free the ghost ruler Qing Cang, who was sealed by Mo Yuan.
In order to protect the world, Ye Hua sacrificed his spirit to the Donghuang Bell and sealed Qing Cang again.
Reviews
Related Posts
Yang Yang is Dating Wang Churan? The Media Revealed Their Relationship

What's Yang Yang And Zhao Lusi's Relationship?

Yang Yang's 5 rumored Girlfriend, Vicotria Song Was His Girlfriend?

Yang Yang, Dilraba: Is It Possible For them To Be In A Relationship In Reality?

Hu Ge, Liu Yifei was exposed to be married?

Who Is Crystal Liu Yifei's Boyfriend? Only Song Seung Heon

What's Allen Deng Lun and Li Qin's Relationship? The Wedding Has Been In Preparation?

Liu Yifei Photos

Yang Yang Photos

Yang Yang Was Involved In The Rumor Of Dating His Fan.

Xiao Zhan Ranked 1st, Wang Yibo 2rd - The Most Popular Chinese Actor in Thailand

Yang Yang, Dilraba: The Wedding Scene Of "Jing Tu CP" Was Exposed In Advance.

Liu Yifei Dramas, Movies, and TV Shows List

Yang Yang Dramas, Movies, and TV Shows List

The Two Sweet Dramas Starred By Yang Yang, Ding Yuxi, Who Will You Choose?

Crystal Liu Yifei Coupled With Chen Xiao in "A Dream of Splendor", A Kiss On set, A Beautiful Scene

Will Xiao Zhan, Crystal Liu Yifei Collaborate On A New Drama?