Ne Zha – Leo Wu, Xing Fei, Zhang Fengyi, Michelle Yeoh
Ne Zha is a fantasy film directed by Liu Zhenwei, starring Wu Lei, Xing Fei, Zhang Fengyi, and Michelle Yeoh.
Details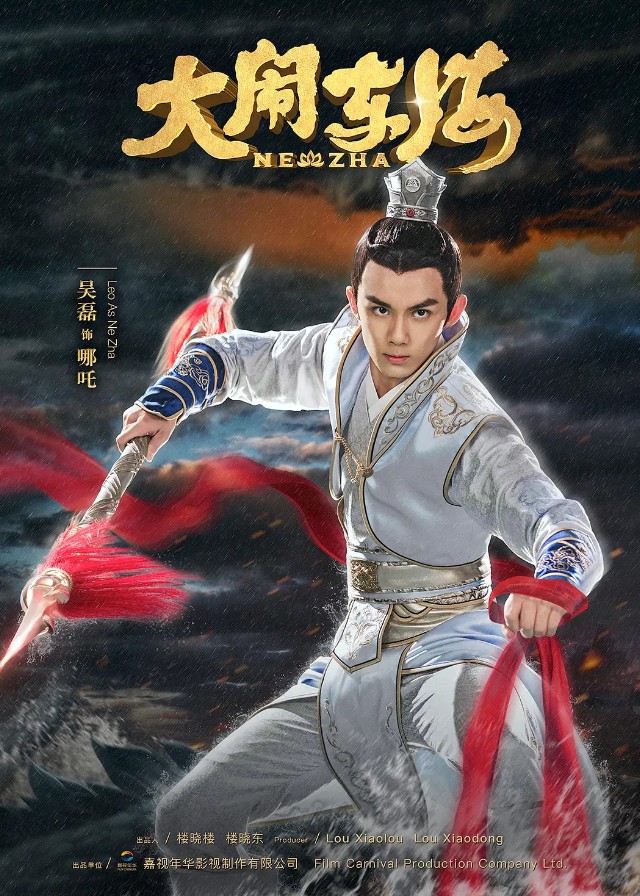 English Title: Ne Zha
Chinese Title: 大闹东海
Genre: Fantasy, Drama, Immortal, Action
Duration: -
Director: Liu Zhenwei
Writer: Liu Zhenwei
Product Company: FILM CARNIVAL
Released Date: -
Boradcast Website: -
Cast
Synopsis
Lady Yin gave birth to a"monster" and named him Ne Zha after carrying him for three years and six months.
Ne Zha was born with a red ribbon and knowledge of magic skills but also had three ugly lumps on his head.
One day, Ne Zha accidentally killed Ao Bing, the third son of the Dragon King in the East Sea. His father went to complain to the Jade Emperor with the help of the three Dragon Kings. Knowing that trouble was coming, Lady Yin sent Ne Zha to be disciplined by Tai yi Zhen Ren.
Ne Zha met his blind senior sister, Yao Guang, for the first time there.
With the guidance of Tai Yi Zhen Ten, Ne Zha made great progress in magic, but was challenged by his senior brother and had to run away.
He accidentally met Tai Jia Zhen Ren in the deep mountains and obtained three treasures: the Universe Ring, the Wind Fire Wheels, and the Fire Pointed Spear.
Ne Zha returned to Qianyuan Mountain and helped his master defeat challenger Lei Zhenzi, which resolved the crisis and made Yao Guang regain her sight.
To make up for his mistake, Ne Zha returned to Chen Tang Guan incognito and defeated Huo Lang who was causing trouble there.
Later, he followed his enemy and was led to Wanxue Peak, where he fought to the death with the Wolf King.
Afterward, to save the people of Chen Tang Guan who were flooded, Ne Zha risked his life to control the raging waters, causing himself to be seriously injured.
This act moved Guanyin Bodhisattva, and Ne Zha was finally reborn after Nirvana.
Reviews
You May Also Like
Related Posts
Does Leo Wu Lei Have A Girlfriend? What's His Ideal Type?

What's Zhao Lusi, Leo Wu Lei's Relationship? Why Fans Can Not Calm Down

Who Are Fair Xing Fei's Rumored Boyfriends? Ideal Type Requirement Is Easy?

Xing Fei, Daddi Tang Xiaotian -A Fake Romance Turns Real?

What's The Relationship Between Fair Xing Fei And Lin Yi?

Rosy Zhao Lusi was Involved in a Dating Rumor, Studio Issued a Statement

Who is Julia Xiang Hanzhi's Boyfriend? Is She Dating Leo Wu Lei?

Leo Wu Photos

Xing Fei Photos

How Is Fair Xing Fei And Hu Yitian's Relationship?

Dilraba, Leo Wu Lei Playing A Couple In "The Long Ballad" Led A Hot Discussion On The Net.

Xu Kaicheng, Xing Fei- Sweet And Funny Adventure In "Yue Zhao Ji"

Zhang Fengyi Dramas, Movies, and TV Shows List

Michelle Yeoh Dramas, Movies, and TV Shows List

Leo Wu Dramas, Movies, and TV Shows List

Xing Fei Dramas, Movies, and TV Shows List

Allen Ren Jialun and Fair Xing Fei Fall In Love in "Miss Crow with Mr. Lizard", Sweetness Is Overwhelming!

Leo Wu's New look on M.A.C Poster Led To Hot Debate: "Human High-quality Male"

Xing Fei, Tang Xiaotian Fall In Love In "My Little Happiness"

"Chengrang CP" Of Li Chuan, Huang Yilin gets rave reviews- "My Little Happiness" Sweetness Overflows