Autumn Fairy Tale – Zhao Lusi, Jiao Rui, Xu Kai
Autumn Fairy Tale is a romantic film directed by Wang Caitao, led by Zhao Lusi, Jiao Rui, and Xu Kai, with Meng Meiqi in a special appearance.
The film tells the story of two girls born on the same day, En Xi and Xin Ai, who are inadvertently swapped by Jun Xi, which leads to a tangle of misplaced fates and love among them.
Details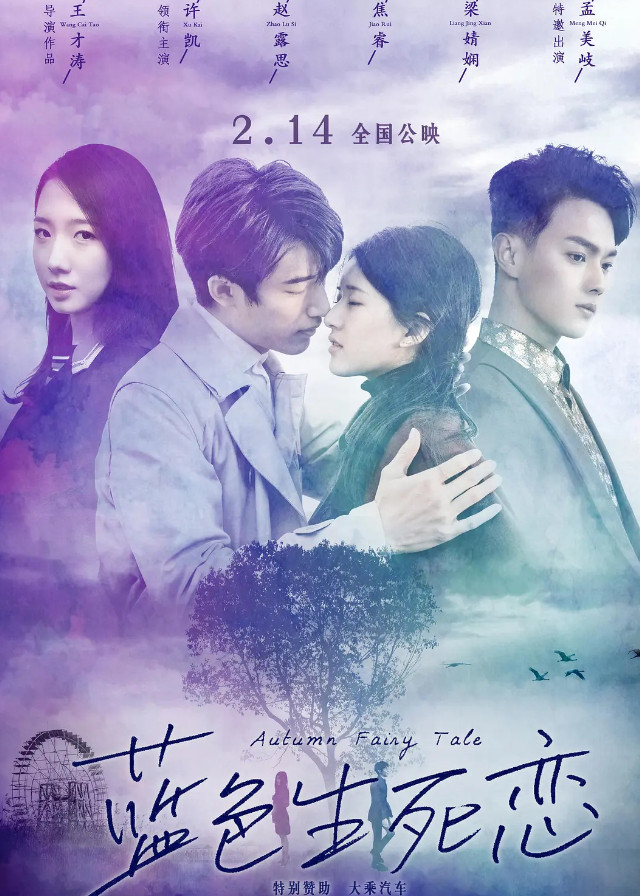 English Title: Autumn Fairy Tale
Chinese Title: 蓝色生死恋
Genre: Romance, Friendship, Family
Duration: 104 min.
Director: Wang Caitao
Writer: Wang Caitao, Zhang Lu, Bao Erqin
Producer: La Peikang, Zhang Juncheng
Product Company: China Film Group Corporation
Released Date: 2019-02-14
Broadcast Website: iQIYI, 唐阁影院 Tag Theatre
Cast
Synopsis
En Xi and Jun Xi's real little sister Xin Ai was switched when they were born due to Jun Xi's mischief.
One day, the truth is discovered and En Xi and Jun Xi were separated.
Years later, they meet again and fall in love with each other.
Their love for each other is full of challenges and obstacles because of the "brother-sister" relationship between them.
This resistance comes first from their own hearts, and it is their destiny to decide whether Jun Xi is a "brother" or lover to En Xi.
Reviews
You May Also Like
Related Posts
How is Zhao Lusi and Chen Zheyuan's Relationship? "Yuan Xing Bi Lu" CP is Gaining Great Popularity

Does Rosy Zhao Lusi Have a Boyfriend? Her College Boyfriend was Exposed

Who is Xu Kai's Girlfriend? Dating rumors With Bai Lu is more famous.

How Is Xu Kai And Cheng Xiao's Relationship

What's Yang Yang And Zhao Lusi's Relationship?

Does Bai Lu Have A Boyfriend? Xu Kai Is The Most Famous Rumored Boyfriend Of Her

Xu Kai is Dating Actress Zhao Qing Now?

Zhao Lusi Photos

Xu Kai Photos

Liu Te, Rosy Zhao Lusi Were In A Relationship? His Ex-Girlfriend Was Rocket Girls' stylist

Is Xu Kai's "Domestic Violence" On His Ex-girlfriend True Or Not?

Zhao Lusi, Ryan Ding Yuxi Refused To Be CP, Will They Played In "The Romance Of Tiger And Rose 2"?

Jiao Rui Dramas, Movies, and TV Shows List

Zhao Lusi Dramas, Movies, and TV Shows List

Xu Kai Dramas, Movies, and TV Shows List

What's Zhao Lusi, Leo Wu Lei's Relationship? Why Fans Can Not Calm Down

Rosy Zhao Lusi was Involved in a Dating Rumor, Studio Issued a Statement

Rosy Zhao Lusi, Liu Yuning Gained Large Popularity For "Hao Yan CP" In "The Long Ballad"

Terry Liu Te: Shy To Shoot Kiss Scenes With Zhao Lusi, Don't Mind Being Judged On Looks

How Is Xu Kai, Wu Jinyan's Relationship?