Zhao Lusi, Xu Kaicheng's New Drama Is Hit, But The Douban Rating Is Only 4.3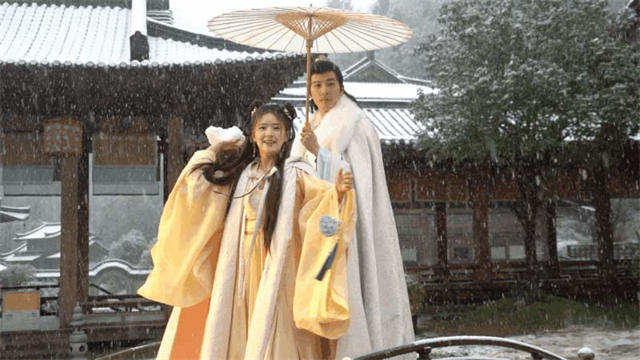 A Female Student Arrives at the Imperial College starring Zhao Lusi, Xu Kaicheng is airing. Because Zhao Lusi played the lead of the drama, this drama has become a big hit, the current view count has broken a hundred million times.
However, this drama is popular, but the reputation is not good. The uninspired plot. The acting skills of the main leads and the plot, have been criticized by many viewers. At present, the drama only gets 4.3 in the Douban rating, which is a relatively lower rating for Zhao Lusi's works.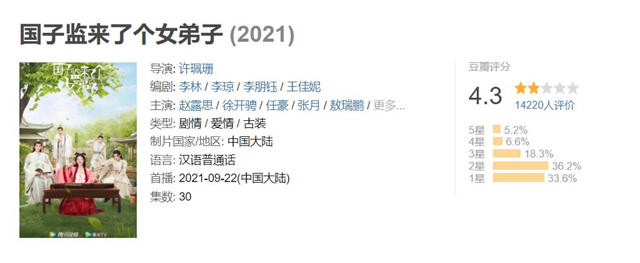 The audience's criticism of this drama is mainly focused on the following points:
1. The storyline isn't attract
If the unexpected setting of "The Romance of Tiger and Rose" makes the audience feel new and interesting, "A Female Student Arrives at the Imperial College" is a kind of embarrassing drama in which the scriptwriter tries hard to make the audience get the punch line.
For example, the heroine creates a variety of opportunities to send the purse to the hero. The few shots did not find any contrast, the character's reaction is not captured, not cute, not fun, it is just like completing a normal task. After that, all the plot is in the audience's expectations without surprise.
2. Zhao Lusi's roles personality are fixed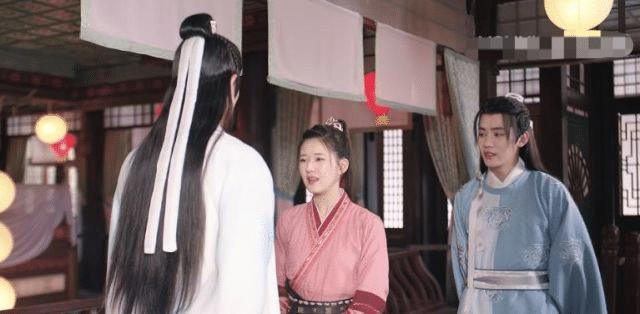 The characters that Zhao Lusi has played since her debut are all cute and lively, which is no longer fresh for the audience. Zhao Lusi played the character of Sang Qi, whose personality is somewhat similar to Chen Qianqian. And in this drama, many audiences feel that Zhao Lusi's acting skills have regressed.
3. Production is not attentive
Sang Qi and the lady bet, if she can't send the purse to the hero, she will dance in public which is farfetched. The heroine has no need to bet with the lady, and the task to send the hero purse, the motive is not strong enough.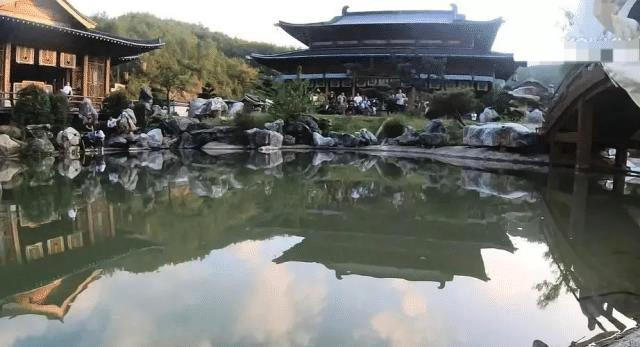 In addition, the fall into the water scene, even appeared many modern costume characters, the crew's inattentiveness was exposed, it is no wonder that the quality of the play did not meet the expectations of the audience.
Also, when they were at a friend's house, it was snowing heavily. But when they leave, the floor can't find any snow.
At present, the drama has already released 12 episodes, and the Douban rating is 4.3, and it can be expected that the drama will not score high. For Zhao Lusi, many viewers expressed their hope that she can come out of her comfort zone to challenge herself.
What do you think about the low rating of Zhao Lusi, Xu Kaicheng's New Drama?
Related Posts
Zhao Lusi (Rosy Zhao) Profile

Xu Kaicheng (徐开骋) Profile

How is Zhao Lusi and Chen Zheyuan's Relationship? "Yuan Xing Bi Lu" CP is Gaining Great Popularity

What's Yang Yang And Zhao Lusi's Relationship?

Does Rosy Zhao Lusi Have a Boyfriend? Her College Boyfriend was Exposed

Rosy Zhao Lusi, Xu Kaicheng Interpret The Sweet Relationship Between Teacher And Student In The Ancient Campus

What's Zhao Lusi, Leo Wu Lei's Relationship? Why Fans Can Not Calm Down

Xu Kaicheng Photos

Zhao Lusi Photos

Zhao Lusi, Ryan Ding Yuxi Refused To Be CP, Will They Played In "The Romance Of Tiger And Rose 2"?

Liu Te, Rosy Zhao Lusi Were In A Relationship? His Ex-Girlfriend Was Rocket Girls' stylist

Is Xu Kaicheng Dating Gulnazar? Cheated on Crystal Zhang Tian'ai?

Xu Kaicheng Dramas, Movies, and TV Shows List

Zhao Lusi Dramas, Movies, and TV Shows List

Rosy Zhao Lusi was Involved in a Dating Rumor, Studio Issued a Statement

Who Is Xu Kaicheng's Girlfriend? He Is Dating Crystal Zhang Tian'ai?

Rosy Zhao Lusi, Liu Yuning Gained Large Popularity For "Hao Yan CP" In "The Long Ballad"

Terry Liu Te: Shy To Shoot Kiss Scenes With Zhao Lusi, Don't Mind Being Judged On Looks

Who Is Crystal Zhang Tian'ai's Boyfriend? Is Xu Kaicheng?

Xu Kaicheng Apologies to Crystal Zhang Tian'ai and Gulnazar