You Are My Sunshine – Huang Xiaoming, Yang Mi
You Are My Sunshine is a romantic film directed by Yang Wenjun and Huang Bin, starring Huang Xiaoming, Yang Mi, Angelababy, Tong Dawei, Xie Yilin, Huang Zitao, Chen Chong, and He Sui.
The film is based on Gu Man's novel of the same name "He Yi Sheng Xiao Mo / 何以笙箫默", which tells the story of He Yichen and Zhao Mosheng, who become entangled in a lifelong relationship through a young love affair, a story of persistent waiting for love.
Details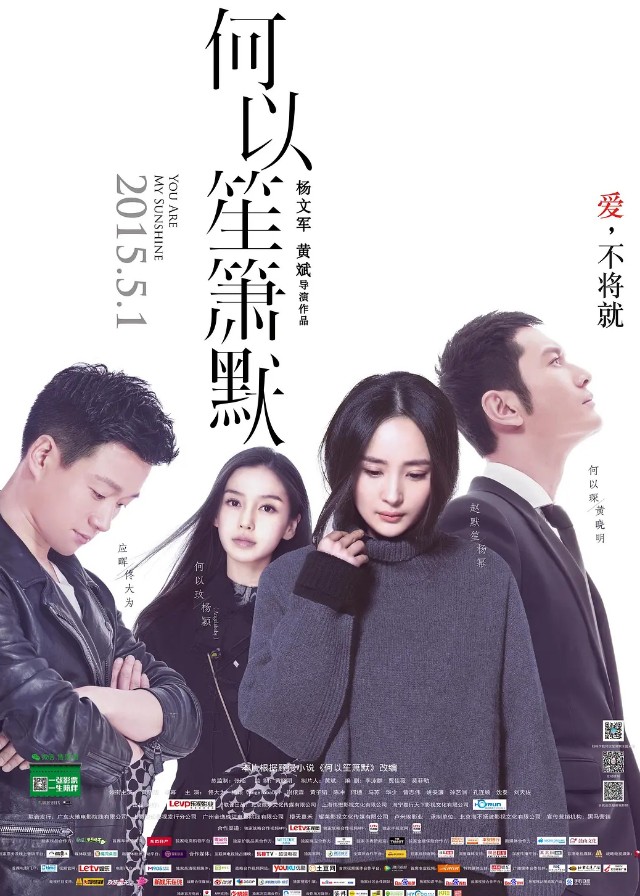 Cast
Synopsis
Zhao Mo Sheng returned to China after seven years. In those seven years, her first love, He Yi Chen, had transformed from a talented law student to a well-known lawyer. Zhao Mo Sheng thought that she would never cross paths with He Yi Chen again, but they unexpectedly reunited.
During their university days, He Yi Chen, who was a talented student, had many girls pursuing him, but he was moved by the innocent and carefree Zhao Mo Sheng. Zhao Mo Sheng hid the fact that she was the daughter of the mayor from He Yi Chen, and when he found out, he was devastated and chose to leave her. Zhao Mo Sheng was heartbroken and went to study in the United States as arranged by her father.
When Zhao Mo Sheng and He Yi Chen reunited, they discovered that they still deeply loved each other. However, Zhao Mo Sheng revealed that she had been married in the United States and had just gotten divorced. He Yi Chen was in pain, but he had endless love for Zhao Mo Sheng and decided to marry her.
The appearance of Zhao Mo Sheng's ex-husband, Ying Hui, revealed the truth about her marriage and resolved their misunderstandings.
However, the appearance of Zhao Mo Sheng's stepmother brought to light the grudges between Zhao Mo Sheng's father and He Yi Chen's father, which became the biggest test for their love.
The fate of their love remains uncertain.
Reviews
Related Posts
Is Angelababy Dating Deng Lun And Divorced With Huang Xiaoming?

Angelababy, Huang Xiaoming Announced The Divorce

Angelababy, Huang Xiaoming Responded To The Love Triangle Rumors With Li Fei'er

Huang Xiaoming announced his withdrawal from "Sisters Who make waves 2".

Hawick Lau Admits Dating Li Xiaofeng, Who is Yang Mi's Best Friend in the Drama Dramatically

How Is Yang Mi And William Chan's Relationship?

The Rumors That Yang Mi And Wei Daxun Got Married Were Denied By Yang Mi Studio

Yang Mi Photos

Angelababy Photos

Qin Lan and Wei Daxun Were Spotted Dating in Sanya

Is Wei Daxun Yang Mi's Boyfriend After Divorced With Ex-husband Hawick Lau

Yang Mi and Xu Kai's CP Triggered Teasing, Douban Rating 5.8 is High or Low?

Tong Dawei Dramas, Movies, and TV Shows List

Yang Mi Dramas, Movies, and TV Shows List

Angelababy Dramas, Movies, and TV Shows List

Huang Xiaoming Dramas, Movies, and TV Shows List

Yang Mi Is Dating Daniel Zhou Keyu? Is It Too Outrageous?

8 Most Anticipated C-Drama in 2021