The Witness – Yang Mi, Lu Han
The Witness is a youthful suspense film directed by Sang hoon Ahn, starring Yang Mi, Lu Han, Wang Jingchun, and Zhu Yawen.
The film is based on the Korean film "블라인드 / Blind". It tells the thrilling story of a murder case in which two eyewitnesses with different testimonies testify and later join forces to hunt down the murderer.
Details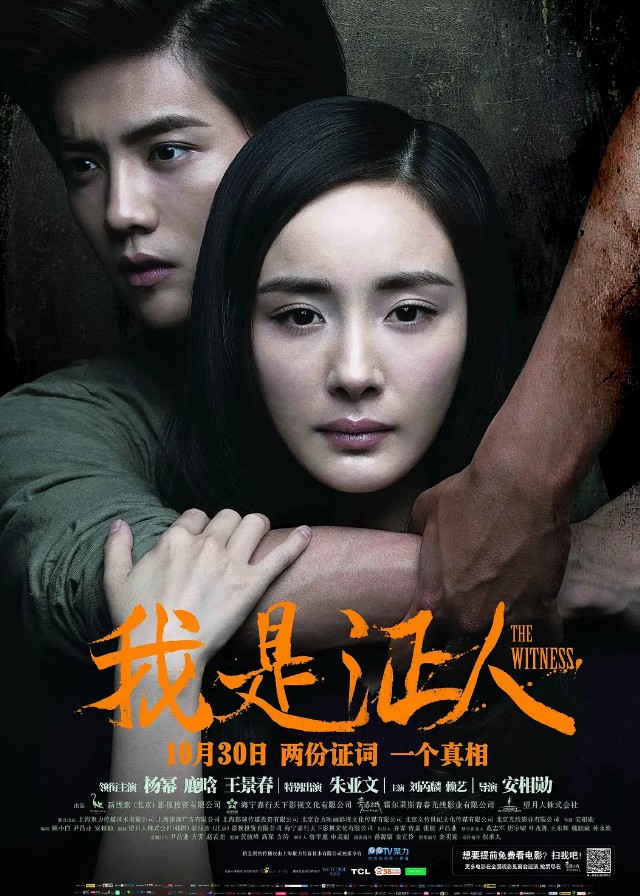 English Title: The Witness
Chinese Title: 我是证人, 盲证
Genre: Suspense, Thriller, Crime, Drama
Duration: 111 min.
Director: Sang hoon Ahn
Writer: Gu Xiaobai, Yin Changye, Sang hoon Ahn
Producer: Yin Changye
Product Company: Jaywalk Media
Released Date: 2015-10-30
Watch On: Viki, AsianCrush, YouTube
Cast
Synopsis
Blind girl Lu Xiaoxing and street boy Lin Chong accidentally become witnesses to a car accident, but their testimonies are completely different.
As they argue over whose testimony is true, they become targets of the car accident perpetrator who wants to silence them, and their lives are in danger.
Who is the killer? Will they be able to escape danger? With layers of mystery and danger, the truth remains hidden.
Reviews
Related Posts
Hawick Lau Admits Dating Li Xiaofeng, Who is Yang Mi's Best Friend in the Drama Dramatically

Lu Han And Girlfriend Guan Xiaotong Have Broken Up? Guan Xiaotong Is Absent From Lu Han's Birthday Blessing.

How Is Yang Mi And William Chan's Relationship?

The Rumors That Yang Mi And Wei Daxun Got Married Were Denied By Yang Mi Studio

Qin Lan and Wei Daxun Were Spotted Dating in Sanya

Is Wei Daxun Yang Mi's Boyfriend After Divorced With Ex-husband Hawick Lau

How is the relationship between Lu Han, Guan Xiaotong?

Yang Mi Photos

Yang Mi and Xu Kai's CP Triggered Teasing, Douban Rating 5.8 is High or Low?

Yang Mi Is Dating Daniel Zhou Keyu? Is It Too Outrageous?

Guan Xiaotong Celebrates Lu Han's Birthday In late-night, Shattering Rumors Of A Breakup

8 Most Anticipated C-Drama in 2021

Wang Jingchun Dramas, Movies, and TV Shows List

Zhu Yawen Dramas, Movies, and TV Shows List

Lu Han Dramas, Movies, and TV Shows List

Yang Mi Dramas, Movies, and TV Shows List