The Unbearable Lightness of Inspector Fan – Ethan Juan, Zhou Dongyu
The Unbearable Lightness of Inspector Fan is an action mystery film produced by Er Dongsheng, directed by Luo Zhuoyao, starring Ruan Jingtian, Zhou Dongyu, Yang Zishan, and Yang Yang.
The film tells the story of Fan Ruyi, a police detective in the French Concession of Shanghai during the Republic of China, and his relationship with Song Xiaoqiao, a rich girl, and Huilan, a blind girl.
Details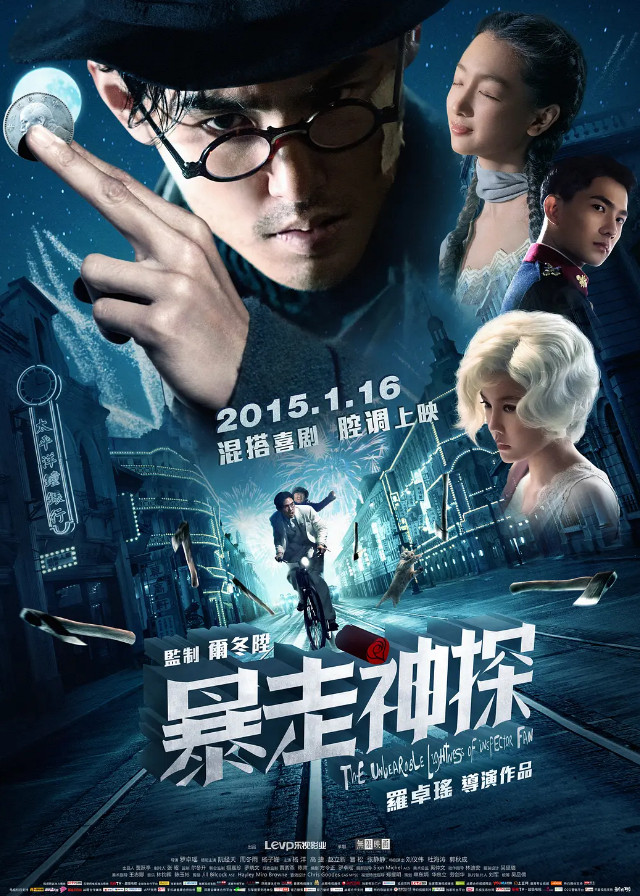 Cast
Synopsis
Shanghai Beach is known as the "Adventurer's Paradise", or the "Magic City".
As one of the cleverest detectives in the concession, Fan Ruyi has to deal with all sorts of people every day, getting all sorts of information from them to investigate cases, and is therefore trusted by his boss.
But one day, after taking over a top-secret assignment from his boss, all sorts of unexpected and bizarre events follow.
The daughter of a warlord, Song Xiao Qiao, is kidnapped, a young boy, Xiao Liu, dies on the street, and a girl from a noble school and a colleague from the police station are all involved.
Fan Ruyi tries to prevent the killing of innocent people, but he never expected that he would be the "prime suspect" in all the murders.
In order to clear his name, Fan Ruyi tries everything he can to avoid the hunt from the mob, the police, and the mysterious killer, he also has to protect the newspaper boy Xiao Hou and the blind girl Hui Lan.
Gradually, he gets closer to the truth, but the truth is much crueler than he imagined.
Reviews
Related Posts
Yang Yang is Dating Wang Churan? The Media Revealed Their Relationship

What's Yang Yang And Zhao Lusi's Relationship?

Yang Yang's 5 rumored Girlfriend, Vicotria Song Was His Girlfriend?

Yang Yang, Dilraba: Is It Possible For them To Be In A Relationship In Reality?

What's Allen Deng Lun and Li Qin's Relationship? The Wedding Has Been In Preparation?

Yang Yang Was Involved In The Rumor Of Dating His Fan.

Xiao Zhan Ranked 1st, Wang Yibo 2rd - The Most Popular Chinese Actor in Thailand

Yang Yang Photos

Zhou Dongyu's Ex-Boyfriend and Rumored Boyfriends

Yang Yang, Dilraba: The Wedding Scene Of "Jing Tu CP" Was Exposed In Advance.

Song Zu'er Studio Denied Secret Marriage With Ethan Juan

Zhou Dongyu and Turbo Liu Haoran Have Been Dating for Two Years?

Ethan Juan Dramas, Movies, and TV Shows List

Yang Zishan Dramas, Movies, and TV Shows List

Zhou Dongyu Dramas, Movies, and TV Shows List

Yang Yang Dramas, Movies, and TV Shows List

Ethan Juan Agent Denied Dating With Lareina Song Zu'er, Netizens: When Did They Get Together?

The Two Sweet Dramas Starred By Yang Yang, Ding Yuxi, Who Will You Choose?

Current Girlfriend of Ethan Juan Was Spotted