All Ears – Hu Ge, Leo Wu, Qi Xi
All Ears is a film written and directed by Liu Jiayin, led by Hu Ge, co-starring Leo Wu Lei and Qi Xi, with a special appearance by Bai Ke.
The movie tells the story of a "fallen behind" ordinary screenwriter named Wen Shan who, by chance, starts making a living by writing eulogies. Through encounters with various ordinary people, Wen Shan provides comfort to others and finds warmth in return. Ultimately, he discovers his own life's direction.
Details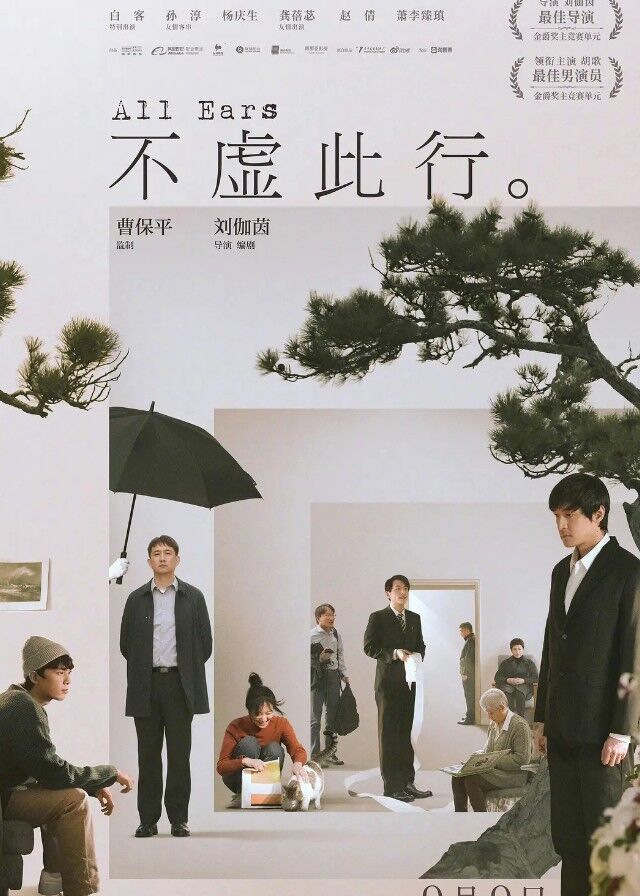 English Title: All Ears
Chinese Title: 不虚此行
Other Titles: 倾听
Genre: Drama
Duration: 119 min.
Director: Liu Jiayin
Writer: Liu Jiayin
Producer: Cao Baoping
Released Date: 2023-09-09
Watch On: –
Cast
Synopsis
An ordinary scriptwriter, Wen Shan, starts to write eulogies for a living by chance.
In his encounters with ordinary people of all kinds, Wen Shan comforts others, gains warmth, and eventually finds his own direction in life.
Reviews
Related Posts
What's Zhao Lusi, Leo Wu Lei's Relationship? Why Fans Can Not Calm Down

Who Is Crystal Liu Yifei's Boyfriend? Only Song Seung Heon

Does Leo Wu Lei Have A Girlfriend? What's His Ideal Type?

Hu Ge, Liu Yifei was exposed to be married?

Rosy Zhao Lusi was Involved in a Dating Rumor, Studio Issued a Statement

Who is Julia Xiang Hanzhi's Boyfriend? Is She Dating Leo Wu Lei?

Dilraba, Leo Wu Lei Playing A Couple In "The Long Ballad" Led A Hot Discussion On The Net.

Hu Ge Photos

Leo Wu Photos

Hu Ge has been Married, Wife is Rumored to be His Assistant!

Leo Wu's New look on M.A.C Poster Led To Hot Debate: "Human High-quality Male"

Leo Wu Was Burned On Face? He Hasn't Responded To The News So Far

Qi Xi Dramas, Movies, and TV Shows List

Hu Ge Dramas, Movies, and TV Shows List

Leo Wu Dramas, Movies, and TV Shows List

Hu Ge Attending Ex-Girlfriend Xue Jianing's Musical led to a suspicion of rekindling their relationship

Will Xiao Zhan played in the remake of "Chinese Paladin"?