The Left Ear – Chen Duling, Ou Hao, Yang Yang
The Left Ear is a youth romantic film directed by Alec Su, starring Chen Duling, Ou Hao, Yang Yang, Ma Sichun, Duan Bowen, Hu Xia, and Guan Xiaotong.
The film is adapted from Rao Xue Man's novel of the same name and focuses on the painful story of the youth of a group of young people with different personalities, including Li Er, Zhang Yang, Xu Yi, and Li Bala.
Details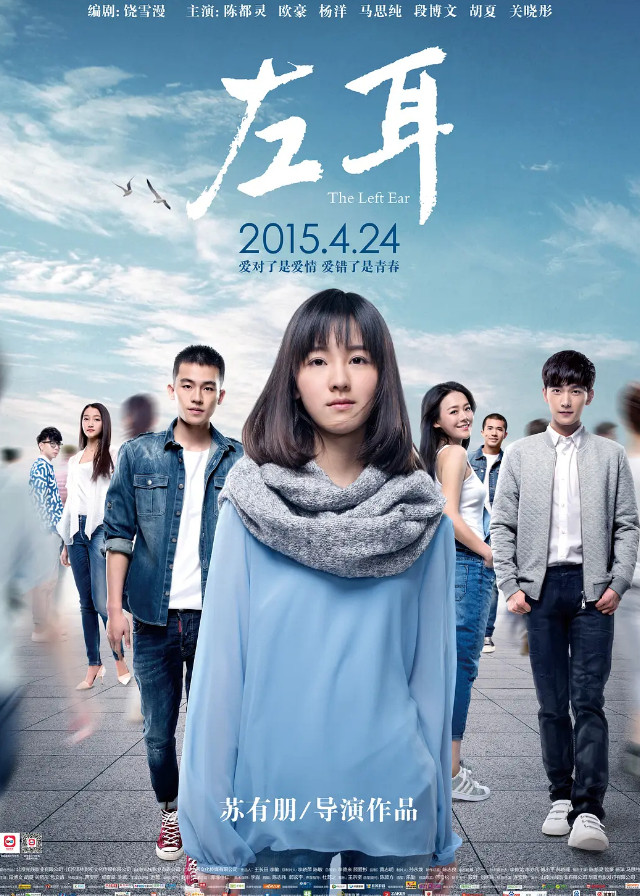 English Title: The Left Ear
Chinese Title: 左耳
Genre: Youth, Romance
Duration: 117 min.
Director: Alec Su
Writer: Rao Xue Man
Producer: Sun Yonghuan
Product Company: Enlight Pictures
Released Date: 2015-04-24
Watch On: 爱奇艺
Cast
Synopsis
Li Er, a beautiful and innocent girl, is deaf in her left ear, but her physical handicap does not make her feel inferior.
By chance, Li Er meets a girl called Bala, whose personality is opposite to Li'er's. She is uninhibited, untamed and aspires to a life of freedom.
Li Er finds her inner rebellious side in Bala.
What Li Er doesn't expect is that Bala will get together with Xu Yi, the boy she has always had a crush on. This makes Li Er realize the cruelty of youth.
However, Bala actually likes a boy named Zhang Yang. But fate turns their love into a tragedy that eventually takes away Bala's young life.
This accident makes a few innocent children grow up quickly and blossom into the most beautiful and desperate youth.
Reviews
Related Posts
Yang Yang is Dating Wang Churan? The Media Revealed Their Relationship

What's Yang Yang And Zhao Lusi's Relationship?

Yang Yang's 5 rumored Girlfriend, Vicotria Song Was His Girlfriend?

Yang Yang, Dilraba: Is It Possible For them To Be In A Relationship In Reality?

What's Allen Deng Lun and Li Qin's Relationship? The Wedding Has Been In Preparation?

Yang Yang Was Involved In The Rumor Of Dating His Fan.

Xiao Zhan Ranked 1st, Wang Yibo 2rd - The Most Popular Chinese Actor in Thailand

Yang Yang Photos

Yang Yang, Dilraba: The Wedding Scene Of "Jing Tu CP" Was Exposed In Advance.

Who Is Chen Duling's Boyfriend? Wang Xichao Or Yin Zheng?

Andrew Yin Zheng Is Dating Chen Duling? Who Is His Girlfriend Current?

Who Is Oho Ou Hao's Girlfriend, Why Broke Up with Sandar Ma Sichun?

Chen Duling Dramas, Movies, and TV Shows List

Ou Hao Dramas, Movies, and TV Shows List

Yang Yang Dramas, Movies, and TV Shows List

The Two Sweet Dramas Starred By Yang Yang, Ding Yuxi, Who Will You Choose?