The Captain – Zhang Hanyu, Ou Hao, Du Jiang, Yuan Quan
The Captain is a dramatic biographical disaster film directed by Liu Weiqiang, led by Zhang Hanyu, Ou Hao, Du Jiang, Yuan Quan, Crystal Zhang Tian'ai, and Li Qin, co-starring Zhang Yamei, Yang Qiru, and Gao Ge.
Based on the event of May 14, 2018, Sichuan Airlines flight making a diversion landing in Chengdu, the film tells the story of the "Heroic Crew of China's Civil Aviation" and the 119 passengers who encountered extreme danger and faced multiple trials of strong winds, low temperatures and pressure release in the cockpit at an altitude of 10,000 meters.
Details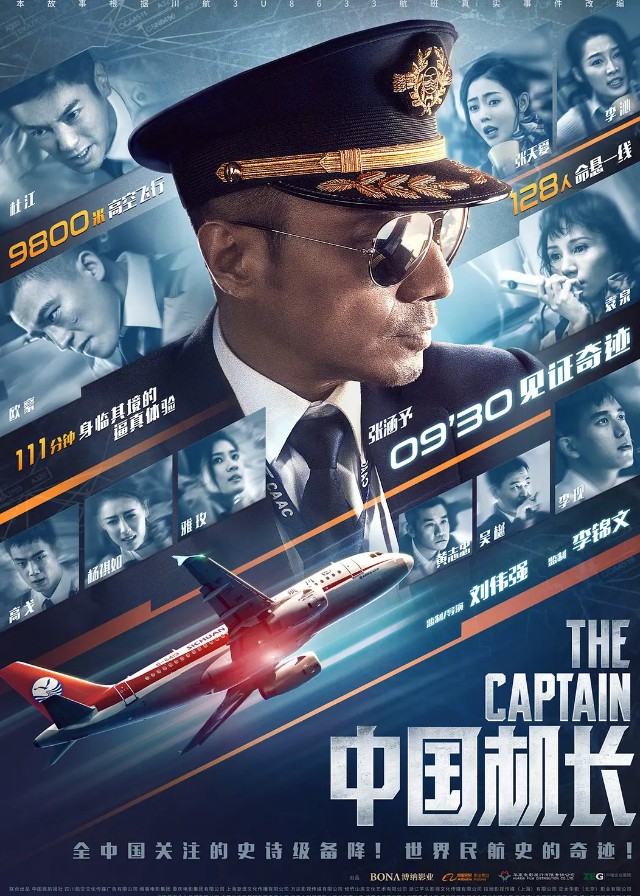 Cast
Synopsis
The crew of Sichuan Airlines Flight 3U8633 was on a flight when they encountered an extremely rare and dangerous situation in which the cockpit windscreen burst off and the cockpit released pressure at an altitude of 10,000 meters.
With very few instruments still in working order, the crew members struggled to fly manually.
When the cockpit pressure release occurred, the crew immediately implemented the pressure release disposal procedure, instructed passengers to use oxygen masks, and shouted out in a well-trained manner, "Please trust us and believe that we have the confidence and ability to lead everyone to a safe landing."
The correct handling by the heroic crew in a crisis of life ensured the safety of all the people on board and created a miracle in the history of the world's civil aviation.
Reviews
Related Posts
Is Xu Kaicheng Dating Gulnazar? Cheated on Crystal Zhang Tian'ai?

What's Allen Deng Lun and Li Qin's Relationship? The Wedding Has Been In Preparation?

Does Sweet Li Qin Have A Boyfriend? She Has Many Dating rumors

What's Xiao Zhan and Li Qin Relationship?

Who Is Crystal Zhang Tian'ai's Boyfriend? Is Xu Kaicheng?

Xu Kaicheng Apologies to Crystal Zhang Tian'ai and Gulnazar

Li Qin, Johnny Huang Jingyu Had A Love-Hate Relationship In "My Dear Guardian"

Li Qin Photos

Who Is Oho Ou Hao's Girlfriend, Why Broke Up with Sandar Ma Sichun?

Who Is Evan Li Yifeng's Girlfriend? Lee Da Hae Is The Only Girlfriend Li Yifeng Has Admitted To

Allen Ren Jialun, Li Qin Start The Fantasy Xian Xia Love Journey

Li Qin Dramas, Movies, and TV Shows List

Du Jiang Dramas, Movies, and TV Shows List

Yuan Quan Dramas, Movies, and TV Shows List

Zhang Hanyu Dramas, Movies, and TV Shows List

Ou Hao Dramas, Movies, and TV Shows List

Crystal Zhang Dramas, Movies, and TV Shows List