No More Bets – Lay Zhang, Gina Jin
No More Bets is a crime film directed by Shen Ao, led by Lay Zhang, Gina Jin, Yong Mei, and Wang Chuanjun, with special appearances by Darren Wang and Zhou Ye, co-starring Sunny Sun, and Sheren Tang.
Details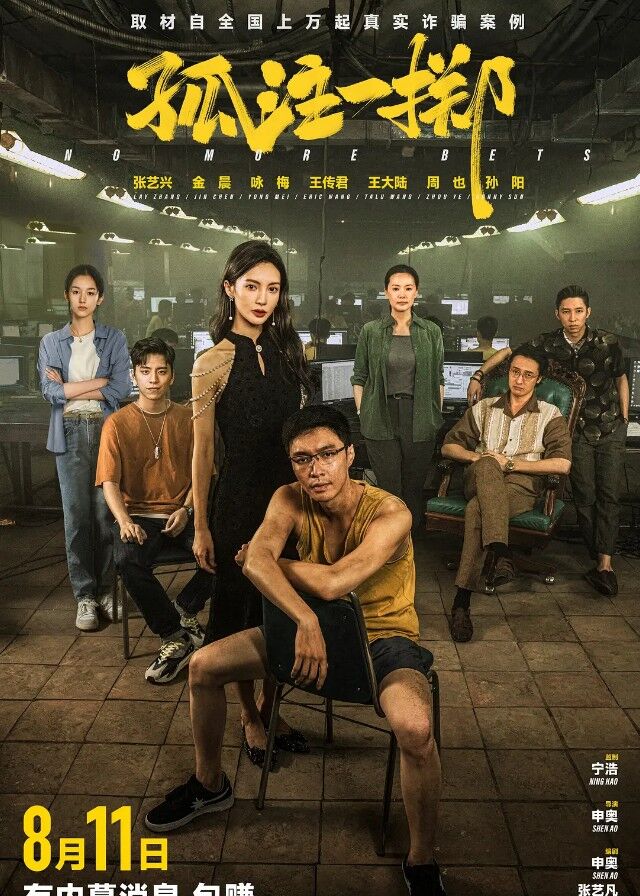 English Title: No More Bets
Chinese Title: 孤注一掷
Other Titles: 捕鱼行动, 捕鱼之放手一搏, 放手一搏
Genre: Crime, Suspense, Thriller, Drama
Duration: 130 min.
Director: Shen Ao
Writer: Shen Ao, Lay Zhang, Xu Luyang
Released Date: 2023-08-08
Boradcast Website: -
Cast
Synopsis
The movie is based on tens of thousands of real fraud cases, revealing the shocking secrets of the entire overseas online fraud industry for the first time on the big screen.
Programmer Pan Sheng and model Anna are lured by high-paying job offers from abroad, seeking their fortune overseas, but they accidentally fall into the trap of an overseas fraud factory. In order to leave, they plan to target the gambler A Tian and his girlfriend Xiao Yu, scamming them and achieving their goals.
Will Pan Sheng and Anna escape the brutal torment of the fraud group leaders, Manager Lu and A Cai? Faced with the multinational investigation and pursuit by the police, what path will they choose to take?
Reviews
You May Also Like
Related Posts
Lay Zhang Yixing, Yang Zi Relationship Is Suspected

Li Yifeng, Gina Jin Chen Are Suspected To Be In Love, Secret Dating Covered By William Chan, Zhu Yilong?

Does Crystal Yuan Bingyan Have A Boyfriend? Dating Lay Zhang is True Or Not?

Lay Zhang revealed His Ideal Type Girlfriend In "I am CZR 2"

Zheng Shuang's New Apology To Gina Jin Chen Is Hype?

How Is Jackson Wang And Lay Zhang's Relationship?

Zheng Shuang Apologized For Talking Gossip About Deng Lun And Gina Jin Chen's Relationship

Lay Zhang Yixing Quit EXO Korean Boy Group?

LAY join a new survival show 'We Are Young' as the producer for boy groups

Lay Zhang Yixing's Song "Mama" Involved In Plagiarism? The Famous Musician Was Suspected Of Chasing Clout.

Wang Feng Released A New Song With Lay Zhang And Gai

Gina Jin Dramas, Movies, and TV Shows List

Yong Mei Dramas, Movies, and TV Shows List

Wang Chuanjun Dramas, Movies, and TV Shows List

Lay Zhang Dramas, Movies, and TV Shows List