Bride Wars – Angelababy, Ni Ni, Zhu Yawen, Chen Xiao
Bride Wars is a romantic comedy film co-starring Angelababy, Ni Ni, Zhu Yawen, and Chen Xiao.
The film tells the hilarious story of two best friends who grow up together and turn against each other in a battle of wits over the perfect wedding they have in mind.
Details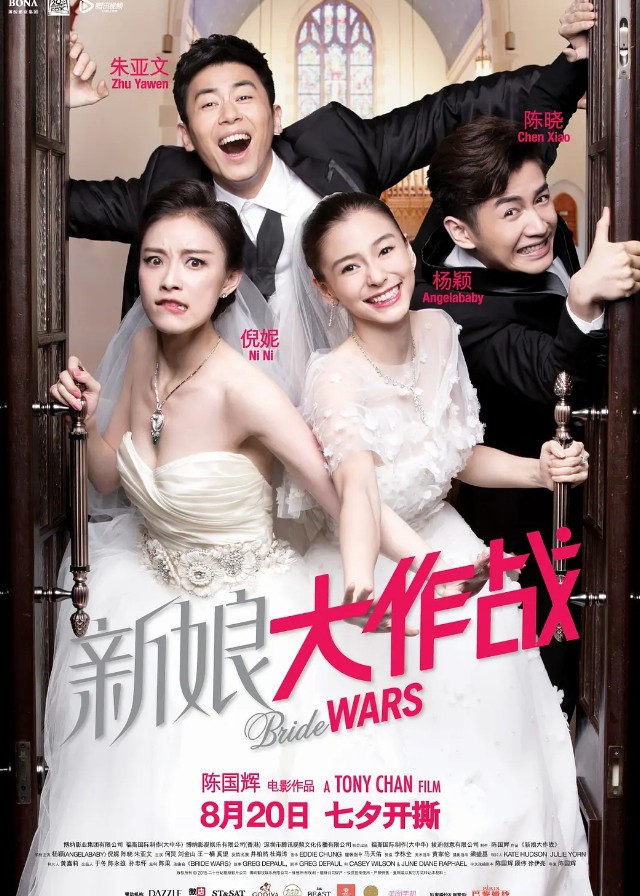 Cast
Synopsis
Ma Li and He Jing are childhood friends who attended a romantic wedding at a beautiful hotel. Since then, they dreamt of having their own weddings there.
Years later, they met their respective Prince Charmings and grew even more excited about their weddings.
However, their boyfriends were hesitant to talk about marriage. Eventually, they were able to make their love official in their own special ways and started preparing for their weddings.
Unfortunately, due to the negligence of  Ya Li Shan Da, the wedding planner's assistant, only one date at the hotel was available for the next three years. They both refused to compromise and even resorted to lying.
When the truth was revealed, they became enemies and a hilarious battle of wits and pranks ensued.
Reviews
You May Also Like
Related Posts
Why Did Jing Boran, Ni Ni Break Up?

Who Is Jing Boran's Girlfriend? Ni Ni Is The Only Girlfriend He Announced To Public

Is Angelababy Dating Deng Lun And Divorced With Huang Xiaoming?

Who Is Chen Xiao's Wife? He and Michelle Chen Fell In Love Over A Drama

Angelababy, Huang Xiaoming Responded To The Love Triangle Rumors With Li Fei'er

Angelababy, Huang Xiaoming Announced The Divorce

Huang Xiaoming announced his withdrawal from "Sisters Who make waves 2".

Chen Xiao Photos

Ni Ni Photos

Angelababy Photos

Crystal Liu Yifei Coupled With Chen Xiao in "A Dream of Splendor", A Kiss On set, A Beautiful Scene

Angelababy Dramas, Movies, and TV Shows List

Zhu Yawen Dramas, Movies, and TV Shows List

Chen Xiao Dramas, Movies, and TV Shows List

Ni Ni Dramas, Movies, and TV Shows List