Better Days – Zhou Dongyu, Jackson Yee
Better Days is a youth romantic film based on the novel by Jiu Yue Xi, directed by Zeng Guoxiang, led by Zhou Dongyu and Jackson Yee, co-starring Yin Fang, Huang Jue, Wu Yue, Zhou Ye, Zhang Yao, Zhang Yifan and Zhao Runnan.
The film tells the story of two teenagers whose destiny is changed by a school accident on the eve of their college entrance exams, and how they guard each other to become the adults they want to be.
Details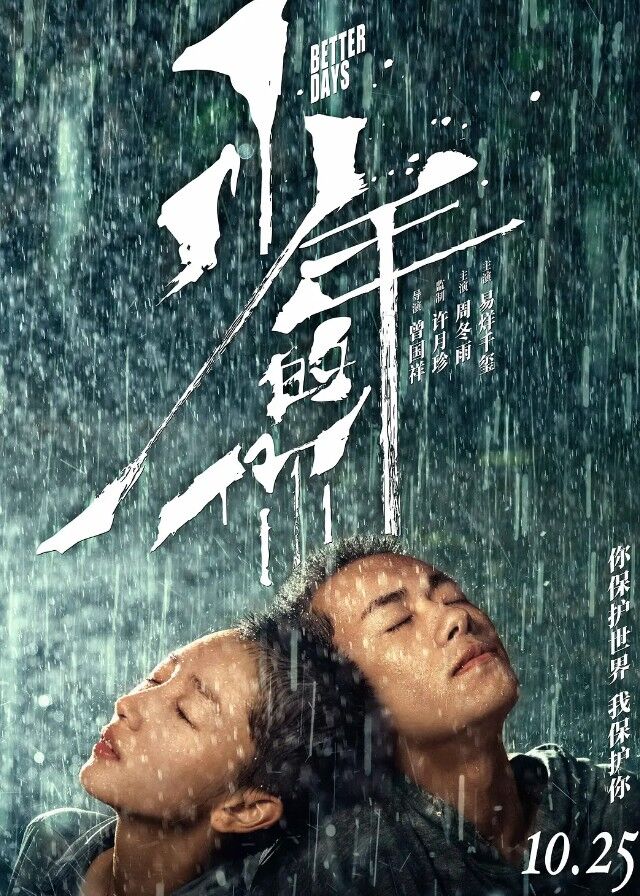 English Title: Better Days
Chinese Title: 少年的你
Genre: Youth, Romance, Drama
Duration: 135 min.
Director: Zeng Guoxiang
Writer: Li Yongchen Li Yuan Xu Yimeng
Producer: Xu Yuezhen
Released Date: 2019-10-25
Broadcast Website: AsianCrush, YouTube, 爱奇艺
Cast
Synopsis
An unexpected incident on the eve of the college entrance examination changed the fate of two teenagers.
Chen Nian is introverted and an exemplary student in school. Her only goal in her senior year is to study hard and get into a good university. The accidental fall of a classmate leads to a series of unknown stories, gradually pulling Chen Nian into the mix. In her loneliest moment, a boy named Xiaobei enters her world.
While most people's 18th year is bright and happy, they have prematurely experienced the indifference of the adult world during this summer at 18. A secret "battle" is unfolding, and they will together protect the dignity of youth.
Reviews
You May Also Like
Related Posts