The Founding of an Army – Liu Ye, Zhu Yawen, Huang Zhizhong
The Founding of an Army is the third film in the "Country Founding Trilogy" series, a film dedicated to the 90th anniversary of the founding of the army. It is directed by Liu Weiqiang, and stars Liu Ye, Zhu Yawen, Huang Zhizhong, Wang Jingchun, Ou Hao, Liu Haoran, and Ma Tianyu.
The film tells the story of the Chinese Communist Party's rescue of the revolution after the defeat of the First Domestic Revolutionary War in 1927 and the August 1st Nanchang Uprising in Nanchang, Jiangxi Province, which led to the founding of the People's Army under the leadership of the Chinese Communist Party.
Details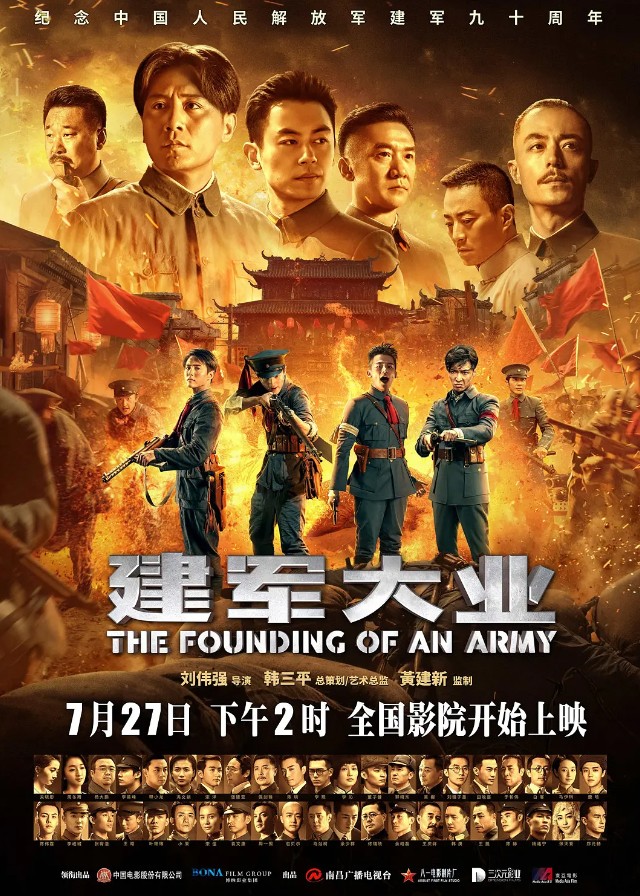 English Title: The Founding of an Army
Chinese Title: 建军大业
Genre: Military, Drama, Action
Duration: 133 min.
Director: Liu Weiqiang
Writer: Dong Zhe, Zhao Ningyu, Han Sanping,, Huang Jianxin
Producer: Yu Dong
Product Company: China Film Co.,Ltd, BONA
Released Date: 2017-07-27
Boradcast Website: -
Cast
Synopsis
In 1927, just as the Northern Expeditionary War was making significant gains, the Kuomintang reactionaries launched a frenzied campaign to purge the Communists in order to seize power and betray from the revolution.
In a matter of months, nearly 310,000 progressive compatriots were brutally murdered, and the nation was shocked that China, which had just seen hope, was about to fall back into the abyss of warlord chaos and dictatorship.
Without an armed force of its own, the Communist Party of China, founded less than seven years ago, suffered a near-destructive blow under the frenzied attacks of the Kuomintang reactionaries.
The painful lessons taught Mao Zedong, Zhou Enlai, and other progressists in the Party the hard truth that "power comes from the barrel of a gun".
At a time of life and death, they were ordered to go to Hunan and Nanchang, risking their lives, and joined forces with a group of patriotic generals such as Zhu De, He Long, Ye Ting, and Liu Bocheng to launch an uprising, vowing to form an army that truly belonged to the people.
The army's spirit was forged in iron blood, and they sacrificed themselves to protect their country.
Reviews
You May Also Like
Related Posts
Ouyang Nana, Zhai Zilu Relationship was Exposed?

Ray Ma Tianyu Falls In Love With Xuan Lu? Intimate Behavior Caused A Gossip

Zhou Dongyu and Turbo Liu Haoran Have Been Dating for Two Years?

Who Is Oho Ou Hao's Girlfriend, Why Broke Up with Sandar Ma Sichun?

Turbo Liu Haoran, Vicky Chen Are In A Relationship? Vicky Chen Denied At Once

Liu Haoran Dramas, Movies, and TV Shows List

Ou Hao Dramas, Movies, and TV Shows List

Zhu Yawen Dramas, Movies, and TV Shows List

Huang Zhizhong Dramas, Movies, and TV Shows List

Ma Tianyu Dramas, Movies, and TV Shows List

Wang Jingchun Dramas, Movies, and TV Shows List

Liu Ye Dramas, Movies, and TV Shows List