Asura – Leo Wu, Tony Leung, Carina Lau, Zhang Yishang
Asura is a fantasy action film directed by Zhang Peng, led by Wu Lei, Liang Jiahui, and Liu Jialing, co-starring Zhang Yishang, Feng Jiayi, Dong Qi, Ming Dao, and Duo Bu Jie.
The film tells the story of the Asura King who, in order to retrieve the soul of the Head of Insight and re-extinguish the heavenly realm, sends the "Shi Po Luo" into the Six Realms to search for the Head of Insight, "Ru Yi", and bring it back to the Asura Realm.
Details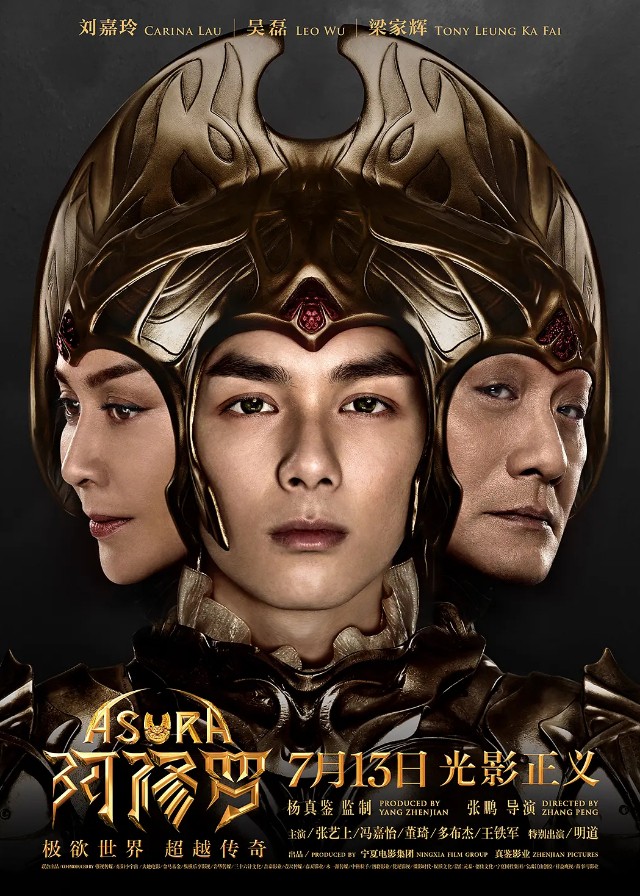 English Title: Asura
Chinese Title: 阿修罗
Genre: Fantasy, Action, Romance
Duration: 141 min.
Director: Zhang Peng
Writer: Adam Chanzit
Producer: Yang Hongtao, Yang Zhenjian
Product Company: NINGXIA FILM
Released Date: 2018-07-13
Boradcast Website: -
Cast
Synopsis
Hundreds of years ago, Asura King who had three heads, decided to launch a war against the heavens, seeking to change the natural law of the cycle of rebirth based on good and evil.
Asura was defeated and lost the "head of insight", being imprisoned in the realm of purgatory.
A hundred years later, Asura desired to launch another attack on the heavens, but in order to open the gates of heaven, he needed to find his missing "insight head" and merge with it.
In a mountain village in the human realm, a young shepherd named Ru Yi was suddenly found by Asura and taken into his world.
In the palace of Asura, RU Yi was treated like a king and indulged in all sorts of unprecedented desires.
However, when he saw Asura recklessly destroying life and learned that he was the reincarnation of the missing "insight head" and was to merge with Asura to destroy the heavens, he angrily fled the palace.
The beautiful and kind-hearted leader of the Asura rebellion, Hua Rui, followed her teacher's wishes to guard the six realms. Her appearance changed Ru Yi's fate, and he discovered his true desire in life - love.
With the inspiration of love, Ru Yi found the power of goodness and single-handedly defeated Asura, saving the entire six realms and becoming the new generation of Asura king. Despite having all desires at his fingertips, he made a surprising decision.
Reviews
You May Also Like
Related Posts