1921 (Nineteen Twenty One) – Huang Xuan, Ni Ni
1921 is a historical drama film dedicated to the 100th anniversary of the founding of the Chinese Communist Party, directed by Huang Jianxin and Zheng Dasheng, starring Huang Xuan, Ni Ni, Wang Renjun, Liu Haoran, Chen Kun, Li Chen, Yuan Wenkang, Han Dongjun, Zhang Songwen, Zu Feng, Shawn Dou, Wang Junkai, Liu Jiayi, Zhang Chao, Zhang Yunlong, and Hu Xianxu.
The film tells the story of the first Chinese Communists, who took up the important task of saving the country and making the future of the Chinese revolution new in the midst of the stormy days.
Details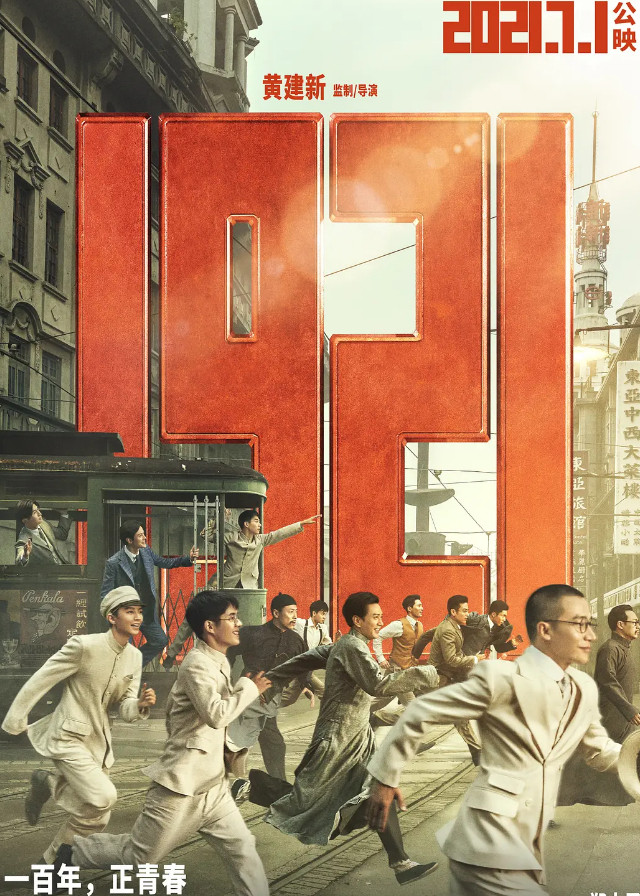 English Title: 1921 (Nineteen Twenty One)
Chinese Title: 1921
Genre: Drama, War, Political
Duration: 137 min.
Director: Huang Jianxin, Zheng Dasheng
Writer: Yu Xi, Huang Jianxin, Zhao Ningyu
Producer: Ren Ning
Product Company: TENCENT PICTURES, SHANGHAI FILM GROUP, Dimension Films, China Film Co.,Ltd., Huaxia Film Distribution Co. Ltd., DAYOU MEDIA CENTER OF THE PARTY SCHOOL OF THE CENTRAL COMMITTEE OF C.P.C
Released Date: 2021-07-01
Watch On: 腾讯视频, 爱奇艺
Cast
Synopsis
In 1921, Shanghai was a city with a number of Concessions and a tense situation.
Thirteen young men from all over the country, with an average age of 28, set out from the plight of a nation in peril, turning their youthful ideals into a belief in saving the country and the people and seeking the truth. They gathered in Shanghai, breakthrough the monitoring and tracking of complex international forces.
Under the leadership of Chen Duxiu and Li Dazhao, the first national congress of the Chinese Communist Party was held in Shanghai on July 23, 1921, announcing the official establishment of the party that would change the future destiny of hundreds of millions of people.
Since then, a new chapter in Chinese history has been opened.
Reviews
Related Posts
Why Did Jing Boran, Ni Ni Break Up?

Who Is Jing Boran's Girlfriend? Ni Ni Is The Only Girlfriend He Announced To Public

Zhou Dongyu and Turbo Liu Haoran Have Been Dating for Two Years?

Ouyang Nana, Zhai Zilu Relationship was Exposed?

Turbo Liu Haoran, Vicky Chen Are In A Relationship? Vicky Chen Denied At Once

Wang Yibo's new drama "Luoyang" was announced, Huang Xuan is the leading role

Ni Ni Photos

Ni Ni Dramas, Movies, and TV Shows List

Liu Haoran Dramas, Movies, and TV Shows List

Huang Xuan Dramas, Movies, and TV Shows List