Brotherhood of Blades 2 – Chang Chen, Yang Mi
Brotherhood of Blades 2 is a historical martial arts film directed by Lu Yang, starring Chang Chen, Yang Mi, Zhang Yi, Lei Jiayin, Xin Zhilei, Jin Shijie, Liu Duanduan, and Li Yuan.
The film tells the story of Shen Lian, a Jinyi imperial guard, who is caught up in a conspiracy in the seventh year of the Tianqi reign of the Ming Dynasty, and works with a young girl named Bei Zhai and his colleague Pei Lun to discover the truth in order to prove his innocence.
Details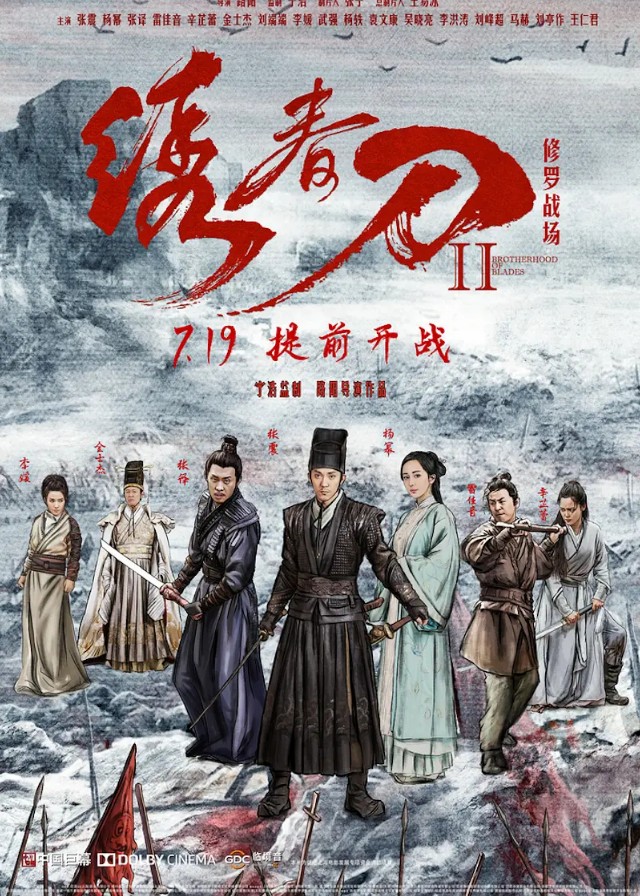 Cast
Synopsis
In the seventh year of the Tianqi reign of the Ming Dynasty, Shen Lian, a member of the Jinyiwei imperial secret police in Beizhen, kills his colleague Ling Yunkai to save the painter Bei Zhai during a mission to eliminate a group of rebels.
Afterward, Shen Lian must evade suspicion and investigation from Lu Wenzhao and Pei Lun, while also being blackmailed by a mysterious woman to investigate the truth behind the Jinyiwei's history.
Amidst the chaos of the times, Shen Lian and Bei Zhai become entangled in a dangerous love affair, and a larger conspiracy looms in the background.
In the struggle for survival during the late Ming dynasty, Shen Lian faces new challenges, and the bonds of love and brotherhood may prove to be even more dangerous.
Reviews
You May Also Like
Related Posts
Hawick Lau Admits Dating Li Xiaofeng, Who is Yang Mi's Best Friend in the Drama Dramatically

How Is Yang Mi And William Chan's Relationship?

The Rumors That Yang Mi And Wei Daxun Got Married Were Denied By Yang Mi Studio

Qin Lan and Wei Daxun Were Spotted Dating in Sanya

Is Wei Daxun Yang Mi's Boyfriend After Divorced With Ex-husband Hawick Lau

Yang Mi Is Dating Daniel Zhou Keyu? Is It Too Outrageous?

8 Most Anticipated C-Drama in 2021

Yang Mi Photos

Yang Mi and Xu Kai's CP Triggered Teasing, Douban Rating 5.8 is High or Low?

Yang Mi Dramas, Movies, and TV Shows List

Zhang Yi Dramas, Movies, and TV Shows List

Lei Jiayin Dramas, Movies, and TV Shows List

Shih-Chieh King Dramas, Movies, and TV Shows List

Li Yuan Dramas, Movies, and TV Shows List

Chang Chen Dramas, Movies, and TV Shows List

Liu Duanduan Dramas, Movies, and TV Shows List

Xin Zhilei Dramas, Movies, and TV Shows List