21 Carat – Guo Jingfei, Dilraba Dilmurat
21 Carat is a romantic comedy film directed by He Nian, led by Guo Jingfei and Dilraba Dilmurat, with special appearances by Dong Chengpeng, Bao Bei Er, and Liu Ruilin.
Based on the play of the same name by He Nian, the film tells the story of Liu Jiayin, who is bankrupt and sells all his luxuries to pay off his debts, and Wang Jiwei, who does everything he can to save money. They share a house by a series of coincidences and then start a ridiculous life.
Details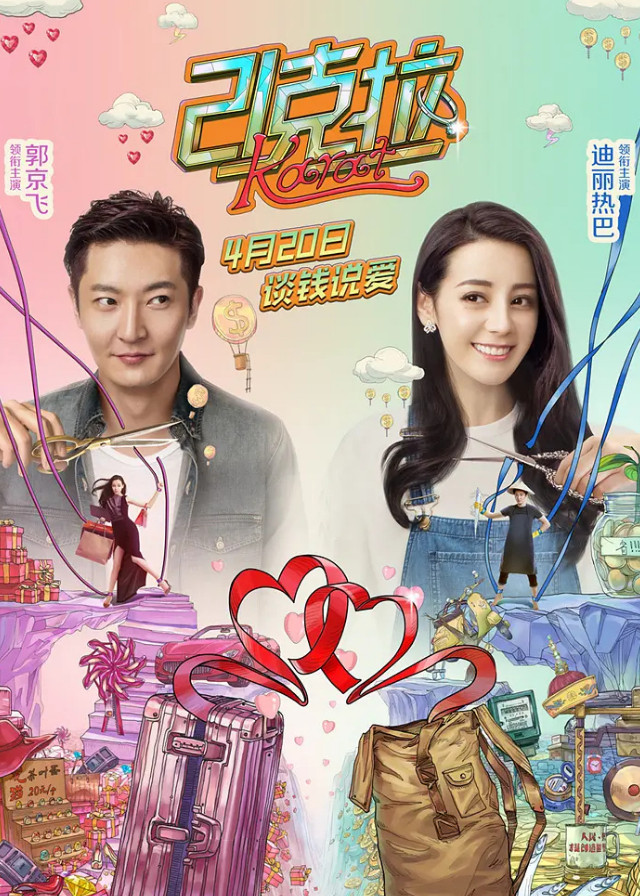 English Title: 21 Carat
Chinese Title: 21克拉
Genre: Romance, Comedy
Duration: 96 min.
Director: He Nian
Writer: Ma Tian, Li Yang, He Nian
Producer: Zhu Dongrong
Product Company: SMG Pictures
Released Date: 2018-04-20
Broadcast Website: 爱奇艺
Cast
Synopsis
Liu Jiayin is a material girl, who has the concept of "spending money is a kind of beauty". She is obsessed with diamonds, swiping credit cards, and shopping, and even sleeps with her bags. She is also known as "Liu Maimai".
However, after she broke up with her rich boyfriend, she has to sell all her luxury goods to pay off her debts.
The actor, Wang Jiwei, is born to save money and does everything he can to save money, not only taking the attitude of "saving money" to the extreme but also elevating it to the level of "art".
His goal in life is to "earn a limited amount of money and enjoy an unlimited amount of life".He is known as "Wang Koukou"
After being dismissed from his theatre company due to a stage accident, Wang Jiwei fails to find a new resident and faces the "double hit" of unemployment and homelessness.
By coincidence, "Wang Koukou" meets "Liu Maimai", who is his turning point in life.
They meet by accident in a theatre and share a house under a series of coincidences, living an absurd life of vagrancy.
Reviews
You May Also Like
Related Posts
Does Dilraba Dilmurat have a Boyfriend? Secret Marriage Rumor Troubled Her Much

Vin Zhang Binbin's Rumored Girlfriend, Who Is His Ideal Type?

Yang Yang, Dilraba: Is It Possible For them To Be In A Relationship In Reality?

Will Johnny Huang And Dilraba Declare Together After The Spring Festival Gala

Luo Yunxi and Dilraba His Favorite Actress on the same stage

Dilraba and Johnny Huang were suspected of being in love, fans asked the studio to disprove the rumor.

Dilraba, Leo Wu Lei Playing A Couple In "The Long Ballad" Led A Hot Discussion On The Net.

Dilraba Dilmurat Photos

Yang Yang, Dilraba: The Wedding Scene Of "Jing Tu CP" Was Exposed In Advance.

Diliraba's Suspected Pregnancy Triggered The Discussion Once Again

The Two Sweet Dramas Starred By Yang Yang, Ding Yuxi, Who Will You Choose?

Dilraba Dilmurat Dramas, Movies, and TV Shows List

Guo Jingfei Dramas, Movies, and TV Shows List