We Are Blazing Published the SING's Gesture Poster
A few days ago, China's first music group competition reality show "We Are Blazing" officially announced the official guest, and published the team's gesture poster. There are six groups attend at the start: R1SE, SING, SNH48, Sis, BlackACE, Penicillin, different types of music groups will against each other in the show to compete for the title of "King of the Group".
As the only Electronic Chinese style girl group in the show, SING has debuted 5 years and has already accumulated a lot of works and popularity.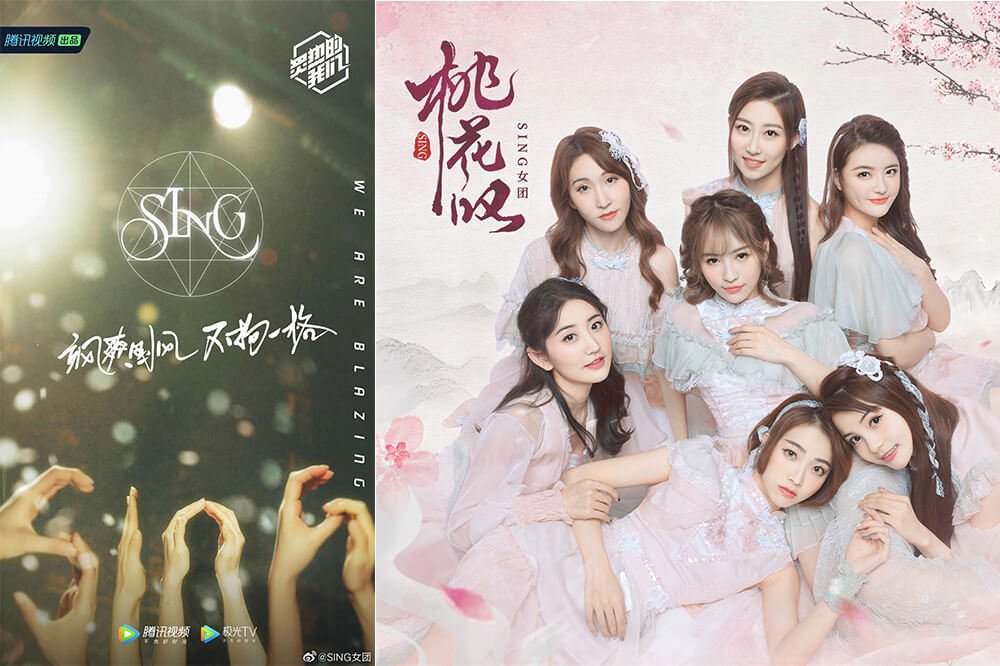 In the exposed gesture poster, SING uses their hands to make the four letters of the group name "S I N G". In the background, the slogan of the text "the Chinese style, unconventional" represents the unique and distinctive style of SING, while the English slogan "we are blazing" echoes the overall program concept about burning" and "exploding", unleashing energy on the stage and conquering the audience with unconventional performances.
At the same time as the official announcement of the show's line-up, the members of the contestants have also changed their avatars to something new. For example, R1SE members collectively replaced the cartoon image of the black cat sheriff.
While the SING was updated to Q Chinese style clothing mix avatar. In 2017, SING relied on the electronic Chinese style song "Send to Moon", and the song and dance had been a hit on the Bilibili, and it was quickly spread all over the world, with 15 million plays on the YouTub.
In the field of CPOP music, SING has been releasing many singles and is constantly innovating to find more possibilities for the collision of traditional culture and trendy music elements. From "Ye Sheng Ge", which incorporates elements of southwestern folk music, to "Qian Zhan", which incorporates rock music, to "Hua Qiang", which incorporates elements of Peking opera, etc.
By the high-quality singles, the SING shows the various forms of electronic Chinese style to the audience and has gained a large number of Chinese style music fans' love and admiration.
In addition to the small flame with the show's logo, the bowl of noodles in each member's hand has also attracted attention in the avatars of the SING members. It is reported that the first stage of SING will be performed the Wu Yifan's "Big Bowl of Noodles", a popular song that combines Chinese style and rap elements, not only in line with SING's style, but also has an unconventional attitude.
So how will SING Recompose the original song? And will it bring the audience a refreshing national style stage? Worth looking forward to it!
---
To Know more information about SING and CPOP, Pls visit our website: CPOP HOME