SING, also known as Super Impassioned Net Generation, is a Chinese Girl Group. On August 10, 2015, They debuted with the song "Qing Chun De Gao Bai". The initial members were Cai Sha, Wang Wenjie, Lin Jin Yi, Chen Wenruo, Qin Yu, Bian Li, Lin Hui, Gong Tianying, Jiang Shen, Lai Meiyun, and 5 others suspended their activities for personal reasons, and then added three new members, Xu Shiyin, Chen Li, and Wu Yao, etc.

After the Christmas performance in 2017, Lin Jin Yi announced that she would take a long recuperation due to a heart condition. And in early 2018, original member Bian Li returned again and started attending group activities. On March 21, Lin Jin Yi announced that she would quit SING Girls because her body could not handle strenuous exercise.

Lai Meiyun was a member of Rocket girl 101 since she won in "Produce 101". And She has become a Solo singer after the Rocket Girl 101 was disbanded on June 23, 2020.
On September 27th, 2020, in the fifth anniversary online fan meeting, three new members were added. They are Lin Jiahui, Ma Xuejiao, and Zhong Ying.
On December 26, 2020, Bian Li, Chen Li graduated from SING.
The current official members are Jiang Shen, Xu Shiyin, Linhui, Qin Yu, Wu Yao, Zhong Ying, Lin Jiahui, and Ma Xuejiao.
The official fan's name is "Starriness". They primarily produce electronic dance music inspired by traditional Chinese music
Fanchant:
diàn zǐ guó fēng bàn qīng wǔ, wéi wǒ fán xīng shǎo nǚ zǔ(电子国风伴轻舞,唯我繁星少女组)
SING, guó fēng dà shì , dà hóng dà zǐ(SING, 国风大势,大红大紫)
---
SING Official Accounts
Youtube: SING Girls【CPOP】/ SING Girls' Group
Twitter: SING_GirlsGroup
Official Website: fanxing.kugou.com/sing/
Weibo: SING女团
BiliBili: SING女团 / SING女团视频组
---
SING Members
Current Members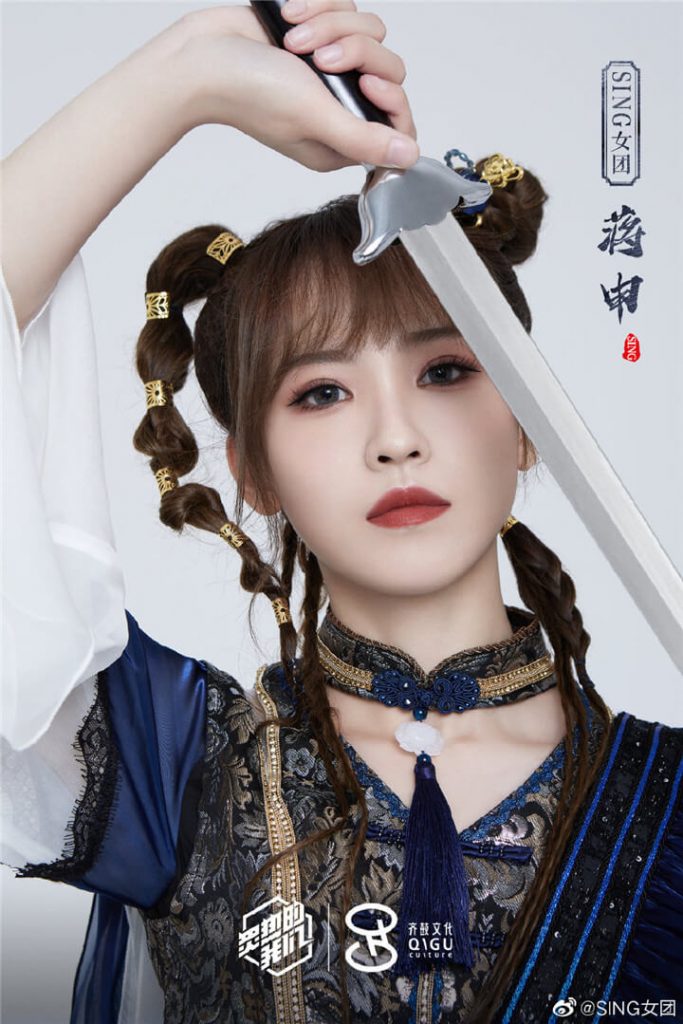 Stage Name: Jiang Shen
Birth Name: Jiang Shen (蒋申)
English Name: Debbie
Nickname: Daibi
Position: Vocalist, Rapper, Face of the Group
Birthday: August 30, 1997
Zodiac Sign: Virgo
Place of Birth: Shanghai, China
Blood Type: O
Singles: Mermaid, Chong Wu Neng Li Ge(宠物能力歌), Shang Hai Shi Guang(上海时光) Meng Meng Da(萌萌哒),Bei Dui Bei Xiang Nian(背对背想念)
Fandom's name: Hu Shen Fu
Fandom Color: ■#00B7EE(Blue)
Fanchant: yín hé yǐ běi, jiǎng shēn zuì měi(银河以北,蒋申最美)
Instagram: debbie08300
Weibo: SING-蒋申
BiliBili: SING蒋申
---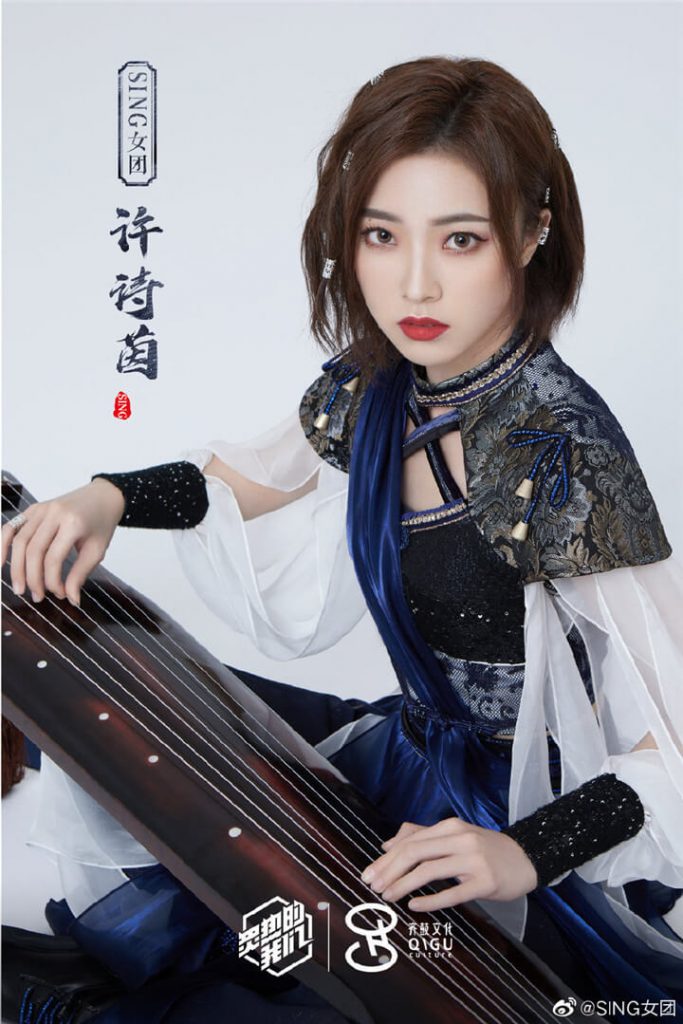 Stage Name: Xu Shiyin
Birth Name: Xu Shiyin(许诗茵)
Nickname: Xiao V (Small V/Miss V)
English Name: Valentina
Position: Lead Vocalist, Composer
Birthday: February 3, 1995
Zodiac Sign: Aquarius
Place of Birth: Shanwei, Guangdong, China
Singles: Bai Yi Shao Nian(白衣少年),Xin Zhuang(新装/New Dress), Yi Sheng Tian Ya(一生天涯),It's you, that's right(是你没错了) Qian Ai(犬爱), Miss Her(想她)
Fandom's name: V Zaishou(V Beast)
Fandom Color: #FFFFFF(White)
Fanchant: yǎng wàng fán xīng, xīn xǔ shī yīn(仰望繁星,心许诗茵)
Instagram: sy_valentina
Weibo: SING-许诗茵
BiliBili: SING许诗茵
---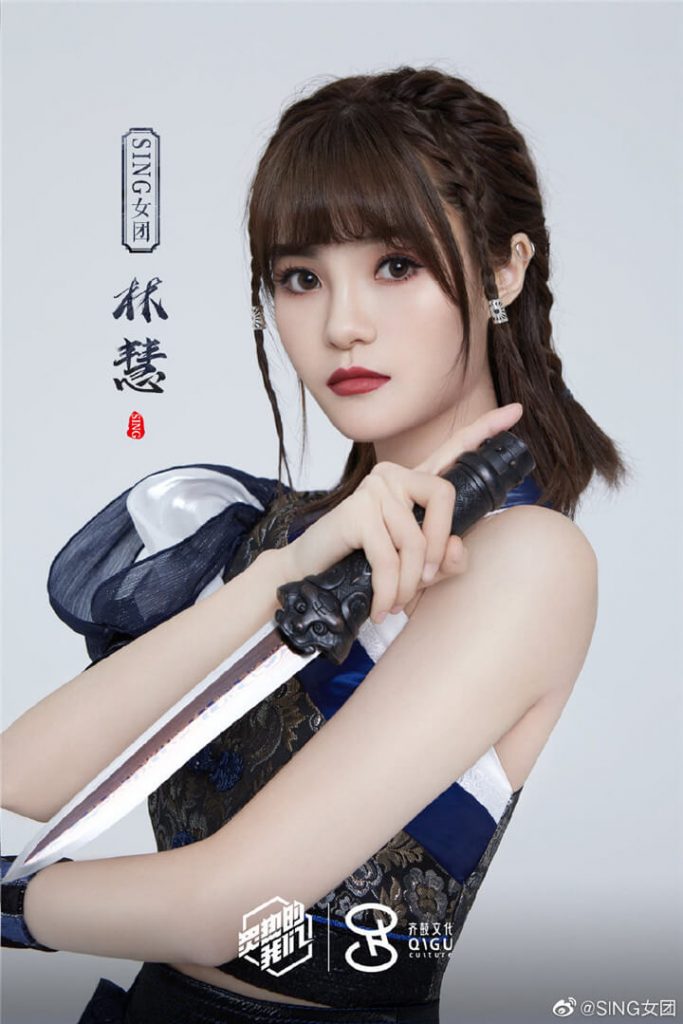 Stage Name: Lin Hui
Birth Name: Lin Hui (林慧)
English Name: Haha
Nickname: Dalian Er Ha (Big Face Haha)
Position: Main Vocalist
Birthday: October 9, 1996
Zodiac Sign: Libra
Place of Birth: Changde, Hunan, China
Singles: Feng Hua Cuo(风华错), Chong Wu Neng Li Ge(宠物能力歌), Bei Dui Bei Xiang Nian(背对背想念), If it didn't rain that day(如果那一天的雨没有下)
Fandom's name: HONEY(HANI)
Fandom Color: ■#FFFF00 (yellow)
Fanchant: tián tián měi jiàng lín, huì xīn yī jī(甜美降林,慧心一击)
Instagram: hahalinnn
Weibo: SING-林慧
BiliBili: SING林慧
---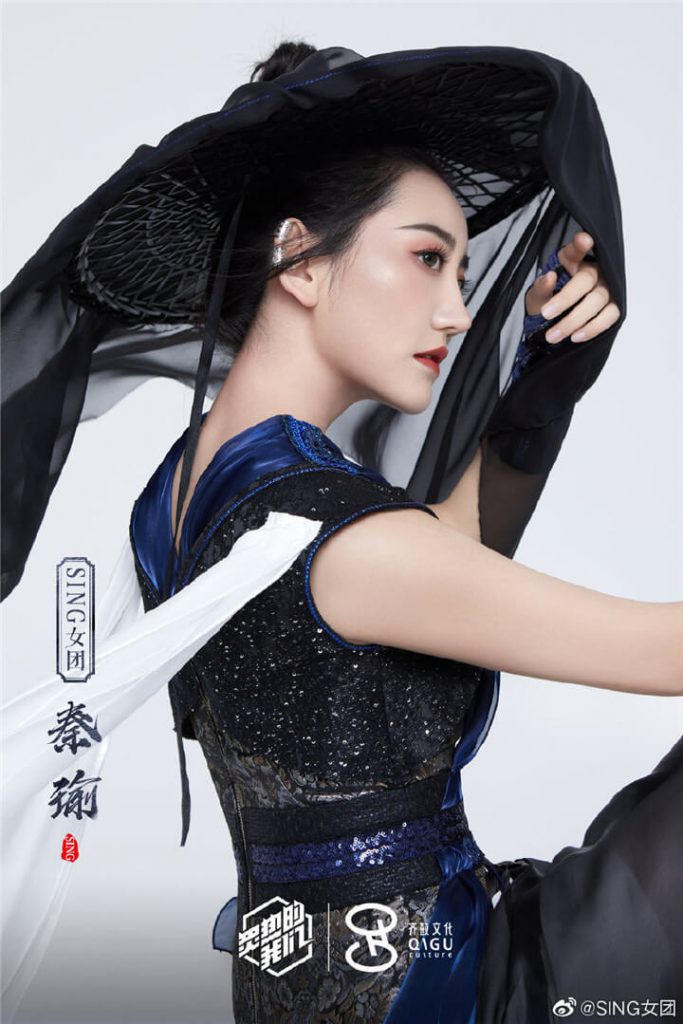 Stage Name: Qin Yu
Birth Name: Qin Yu (秦瑜)
English Name: Sophie
Nickname: YuChun/Lao Qin
Position: Leader, Main Dancer, Rapper, Sub Vocalist
Birthday: February 15, 1995
Zodiac Sign: Aquarius
Place of Birth: Yongzhou, Hunan, China
Blood Type: A
Fandom's name: Yudan(Fish Eggs)
Fandom Color: ■#FF0000(Red)
Fanchant: měi hǎo xīn qín, nián nián yǒu yú(美好心秦,年年有瑜)
Instagram: qy_sophie
Weibo: SING-秦瑜
BiliBili: SING秦瑜
---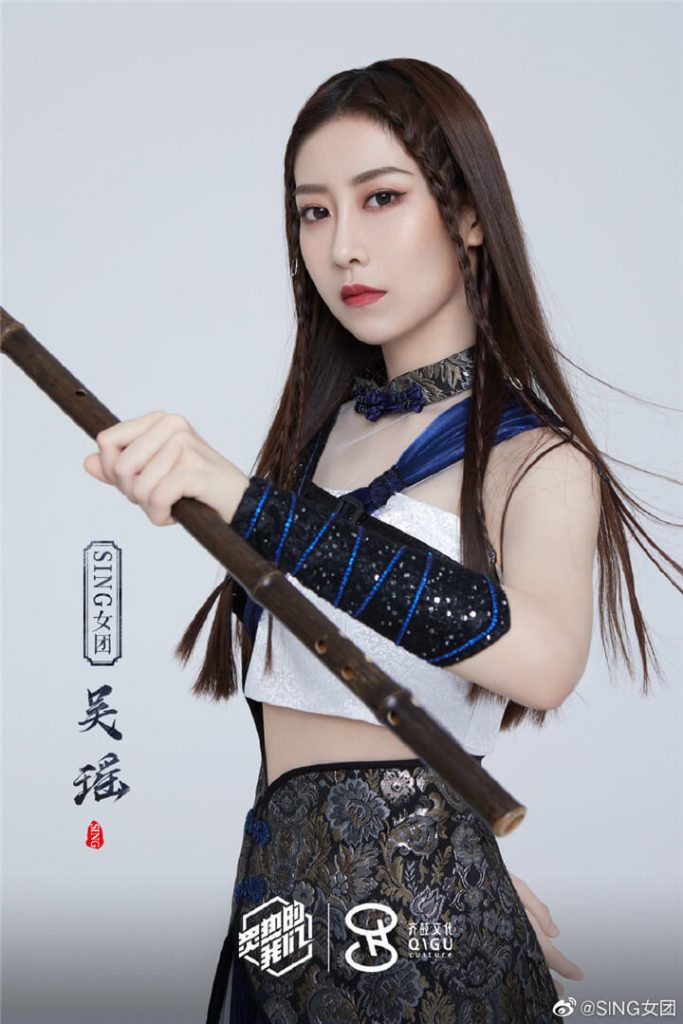 Stage Name: Wu Yao
Birth Name: Wu Yao (吴瑶)
English Name: Miko
Nickname: DA YAO/ YAO YAO/ Da Piaoliang(Big Beauty)
Position: Lead Dancer, Vocalist
Birthday: December 12, 1992
Zodiac Sign: Sagittarius
Place of Birth: Dalian, Liaoning, China
Blood Type: B
Fandom's name: Wuhuaguo (Fig)
Fandom Color: ■#7030A0(Purple)
Fanchant: wú yǔ lún bǐ, xiǎng yáo yǒu nǐ(吴与伦比,想瑶有你)
Instagram: mikooo_yaoyao
Weibo: SING-吴瑶
BiliBili: SING吴瑶
---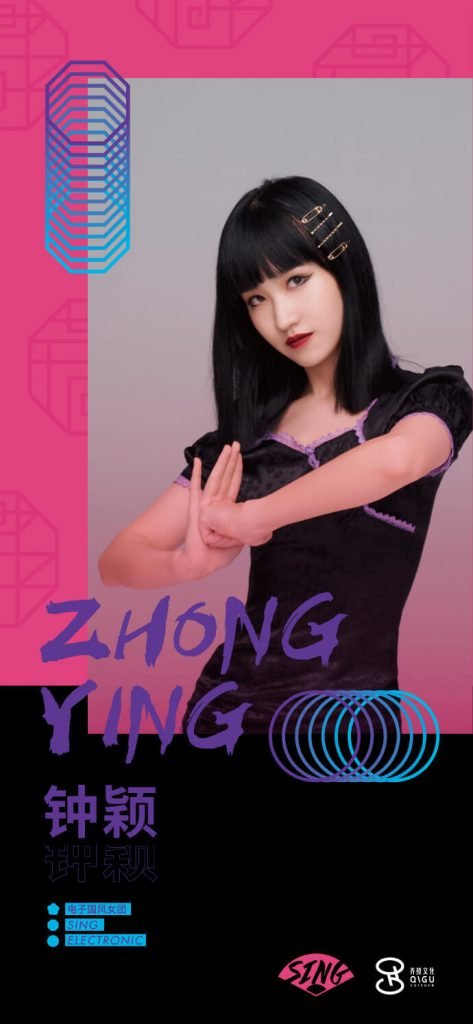 ---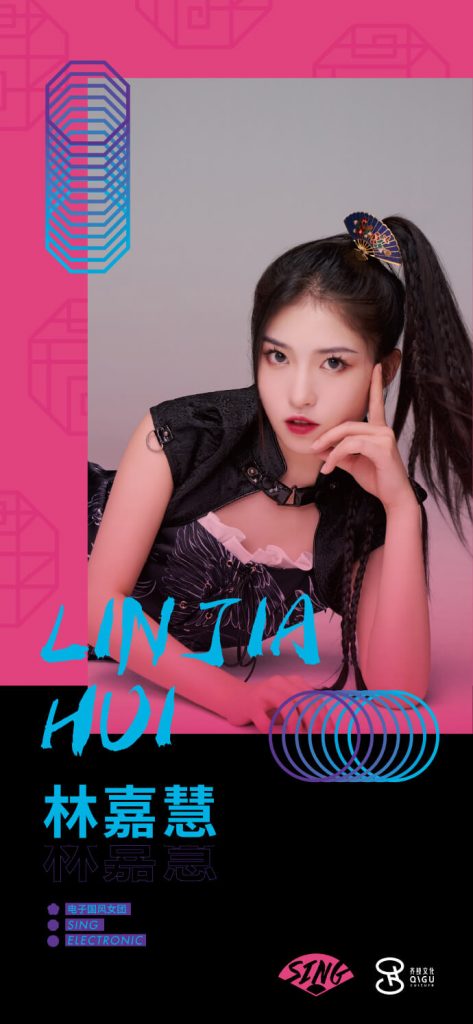 ---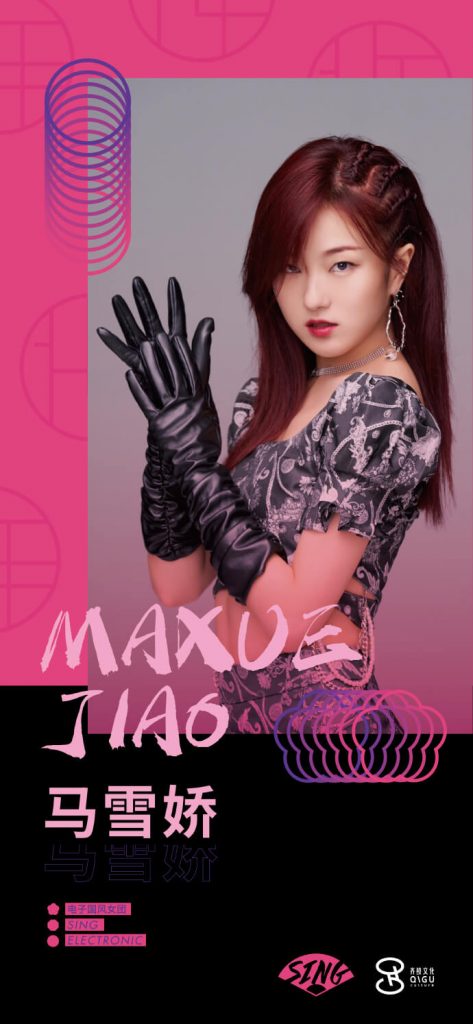 Stage Name: Ma Xuejiao
Birth Name: Ma Xuejiao(马雪娇)
Position: Rapper
Weibo: SING-马雪娇

---
Former Members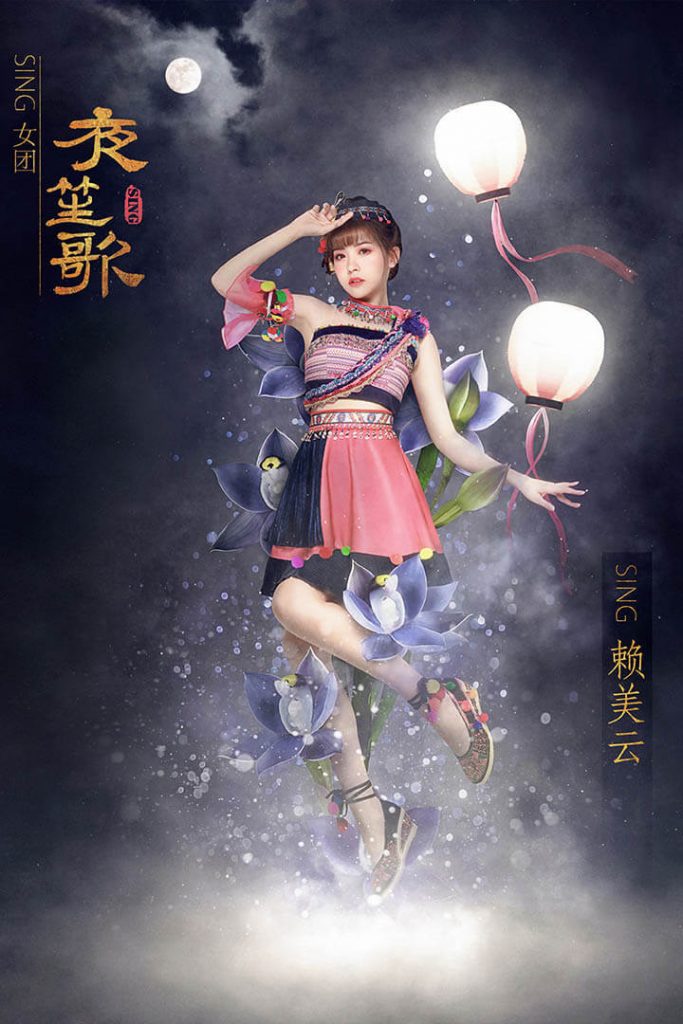 Stage Name: Lai Meiyun
Birth Name: Lai Meiyun (赖美云)
English Name: Sunny
Nickname: Xiao Qi and Small 7
Position: Main Vocalist, Face of the Group, Youngest
Birthday: July 7, 1998
Zodiac Sign: Cancer
Place of Birth: Guangzhou, Guangdong, China.
Blood Type: B
Singles: Raining(下雨了), Bu Miao Xiao(不渺小), Pulsar(脉冲星)
Fandom Color: ■#FF7F00(Orange)
Fandom's name: Xiao Mianbao (Little Breads)
Fanchant: yǐ qī zhī míng, rú yún suí háng(以七之名,如云随行)
Present: SOLO
Instagram: laimeiyun77_seya
Weibo: 火箭少女101_赖美云
BiliBili: 赖美云
---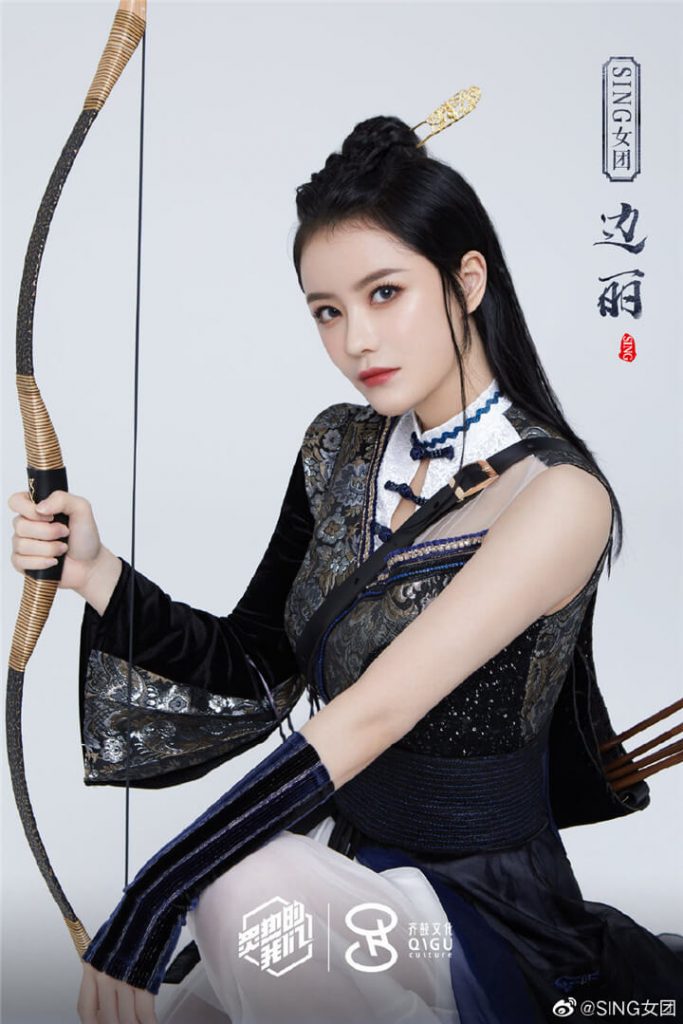 Stage Name: Bian Li
Birth Name: Bian Li (边丽)
English Name: Jessica
Nickname: Bian Bian/Bian MA
Position: Lead Vocalist
Birthday: October 7, 1995
Zodiac Sign: Libra
Place of Birth: Chengdu, Sichuan, China
Singles: Someday(某一天), Wait(等)
Fandom's name: Bianlitie (Sticky notes)
Fandom Color: ■#81D8D0(Tiffany Blue)
Fanchant: fēng yuè wú biān, lì yǐng piān piān(风月无边,丽影翩翩)
Instagram: yuki00baby
Weibo: SING-边丽
BiliBili: SING边丽
---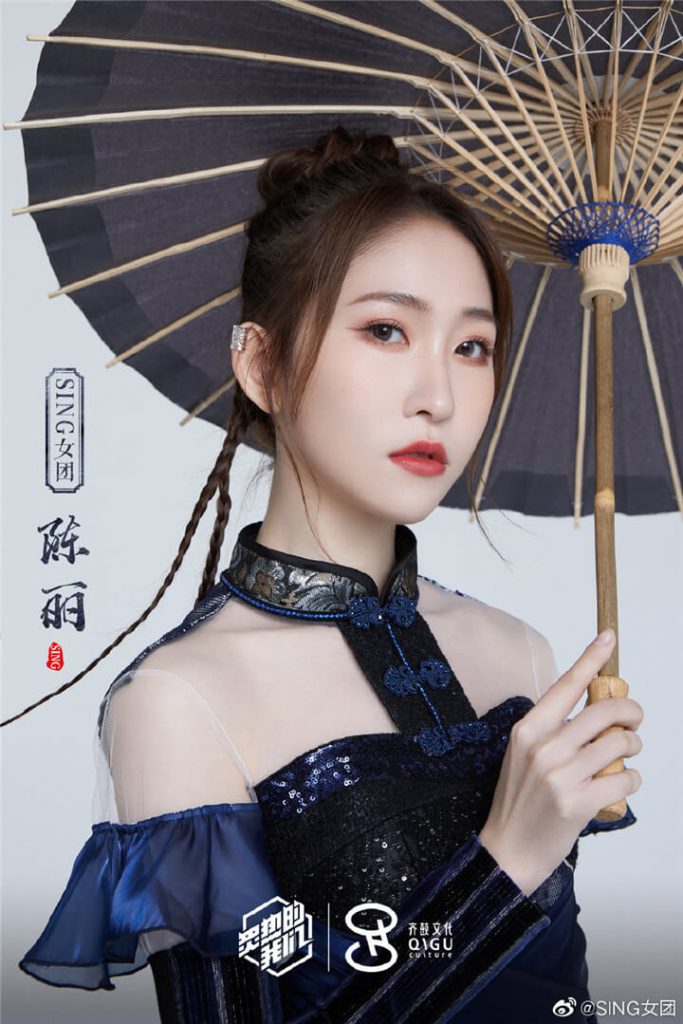 Stage Name: Chen Li
Birth Name: Chen Li (陈丽)
English Name: Pink
Nickname: Tongtong/LiLi
Position: Lead Dancer, Sub Vocalist
Birthday: November 19, 1995
Zodiac Sign: Scorpio
Place of Birth: Guangzhou, Guangdong, China
Fandom's name: Tiantong (Icecream cones)
Fandom Color: ■#FFC0CB(Pink)
Fanchant: yuè luò xīng chén, lì yǐng jiā rén(月落星陈,丽影佳人)
Instagram: pinkcli
Weibo: SING-陈丽
BiliBili: SING陈丽
---
Lin Jinyi (林津伊) (Magical)
Cai Sha (蔡莎) (SaSa)
Wang Wenjie (王文洁) (Candy)
Chen Wenrou (陈温柔) (Ruby)
Gong Tianying (龚天颖) (Lorinda)
---
Discography
Recommend Single: Ji Mingyue(寄明月)
Album & EP
Singles
---
SING Reunions
---
Performances
---
To Know more information about SING and CPOP, Pls visit our website: CPOP HOME
If you have any contents to add or articles, member pages to contribute, Welcome to contact us or leave a comment below
Email: [email protected]