Lai Meiyun (Sunny) Profile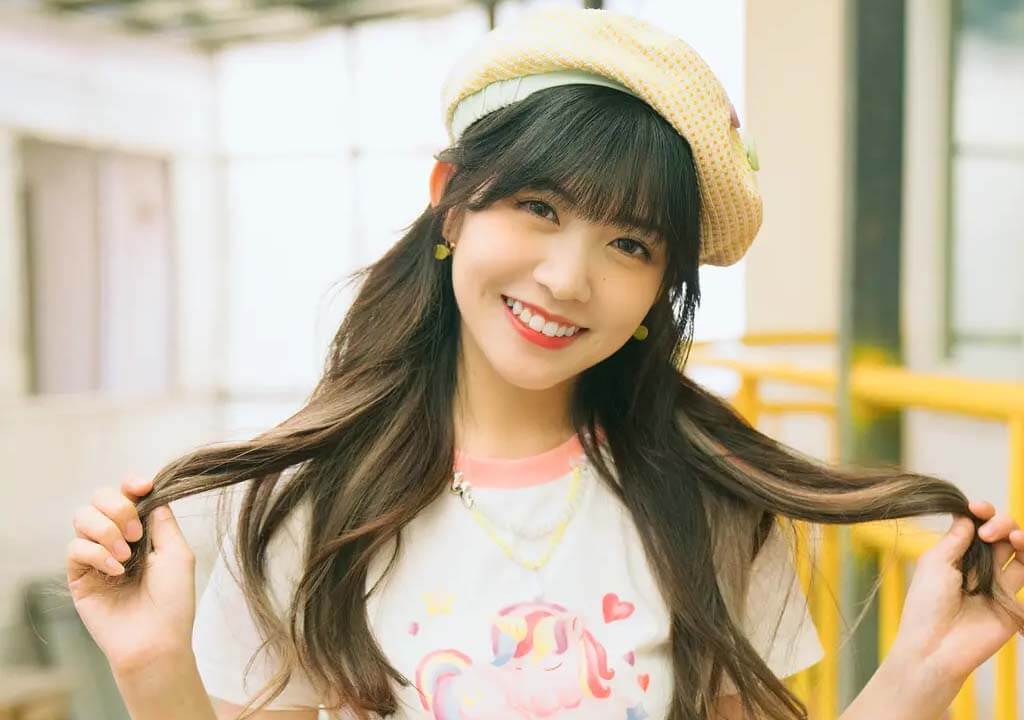 Lai Meiyun(Sunny, 赖美云) born on July 7, 1998, in Shenzhen, Guangdong, China, is a Chinese singer, actress, former member of Rocket Girls 101 and S.I.N.G.

On August 10, 2015, Lai released her debut single "Confessions of Youth" with SING, making her official debut. In 2018, she took part in the "Produce 101 China", and eventually joined the "Rocket Girls 101". In July 2021, the drama "My Queen" in which she played the lead role was broadcast.
Basic Info
Stage Name: Lai Mei Yun
Birth Name: Lai Meiyun (赖美云)
English Name: Sunny
Nicknames: Xiao Qi, Seven, Little Seven
Birthday: July 7th, 1998
Place of Birth: Guangzhou, Guangdong
Zodiac Sign: Cancer
Height: 153cm
Weight: 39kg
Blood Type: B
Fandom Color: Orange#FF7F00
Fandom's Name: Xiao Mianbao (Little Breads)
Fanchant: yǐ qī zhī míng, rú yún suí háng(以七之名,如云随行)
Instagram: laimeiyun77_seya
Weibo: 赖美云
BiliBili: 赖美云
Facts
Lai Meiyun's agency is Qigu Cluture.
She was a member of the school choir from primary to secondary school.
She once auditioned for SNH48 but failed.
She was captain of S.I.N.G for one year.
She won the 6th place in the final of "Produce 101 China".
Favorite food: meat, beef short rib, steamed creamy custard bun, coconut chicken.
Favorite Drink: milk tea.
Doesn't like soft foods with less taste, such as eggplant and taro.
She can eat a lots.
Lai Meiyun's wish is to grow taller.
Favorite Movie: The Avengers.
Favorite Singer: Hua Chenyu.
She has cute canine teeth and dimples.
She has a voice that doesn't match her appearance.
She has a title "Queen of Chipmunk".
Likes to shopping offline.
Loves to surf the internet and hang out on Weibo.
She can swim.
Prefer grilled chicken over fried chicken.
Prefer Wifi over watermelon and A.C. in summer.
Lai Meiyun loves animes, her favorite anime is One Piece.
Likes cosplay, once she played Kikyō and receive many likes.
She is good at drawing.
Likes to play games.
Good at imitating.
Likes cats and has 3 cats called Qiao Dou, Ma Dai, Dou Bao.
She has won an electric bike by participating in a water adventurous program.
She always acts like an extrovert, but in fact she is an introvert.
Lai Meiyun comes from a single-parent family and she grew up with her mother.
Ideal Type Boyfriend: talented, handsome, can sing, dance, drawing, cooking.
Television Seires
My Queen(我的女主别太萌)(Jiang Xiaomeng)(2021)
Side by Side(极限17:羽你同行)(Xiao Yu)(2019)
Happy Q-bot 3(快乐酷宝3)(Nai Nai)(2018)
Variety Show
The Journey of Poetic Soul(还有诗和远方第二季)(2021)
We Are Blazing(炙热的我们)(2020)
Super Nova Games(超新星运动会)(2020)
横冲直撞20岁第二季(2020)
超新星全运会第二季(2019)
Super Nova Games(超新星全运会)(2019)
Produce 101 China(创造101)(2018)
---
Any content to add or anything want to know about Sunny Lai Meiyun, welcome to contact us or leave a comment below.