The Oath of Love – Yang Zi, Xiao Zhan
The Oath of Love is an urban romance drama directed by Lu Ying, starring Yang Zi and Xiao Zhan, co-starring Zhai Zilu, Ma Yujie, Daisy Li Muchen, Li Yunrui, Zhang Yuqi, Wang Chengyang, Zhao Shiyi, Du Shuangyu, Xia Zhiqing, Hao Wenting.

Based on the novel of the same title by Bolin Shijiang, this drama tells the story of Lin Zhizhang, a junior music student who meets and falls in love with Gu Wei, his father's chief surgeon.
Details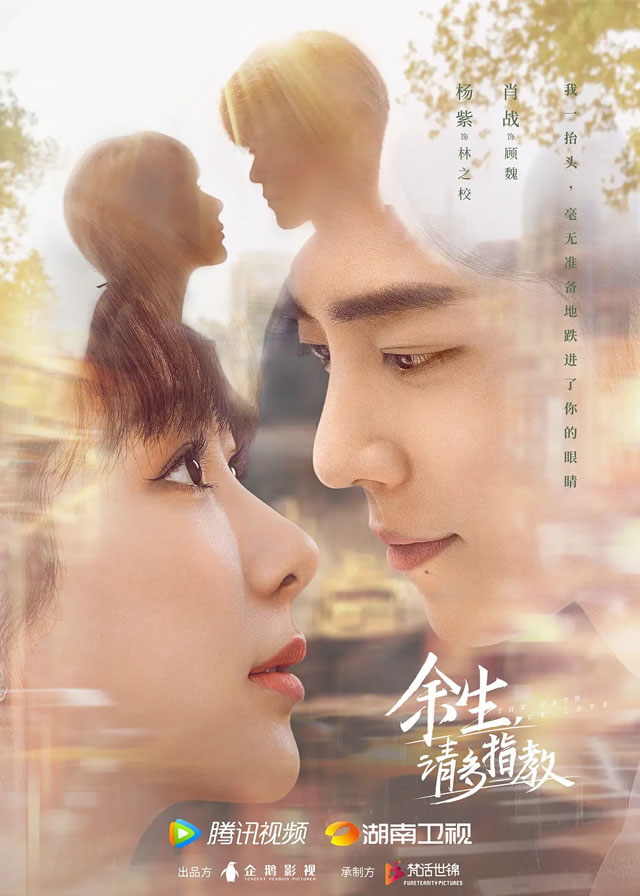 English Title: The Oath of Love
Chinese Title: 余生,请多指教
Genre: Urban, Romance
Tag: Doctor, Friends to Lovers, Older Man/Younger Woman, Idol Actor, Illness, Music
Episodes: 29
Duration: 45 min.
Director: Lu Ying
Writer: Lu Tian, Zheng Dan, Wu Peina
Producer: Wu Tianxu
Product Company: Tencent Penguin Film Culture
Released Date: 2022-03-15
Watch On: WeTV, Viki, 腾讯视频, TencentVideo, Prime Video
Subtitle:
English, Chinese, Thai, Indonesian, Malay, Vietnamese, Spanish, Portuguese, Arabic, French, German, Greek, Hebrew, Hungarian, Italian, Japanese, Polish, Romanian, Serbian, Slovak, Turkish, Ukrainian
Cast
Synopsis
Lin Zhixiao, a young girl about to graduate from the music department, does not want to plan her life according to her father's arrangement and wants to stick to her dream of music, but her father is hospitalized with cancer. At this moment, she meets Gu Wei, who is at a low point in his career and wants to give up his career as a surgeon.
Lin Zhixiao's qualities of resilience and optimism impressed Gu Wei, and Gu Wei is always like a light, quietly warming Lin Zhixiao.
They experience the sweetness of love as well as the sweetness and sourness of growing up. But no matter what kind of difficulties they encounter, they do not give up easily but try to make themselves better, firmly approach each other and commit the rest of their lives.
Reviews
You May Also Like
Related Posts
Chinese Dramas Like The Oath of Love

How Is the Relationship Between Xiao Zhan, Yang Zi?

Is Xiao Zhan and Wang Yibo's Relationship Getting Worse?

Xiao Zhan Helped Yang Zi With Her Dress On Weibo Night, "The Oath Of Love" CP Is So Sweet.

Who Is Yang Zi's Boyfriend? Two Relationships Got A Lot Of Attention

How is Yang Zi's relationship with Zhang Wanyi, Deng Wei, Tan Jianci in Real life?

What A Pity Of Xiao Zhan And His Girlfriend In College

Xiao Zhan, Yang Zi: "The Oath of Love" Will Be Delayed-Release? HunanTV Confirmed It

Yang Zi Photos

Xiao Zhan Photos

Fans Worry Xiao Zhan And Ren Min Will Fall In Love Because Of "The Longest Promise"

Yang Zi Is Dating Liu Xueyi? Netizens: Boring

How Is Yang Zi and Cheng Yi's Relationship?

Yang Zi Dramas, Movies, and TV Shows List

Xiao Zhan Dramas, Movies, and TV Shows List

Does Li Xian Like Yang Zi? How Is Their Relationship?

Yang Zi, Xiao Zhan: What Kind Of Chemistry Will They Bring In "The Oath of Love"

Wang Yibo Xiao Zhan's Controversial Interactions - Another Infighting Between "Bojun Yixiao"?

Lay Zhang Yixing, Yang Zi Relationship Is Suspected

Xiao Zhan's Ideal Type Is Disclosed. Do You Meet?