My Mowgli Boy – Ma Tianyu, Yang Zi
My Mowgli Boy is an urban romantic drama directed by Peng Xuejun, starring Ma Tianyu and Yang Zi.
The drama tells the story of Mowgli, a boy raised by his forest-keeping grandfather, who is brought into the city by mistake by Ling Xi, an independent entrepreneurial woman, and how they grow up together and eventually achieve success in career and love.
Details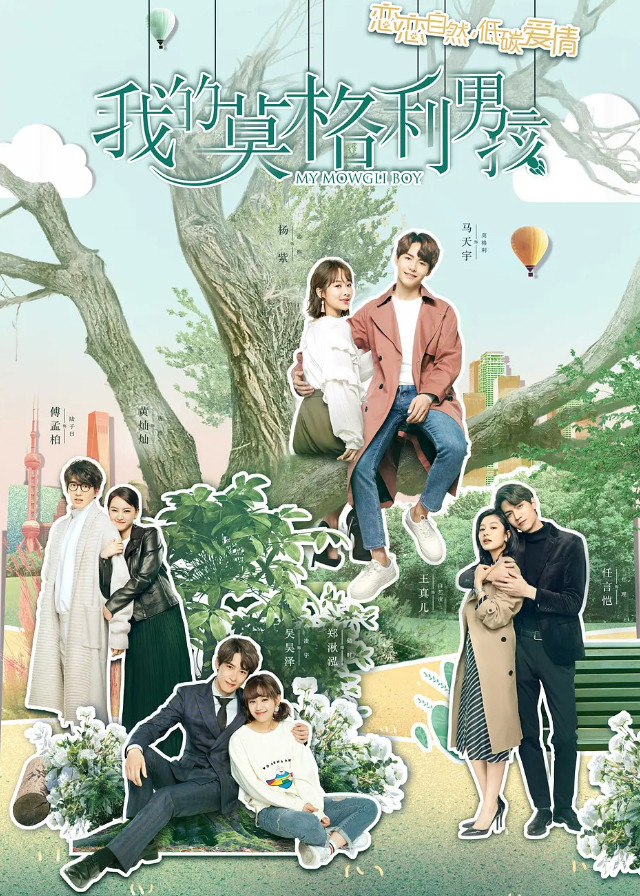 English Title: My Mowgli Boy
Chinese Title: 我的莫格利男孩
Genre: Urban, Romance
Tag: First Love, Love/Hate Relationship, Lost Child, Multiple Couples, Misunderstanding, Cohabitation
Episodes: 50
Duration: 45 min.
Director: Peng Xuejun
Writer: Liu Fei, Liu Chenguang, Shi Shi
Producer: Yan Zheng, Wang Yexun, Wang Jing, Yao Yuanhong
Product Company: SYNDICATION
Released Date: 2019-08-29
Watch On: iQIYI, Viki
Cast
Synopsis
Mowgli was raised in the forest by his forest guard grandfather and grew up playing with the animals in the forest.
Ling Xi, an independent entrepreneurial woman, mistakenly brings Mowgli back to the city and wants to send him back to the forest as soon as possible, but is forced to keep him to stay due to the marketing needs of her studio.
Mowgli and Ling Xi live under the same roof, and a different kind of relationship develops between them.
Mowgli, as a bridge between humans and nature, learns to integrate into modern life with the help of Lynxie, and learns trueth to be human.
Ling Xi learns the philosophy of nature from Mowgli and joins the ranks of ecologists to save the environment. They learn from each other and grow together.
Reviews
You May Also Like
Related Posts
Chinese Dramas Like My Mowgli Boy

Who Is Yang Zi's Boyfriend? Two Relationships Got A Lot Of Attention

How is Yang Zi's relationship with Zhang Wanyi, Deng Wei, Tan Jianci in Real life?

Yang Zi Is Dating Liu Xueyi? Netizens: Boring

How Is Yang Zi and Cheng Yi's Relationship?

Does Li Xian Like Yang Zi? How Is Their Relationship?

How Is the Relationship Between Xiao Zhan, Yang Zi?

Lay Zhang Yixing, Yang Zi Relationship Is Suspected

Yang Zi Photos

Yang Zi, Qin Junjie Relationship Review

Ray Ma Tianyu Falls In Love With Xuan Lu? Intimate Behavior Caused A Gossip

Who Is Niu Junfeng's Girlfriend? What's His Relationship With Guan Xiaotong And Yang Zi

Xiao Zhan Helped Yang Zi With Her Dress On Weibo Night, "The Oath Of Love" CP Is So Sweet.

Ma Tianyu Dramas, Movies, and TV Shows List

Yang Zi Dramas, Movies, and TV Shows List

How Is Yang Zi And Jing Boran's Relationship?

Xiao Zhan, Yang Zi: "The Oath of Love" Will Be Delayed-Release? HunanTV Confirmed It

Yang Zi's 21 Quotes

Yang Zi, Xiao Zhan: What Kind Of Chemistry Will They Bring In "The Oath of Love"

The shooting of "The Psychologist" started finally! Yang Zi appeared at the start-up banquet