Go Go Squid! – Yang Zi, Li Xian
Go Go Squid! is a youthful and inspirational drama co-directed by Li Qingrong and Xiang Xujing, starring Yang Zi, Li Xian, Lee Hongchi, Wang Zhen'er, Li Zefeng, Jiang Peiyao, Kong Lin, Wang Ce, Liang Aiqi, with a special appearance by Hu Yitian, Qin Pei.

The drama is based on the novel "蜜汁炖鱿鱼/ Mi Zhi Dun You Yu", which tells the story of Tong Nian, a soft-hearted girl who falls in love at first sight with Han Shangyan, a hot-blooded young man, and they interacted sweetly during their time together, staging a sweet and cute love story with high intelligence and high emotion.
Details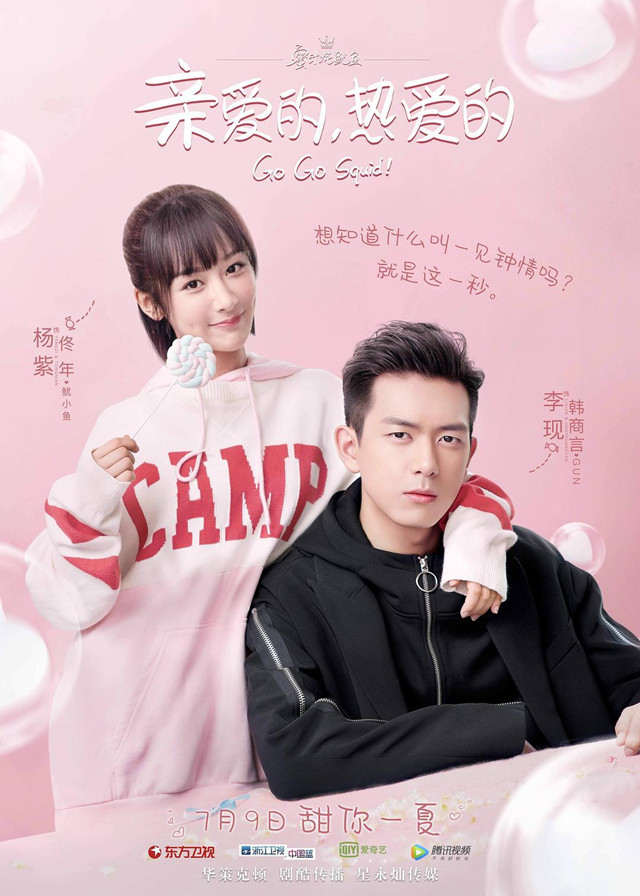 English Title: Go Go Squid!
Chinese Title: 亲爱的,热爱的
Genre: Romance, Urban, Inspirational, E-sports
Episodes: 41
Duration: 45 min.
Director: Li Qingrong, Xiang Xujing
Writer: Mo Bao Fei Bao
Producer: Fang Ying, Yang Bei, Xiang Xujing
Product Company: GOO ENTERTAINMENT
Broadcasting Website: WeTV, Viki, Netflix, Apple TV
Released Date: July 9, 2019
Cast

Yang Zi
as Tong Nian / You Xiaoyu

Li Xian
as Han Shangyan / Gun

Hu Yitian
as Wu Bai / DT

Lee Hongchi as Mi Shaofei / Xiao Mi

Wang Zhen'er as Ai Qian / APPLEDOG

Li Zefeng as Wang Hao / SOLO

Jiang Peiyao as Sun Yaya
Synopsis
Han Shangyan meets Tong Nian, a soft and cute straight-A student by chance.
The sunny and innocent Tong Nian falls in love with Han Shangyan at first sight. As the contact opportunities increase, Tong Nian is deeply attracted by Han Shangyan's dedication to his dream and his sense of responsibility to the young people in his team.
Because Han Shangyan's dream is to lead his team to the world championship for China, he has been dedicated to his team for many years without any distractions.
Tong Nian's thoughtfulness, understanding, support, and tolerance make Han Shangyan, who was not good at expressing his feelings, gradually open his mind to his former brothers and family and gain understanding.
In the end, they confess their true feeling in the hearts and encourage each other to go on the road to each other's dreams hand in hand.