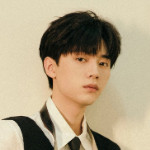 Zhou Yiran dramas, movies, and TV shows list contains the best TV series, films of Zhou Yiran and the ongoing and upcoming shows. The list will be updated continuously, bookmark this list to get the latest tv shows of Zhou Yiran.
Zhou Yiran Dramas List
TBA

#1

Historical, Romance, Wuxia

Zhou Yiran, Zhang Yuxi

After the finals of the Elite Tournament at the Advanced Soul Master Academy in the entire continent, Tang San and his friends bid each other farewell with reluctance. They made a promise to reunite five years later and then embarked on their respective paths in life. Afterward, Tang San accompanied his father, Tang Hao, to a secluded valley for special training to enhance their abilities. With Tang Hao's help, Tang San became more mature and composed, able to face more challenges with maturity. Dai Mubai and Zhu Zhuqing gained recognition from their families and became the Crown Prince and Princess Consort. Xiao Ao and Ning Rongrong began rigorous training to strengthen their abilities. Ma Hongjun also went on a study tour to broaden his horizons. However, at this very moment, Bi Bi Dong from the Wuhun Hall was secretly plotting, sweeping through several major sects, attempting to dominate the Douluo Continent. So Tang San rallied his friends to establish the Tang Sect, upholding the pursuit of justice and shouldering their responsibilities. Together, they bravely ventured to Sea God Island, fought against the Wuhun Hall, fearlessly facing dark forces and tyranny, working together to uphold peace throughout the continent, uphold justice, and grow into indomitable warriors.

2023-08-19

#2

Historical, Romance, Drama

Jing Tian, Feng Shaofeng

The female official, Mu Zhuohua, resists the traditional marriage system and is determined to pursue her career. Liu Yan, the god of war,  is suffering from failure and bears the feud of his country. They are redeemed by each other, and fall in love with each other. They work together to guard the country.

2023-08-12

#3

Youth, Romance, Drama

Sabrina Zhuang, Zhou Yiran

After her parents' divorce, Lin Yujing transferred to a new city with her father. Faced with a new build family, Lin Yujing felt uneasy in her heart, but she also received sincere love from her stepmother and stepbrother. Thinking it would be difficult to integrate into the new group, Lin Yujing quickly made friends with an interesting group of classmates at her new school. Her arrival also brought about a change in Shen Juan, her unsociable classmate. However, their settling lives were disrupted by Lin Yujing's mother, Lin Zhi, who forcefully took her back to their hometown. A year later, Lin Yujing and Shen Juan reunited at university, and she learned that Shen Juan had experienced a tragedy in his family and had yet to recover from the trauma of losing loved ones. With the help of Lin Yujing and their classmates, Shen Juan gradually emerged from the darkness and returned to the life arena that rightfully belonged to him. Lin Yujing also found her own life direction during her university life.

2023-06-13

#4

Youth, School, Romance

Zhou Yiran, Zhang Miaoyi

Sixteen-year-old high school girl Su Zaizai grew up in a good family environment and became a person who is not infatuated, does not blindly follow others, and has her own opinions. On the first day of high school, Su Zaizai, who showed disdain for her good friend's infatuation, was instantly proven wrong when she encountered the aloof and handsome Zhang Lurang. Su Zaizai fell in love at first sight with Zhang Lurang and decided to immediately take the offensive, transforming herself into a follower behind Zhang Lurang. However, behind the appearance of excellent academic performance and a privileged family background, Zhang Lurang is a "contradictory" person wrapped in self-doubt. Due to the existence of his genius younger brother, Zhang Luli, he is always compared to his brother by his mother. For over a decade, Zhang Lurang's life has been like living in a thick shell. He is reserved and speaks little, appearing composed and polite, but always keeps people at a distance. However, after encountering Su Zaizai, Zhang Lurang's "thick shell" of a life finally starts to let light shine through. The acquaintance between the two brings about a wonderful chemical reaction in their lives.

2022-10-31

#5

Fantasy, Romance

Qiao Xin, Ma Sichao

Zheng Daqian is a girl who has suffered a double blow in love and career while drifting in the city. She accidentally receives compensation for removal. She goes to parallel time and space when she encounters a magnetic storm caused by a fire meteor on her way home. Here her family is reunited, and her first love, Mu Zili, miraculously appears. Zheng Daqian, who is unable to return to the original world, seizes this opportunity to make up for her past regrets. However, just as life goes better and better, the fire meteor reappears and Zheng Daqian and Mu Zili are about to become untouchable lovers in two worlds.

2022-08-17

#6

Urban, Romance, Life

Guan Xiaotong, Bu Guanjin, Dong Siyi

Three years after graduating from university, Luo Yan is introduced by her mother to work in a traditional company not far from home. When people enviys her life, she is tired of the borlling life. Jiang Xiaoguo, who appears to be a glamorous financial elite, working in a high-end office building, actually works overtime every day without a life of her own. The sudden family economic crisis has turned Duan Jiabao from a "rich second generation" to a " poor second generation", and the pressure of taking on debts comes with it. Liang Shuang became the top beauty and skincare anchor on the net, but her career is up and down, and the peak is always accompanied by a low point. Xiaoguo, Dabao, and Liang Shuang move into room 602 of the Xing Fu Hua Ban Li community and become roommates again, and also befriend their new friend Ding Yixuan. In the end, Luo Yan studies abroad to pursue her dream of cartooning; Xiaoguo finds her original intention of working and keep trying to improve herself; Dabao helps her family get through the hard times and gaines new growth; Liang Shuang become a good anchor again and starts her entrepreneurial journey. Although the road of life is always confusing and stumbling, the girls never stop moving forward. It is a 25 years old full of hardships, but also full of light.

2021-12-15

#7

Youth, Romance

Joey Chua, Zhou Yiran

Tang Weiwei was 27 when she graduated with a master's degree in psychology and intended to pursue her doctoral studies, but was severely prevented from doing so by her family. Tong's father takes away her diploma and stifles her daughter's dream of getting a Ph.D., and gives her an order that she must get married before she turns 28. Tong Weiwei has just broken up with her boyfriend, and she is faced with her father's urging for marriage and the fact that she has been forced to suspend her studies due to the urging, and she begins to reject marriage and in love again. As a graduate student in psychology, she is suffering from mental illness. In order to regulate herself, Tang Weiwei does the most arbitrary thing – she starts her own business and opens a dessert store called "Heard". As she has just entered society from school, she is not used to it and is at a loss for words. It is at this time that Lin Yan appears – this little brother, who is five years younger than her and is hanging around in her memory, lights up Tong Weiwei's world with all his heat and light.

2021-12-11

#8

Family, Life

Zhou Xun, Huang Lei, Tang Yixin

Liu Xiaomin divorced her ex-husband a long time ago and came to work in Beijing from a small place. She met and got to know Chen Zhuo, who had also been divorced. On the first anniversary of their relationship, her mother Wang Sumin and her son Jin Jiajun suddenly came to Beijing, so Liu Xiaomin and Chen Zhuo had to hide their relationship more careful. However, when her ex-husband came to Beijing and kept pestering her, her romance with Chen Zhuo was discovered by more and more people. Their respective children have become too close, and her sister's marriage has taken a bit of a tumble. A series of troubles ensued. But Liu Xiaomin and Chen Zhuo use love and forgiveness to solve the various problems in their relationship and life, and eventually reap the benefits of growth and true happiness.

2021-08-17

#9

Family, Drama, Life

Bai Yu, Song Zu Er, Mao Xiaotong

When Qiao family's mother passed away while giving birth to her fifth child, Qiao Qiqi, as their father, Qiao Zuwang, was a rough and selfish man, Qiao Yicheng, Qiao Erqiang, Qiao Sanli, Qiao Simei, and Qiao Qiqi, the five children of the Qiao family, relied on each other during difficult times. As the eldest son, Qiao Yicheng took care of his younger siblings as they grew up, but lived in the shadow of his outstanding cousin, Qi Weimin. Qiao Yicheng was admitted to a normal university, and his siblings grew up together, gradually breaking free from poverty. Challenges and care in life were never absent, and Qiao Yicheng was deeply concerned about the education, marriage, and work of his siblings, while his own two marriages also affected the joys and sorrows of the extended family. They experienced painful trials, as well as moments of hope and warmth, stumbling and bustling along the way. Their lives were far from perfect, and each had their own shortcomings. As Qiao Yicheng felt, although "everyone has their own quagmire," everyone was striving to live for that glimpse of brightness and upward progress.

2021-06-23

#10

Urban, Romance, Youth

Xu Kai, Cheng Xiao

Tong Yao stepped into the professional e-sports circle as a girl with great strength and became the first official female e-sports player in the Chinese division of the professional league. Facing questions and all kinds of inconveniences, she overcame difficulties and persevered with the support of her teammates. She stood on the world stage to make up for the regret of six years of no championship in mainland China, and let the dream of e-sports blossom.

2021-04-23

#11

Youth, School, Friendship

Xia Zhiguang, Dai Luwa, Yan Xujia

Senyong High School decided to adopt mixed classes for the overall development of students' moral, intellectual, physical, and aesthetic abilities. This decision made the two classes, which were unfamiliar to each other, become classmates who need to get along with each other all the time, and the exciting school life begins. During the intense study and training, they had confusion, fear, and retreat, but with each other's encouragement, everyone resisted the pressure and helped each other move forward. They fought hard in their own fields, hoping to carry forward their dreams. In the end, this group of teenagers with very different personalities helped each other and made progress together, and spent a hard-working, united, and loving high school life together.
Related Posts