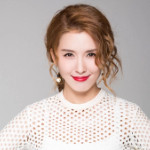 Jill Hsu dramas, movies, and TV shows list contains the best TV series, films of Jill Hsu and the ongoing and upcoming shows. The list will be updated continuously, bookmark this list to get the latest tv shows of Jill Hsu.
Jill Hsu Dramas List
2023-08-10

#1

Historical, Romance, Comedy

Alen Fang, Liu Lingzi, Ma Wenyuan

The misty Yanshan Mountains are home to two major sects: the Yanshan Sect, consisting of male disciples, and the Baihua Sect, consisting of female disciples. Despite coexisting in the same vicinity, these two sects have limited interactions due to their strict rules. However, nothing can deter the young generation's yearning for love, leading to a series of intricate and joyful stories.

2023-05-08

#2

Urban, Romance, Drama

Wang Ziwen, Jin Han

Meng Haotian, who holds several positions, is seen by outsiders as a standard strong and beautiful woman with excellent abilities. However, people rarely know about her painful past, as they only see her entrepreneurial journey from scratch. However, at a wedding farce, she unexpectedly meets the young and talented CTO of Lingzhi Group, Leng Siming. After experiencing a series of misunderstandings and accidents, the two equally outstanding individuals gradually become closer. However, the problems that come with it become more and more apparent, such as the age and status difference between them. Will they be able to break free from the constraints of age and identity and overcome the obstacles of their relationship? Can Meng Haotian, who is trapped by her past, regain her ability to love?

2023-04-24

#3

Urban, Romance, Life

Wang Yuwen, Wang Ziqi

Min Hui wants nothing more than to "destroy herself" and Su Tian wants nothing more than to meet Xin Qi, but neither of their wishes comes true. When the two girls, who have never met, meet on a long-distance bus, Min Hui says nothing about herself, but a curious Su Tian senses what is on her mind and sacrifices her life to save her. In order to fill her inner guilt, Min Hui decides to replace Su Tian to meet Xin Qi but unexpectedly gets into an awkward relationship. She decides to fulfill Su Tian's wish no matter what, but at the cost of a new life.

2022-06-07

#4

Urban, Romance, Comedy

Jin Dong, Li Xiaoran

Lin Shaotao and Jian Ai is a happy couple, but unexpectedly went to a divorce when they entered middle age. This change makes Lin Shaotao's best friends, Zhou Yiming and Jia Kuan, unable to accept it. After the breakup, Lin Shaotao returns to the workplace to continue to his career, but meets with Jian Ai who comes to work for VG again. Jian Ai solves a series of work problems brilliantly. She and Lin Shaotao work against each other but also support each other. The encounter in the workplace also allows Lin Shaotao and Jian Ai to get to know again and appreciate each other. During this period, Yan Shuai, who once pursued Jian Ai, comes to work as a senior executive, and he targeted Lin Shaotao at every turn and pursues Jian Ai again. Jian Ai finally choose to understand and believe in Lin Shaotao's ideas about the development of the company, and join forces with Lin Shaotao to overcome difficulties. In the end, Lin Shaotao leaves VG and rethinks his relationship with Jian Ai. They try to return to the path of love.  

2022-04-27

#5

Suspense, Crime, Thriller

Zhang Yi, Karry Wang

When the ancient painting "Shui Lian" is stolen, the criminal investigation team leader Luo Jian is ordered to investigate, so he befriends a special talented college student Zhuang Wenjie. They cooperate to solve many strange cases.

2022-02-07

#6

Urban, Romance, Business

Song Jia, Chen He, Anita Yuen

In 2016, along with the technological innovation of the Internet, new media rapidly emerged, and traditional media were impacted. Fashion magazine "Sheng Zhuang" unexpectedly faced a vacancy for editor-in-chief at the time of transition. Chen Kaiyi, deputy editor-in-chief with a strong industry background, was ready to do something. But the group appointed Xiao Hongxue as the new editor-in-chief, who advocated that the magazine should first respond to the market in order to improve its communication power. The magazine's new direction allowed advertising director Binbin Lu to make his mark, but the features group was heavily challenged by the need to defend the independence of its content. Senior editor Zhao Xin and "rookie" editor Li Na were also exploring their own career paths. In order to expand its competitiveness and influence, "Sheng Zhuang" had been undergoing a difficult exploration and transformation, achieving full media integration through continuous innovation. In the end, a new media team represented by Chen Kaiyi and Xiao Hongxue and an online talent agency represented by Lu Binbin were formed, each having the new development after the integration and change.

2022-02-05

#7

Historical, Romance, Suspense

Qiao Xin, Xu Zhengxi

Qiu Yan, the most unpopular young lady of the Qiu Family, emerged from the deep courtyard with her own hard work and wisdom and was able to navigate her way through a series of mysterious cases and tumble through difficulties. She and the cool prince Liang Yi went from fighting with each other to know each other. Finally, they gained their happiness and love.

2021-06-03

#8

Youth, Romance, Life

Xu Lu, Gao Zhiting

The world's top 500, well-known IT company NBI held a large job fair in a university. Graduate student Wuyue, rich second generation Lin Shaoting, super scholar Su Xiaoman, and others participate in this unique group interview. They were offered a six-month entry-level internship at NBI. This group of young IT people entering the workplace, in the workplace competition and complex interpersonal relationships, through the challenging internship period, towards entrepreneurship, facing the test of love, family and friendship, in the experience of transformation, growth, towards a new life.

2021-03-01

#9

Urban, Romance

Yin Tao, Song Yi, Zhao Jinmai

Dai Xixi has always regarded "falling in love, getting married, having children" as the ultimate credo of a perfect life. Unexpectedly, she was broken up on the eve of the wedding. The newborn life of Dai Xixi, who has nowhere else to go, has become a foe of Wen Ruxue, a wedding designer who also lives here in the house of Ding Huiqiao. In terms of appearance, Ding Huiqiao is even more beautiful than Wen Ruxue, but she is a high IQ low EQ career girl, taking work as the most important goal in life. And Wen Xiaoyang comes to Shanghai to pursue her dream of comics and becomes a member of this "small family". The four women with very different styles live under the same roof, with constant friction, relying on each other. Finally, they find their destiny without compromise.

2021-01-24

#10

Urban, Business, Romance

Wu Jinyan, Yin Tao, Peter Ho

Lin Rui, the sales director of the famous cosmetic company SW East China, is fashionable and competent, tough and bold, and has attracted the attention of the French headquarters, becoming the biggest threat to replace the boss Shu Wanting. In order to counterbalance Lin Rui, Shu Wanting transfers her rival Fang Jing to the East China region and appoints her as the sales director of the second department, thus opening the war of sales without smoke. Zhang Xiaoyu, a newcomer, enters SW by accident and becomes Lin Rui's assistant, completes the metamorphosis from a newcomer to an extraordinary one under Lin Rui's guidance, and meets her own love.

2020-04-23

#11

Historical, Wuxia, Fantasy

Arthur Chen, Dylan Xiong, Cheng Xiao

Young man Lu Ping, who has the rare power, is imprisoned in the Shan Hai Lou since childhood. He and his sister, Su Tang, escape by chance and are taken in by Guo Youdao, the head of the Zhai Feng Tang, and become disciples of the Zhai Feng Tang in Chenqiao Town. They also get advice from their righteous senior brother, Yan Xifan. When the Shan Hai Lou is in turmoil, Qin Sang, a young lady from a martial arts family in the Shuo Kingdom, comes to Chenqiao Town with her maid, Ling Ziyan, to hunt down the Shanhai House's followers, mistaking Lu Ping for the Shan Hai Lou's contact. They mistake Lu Ping for the Shan Hai Lou's contact. She even hires a assassin, Mo Lin, to infiltrate the Zhai Feng Tang to investigate. In order to find clues about the Shan Hai Lou, Lu Ping, Xifan, Su Tang and Mo Lin form a team of Zhai Feng and travel to Kaifeng with Qin Sang and Ling Zi Yan to attend the Dian Po Conference. The six of them grow up together in a series of changes and embark on the "Road to Awakening".

2020-01-16

#12

Historical, Wuxia

Hu Yitian, Chen Zheyuan

More than ten years ago, Yan Nantian was the strongest martial artist in the world, Jiang Feng was the most handsome man in the world, Yan Nantian was unique in the martial arts with his sword skills, while Jiang Feng captivated people with his good looking. Ten years later, the self-proclaimed " the top evil " Jiang Xiaoyu has lived in the valley of evil since childhood. Under the raising of ten evils, such as Li Dazui, he makes mischief all day long but is kind-hearted, innocent, and lovely. Xiao Yu'er adventured in the Jianghu and got to know Hua Wuque by chance. As the contact deepened, Xiao Yu'er and Hua Wuque became a pair of friends who were both enemies and friends. It turns out that Hua Wuque was adopted and taught martial arts by the master of the Yihua Palace since he was a child. In order to take revenge on the biological father of Hua Wuque and Xiao Yu'er, Jiang Feng, the master of the palace deliberately separated them and raised them to kill each other when they grew up. At the same time, Jiang Biehe and Jiang Yulang were planning a bigger conspiracy in the martial arts world. The wolf has a winning game when the shepherds quarrel. A "storm" in the martial arts world was about to unfold. Hua Wuque and Xiao Yu'er finally discovered the conspiracy and trickery of the palace master, the quell the feud and challenges of the Jianghu hand in hand.

2019-10-08

#13

Urban, Youth, Romance

Timmy Xu, Qiao Xin

Ding Xiaorou is a very ordinary girl who encountered Chi Xin by chance. They misunderstood each other and hated each other very much. But unexpectedly, they always met each other because of various things. As the number of contacts increased, the two young hearts began to get closer and closer.

2018-07-24

#14

Historical, Fantasy, Romance

Li Yitong, Qu Chuxiao, Wang Duo

Wan Mei, whose original name is Su Qixue, was sold into a brothel by her own father. But she managed to escape with her fierce personality and courage in times of crisis. Later, Su Qixue came to Guihua City and was given the name Wan Mei. She was pushed into a "bigger whirlpool" by her destiny. Wan Mei wanted to live in Guihua City, she had to kill and was not allowed to fail, failure meant death. Fortunately, she met Chang An, who promised her a lifetime.
Related Posts