Legend of Awakening – Arthur Chen, Dylan Xiong, Cheng Xiao
Legend of Awakening is a historical martial arts web drama directed by Huang Weijie, He Zhenhua, Su Zhiyong, and Ma Huagan, starring Chen Feiyu, Dylan Xiong Ziqi, Cheng Xiao, Deng Enxi, Yu Yijie, and Shang Xuan.
Based on the novel of the same name by Hu Die Lan, the drama tells the story of Lu Ping, Yan Xifan, Qin Sang, Su Tang, Mo Lin, and Ling Ziyan, who go through all kinds of hardships to win the championship at the Dian Po Competition and embark on the road to awakening.
Details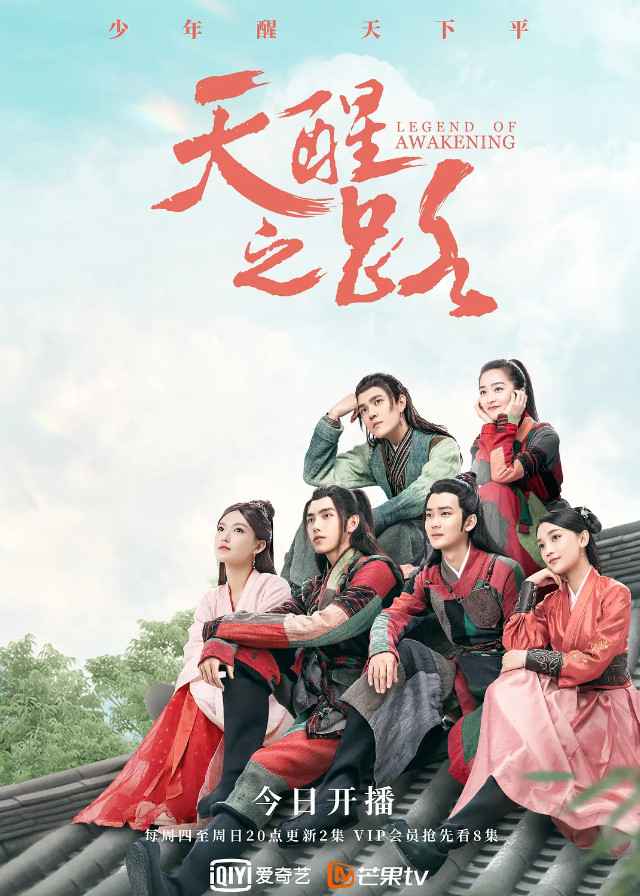 English Title: Legend of Awakening
Chinese Title: 天醒之路
Genre: Historical, Wuxia, Fantasy
Episodes: 48
Duration: 45 min.
Director: Huang Weijie, He Zhenhua, Su Zhiyong, Ma Huagan
Writer: Li Jingling, Jiang Lai, Xiao Ouling, Xiao Xianjing, Zhang Xu
Product Company: LIUBAI PICTURES, TIANRUI MEDIA
Released Date: 2020-04-23
Broadcast Website: iQIYI, Viki
Cast
Synopsis
Young man Lu Ping, who has the rare power, is imprisoned in the Shan Hai Lou since childhood. He and his sister, Su Tang, escape by chance and are taken in by Guo Youdao, the head of the Zhai Feng Tang, and become disciples of the Zhai Feng Tang in Chenqiao Town. They also get advice from their righteous senior brother, Yan Xifan.
When the Shan Hai Lou is in turmoil, Qin Sang, a young lady from a martial arts family in the Shuo Kingdom, comes to Chenqiao Town with her maid, Ling Ziyan, to hunt down the Shanhai House's followers, mistaking Lu Ping for the Shan Hai Lou's contact. They mistake Lu Ping for the Shan Hai Lou's contact. She even hires a assassin, Mo Lin, to infiltrate the Zhai Feng Tang to investigate.
In order to find clues about the Shan Hai Lou, Lu Ping, Xifan, Su Tang and Mo Lin form a team of Zhai Feng and travel to Kaifeng with Qin Sang and Ling Zi Yan to attend the Dian Po Conference.
The six of them grow up together in a series of changes and embark on the "Road to Awakening".
Reviews
You May Also Like
Related Posts
Arthur Chen Feiyu's Girlfriend - Cheng Xiao Or Ouyang Nana?

How Is Xu Kai And Cheng Xiao's Relationship

How is Arthur Chen Feiyu and Zhang Jingyi's Relationship?

Does Cheng Xiao Have A Boyfriend? What's Her Ideal Type?

How is Wang Yibo, Cheng Xiao's Relationship, Will They Be In Love?

Ouyang Nana, Zhai Zilu Relationship was Exposed?

Is Arthur Chen Ouyang Nana's Boyfriend?

Arthur Chen Photos

Cheng Xiao Photos

Luo Yunxi, Cheng Xiao Have Suprise Chemistry. What's Their Relationship?

Arthur Chen Feiyu Is Dating His Fansite Administrator?

"Lie To Love" is about to shoot? Luo Yunxi will play the leading actor, Cheng Xiao will be the leading actress?

Shang Xuan Dramas, Movies, and TV Shows List

Yu Yijie Dramas, Movies, and TV Shows List

Dylan Xiong Dramas, Movies, and TV Shows List

Ancy Deng Dramas, Movies, and TV Shows List

Arthur Chen Dramas, Movies, and TV Shows List

Cheng Xiao Dramas, Movies, and TV Shows List

Arthur Chen Feiyu Studio Denied Rumors of Being A "The Other Man"

Arthur Chen Feiyu's Studio Denys The Relationship With Ouyang Nana, Denys Throwing Mud On Others