Ever Night – Arthur Chen, Crystal Yuan
Ever Night is a historical fantasy drama directed by Yang Yang, starring Arthur Chen Feiyu, Ireine Song Yiren, Crystal Yuan Bingyan, Meng Ziyi, Sun Zujun, Hu Jun, Tong Yao, Ni Dahong, and Chin Shih-Chieh, with special appearances by Adam Cheng, Dylan Kuo, Andy On, Lai Meng.

The drama is adapted from the novel of the same name "Jiang Ye" written by Mao Ni, which tells the story of Ning Que, a border soldier of the Great Tang Dynasty, who comes to the imperial capital with his young maid, Sang Sang, in order to get justice for his family's wrongdoing. After much effort, he enters the best school, stepping into the ranks of the world's strongest people.
Details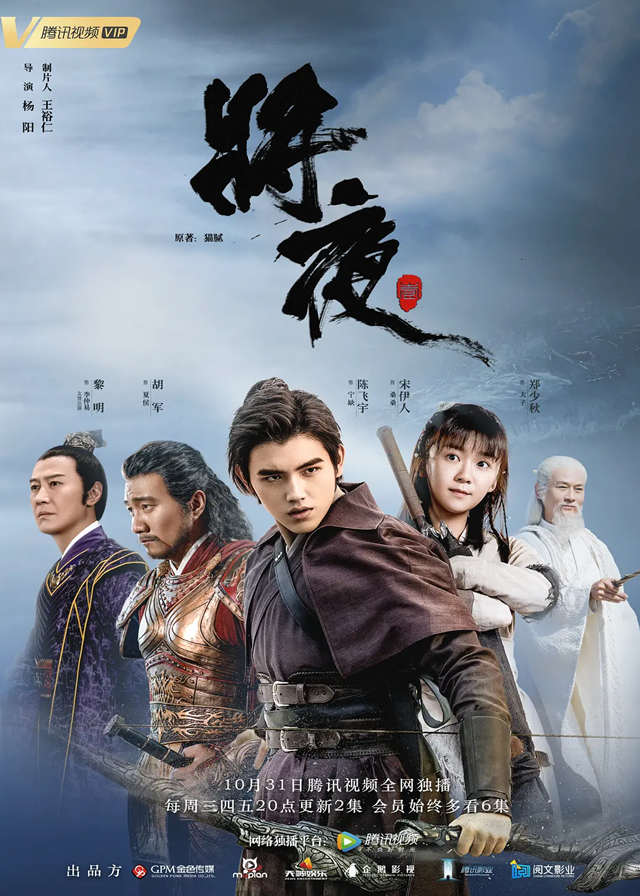 English Title: Ever Night
Chinese Title: 将夜
Genre: Historical, Fantasy
Tag: Xianxia, Revenge, Master-Student Relationship, Strong Male Lead, Sword-fight, Tragic Past
Episodes: 60
Duration: 43 min.
Director: Yang Yang
Writer: Xu Yan
Producer: Wang Yuren
Product Company: TENCENT PENGUIN PICTURES, TENCENT PICTURES
Released Date: 2018-10-31
Watch On: TencentVideo, Viki, WeTV
Subtitle:
English, Chinese, Thai, Indonesian, Malay, Vietnamese, Arabic, Breton, Catalan, Czech, Dutch, French, German, Greek, Hungarian, Italian, Norwegian, Polish, Portuguese, Romanian, Russian, Serbo-Croatian, Spanish, Swahili, Swedish, Tagalog, Turkish, Ukrainian
Cast
Synopsis
There is a rumor in this world: the coming of the eternal night, the earth's catastrophe.
In order to seek justice for his family's injustice, Ning Que came to the capital with his young maid Sang Sang.
After unremitting efforts, he was admitted to the best school and became the disciple of the school's leader, taking up the important task of supporting the country and protecting the people. He also successfully redresses the grievances of his family.
When Ning Que took Sang Sang, who was suffering from a strange disease, to seek medical treatment, he found that Sang Sang was the carrier of the Eternal Night. They became the target of the world.
In order to protect Sang Sang, they traveled all over the world, but they discovered that the one who created Sang Sang's cruel fate was Hao Tian, who was admired by all the people in the world and was the mastermind behind the Eternal Night.
Under Hao Tian's instigation, a great war broke out. In the midst of the national tragedy, Ning Que and the people of the Academy fought against the invaders bravely with the help of the people,
Sang Sang was controlled by Hao Tian and launched the eternal night catastrophe. Ning Que defeated Hao Tian, retrieving Sang Sang.
From then on, there is no more Eternal Night, peace is restored to the world. Ning Que and Sang Sang finally live happily together.
Reviews
You May Also Like
Related Posts