Lighter&Princess – Arthur Chen, Zhang Jingyi
Lighter&Princess is a youth romantic drama directed by Liu Junjie, led by Arthur Chen Feiyu and Zhang Jingyi, co-starring Zhao Zhiwei, Zeng Keni, Cui Yuxin, Qian Didi, Hao Xuanming, Jiang Zixin.

The drama is based on Twentine's novel of the same title and tells the love story of the recklessly assuming programming genius Li Xun and the brave and tough Straight-A-Student Zhu Yun. They are hand in hand to move forward from the campus to the workplace.
Details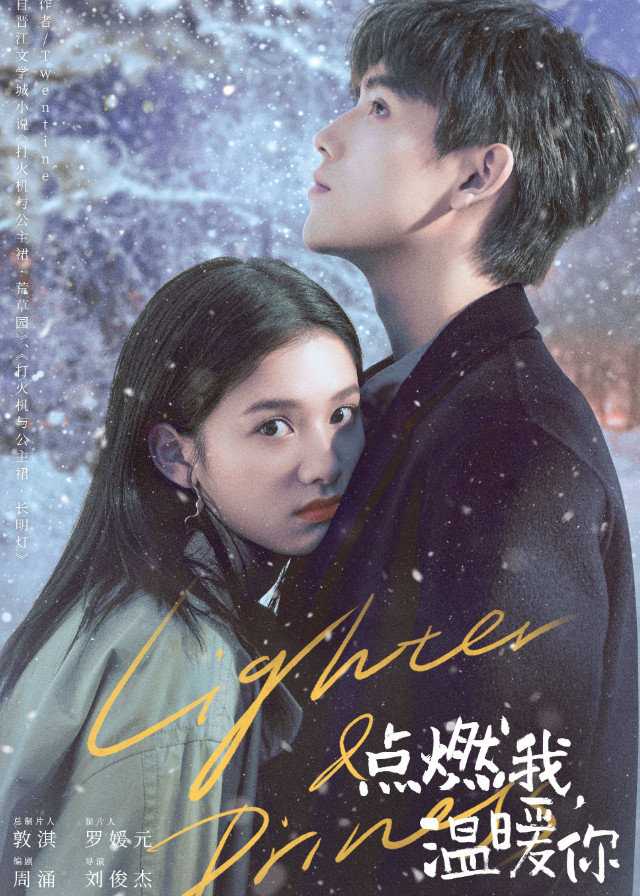 English Title: Lighter&Princess
Chinese Title: 点燃我,温暖你 (打火机与公主裙)
Genre: Urban, Youth, Romance
Tag: Genius Male Lead, First Love, University, Revenge, Strong Female Lead, Betrayal
Episodes: 36
Duration: 45 min.
Director: Liu Junjie, Ma Weiwei
Writer: Zhou Yong
Producer: Dun Qi, Luo Yuanyuan, Wu Jinglin, Hu Xiao
Product Company: Alibaba Pictures
Released Date: 2022-11-03
Broadcast Website: Youku, youku.tv
Cast
Synopsis
Zhu Yun has just started her college life and her world has been changed completely by the intrusion of the "bad boy" Li Xun. He was treated by Zhu Yun as an uneducated rich guy, but his real identity is actually a special admission to the school, a rare programming genius.
After a few encounters, both of them have some appreciation for each other. When senior Fang Zhijing makes trouble for Zhu Yun several times, Li Xun steps in to defend her and invites her to join the team he has formed to win a major programming competition on behalf of the school.
During their time together, love gradually sprang up between them and they bravely came together in spite of their family differences.
When they are getting closer and their business plan is close to success, Fang Zhijing indirectly causes Li Xun's elder sister to have a car accident, and Li Xun is sentenced to jail for injuring Fang Zhijing under his grief and impulse.
After being released from prison, Zhu Yun never gives up and helps Li Xun turn the tide, beating his rivals Fang Zhijing and Gao Jianhong in the business competition and taking back the company.
In the end, Zhu Yun's unreserved dedication allows Li Xun to finally cross the hurt brought about by his family and learn to open his heart and embrace the love that belongs to him.
Reviews
You May Also Like
Related Posts