Ode to Joy 3 – Jiang Shuying, Yang Caiyu, Karlina Zhang
Ode to Joy 3 is an urban female inspirational drama directed by Jane Chuanhe and led by Jiang Shuying, Yang Caiyu, Zhang Jianing, Zhang Huiwen, and Li Haofei, co-starring Shawn Dou, Wang Anyu, Jing Chao, and Zhang Haowei.
The drama is based on the novel of the same name by A Nai.
Details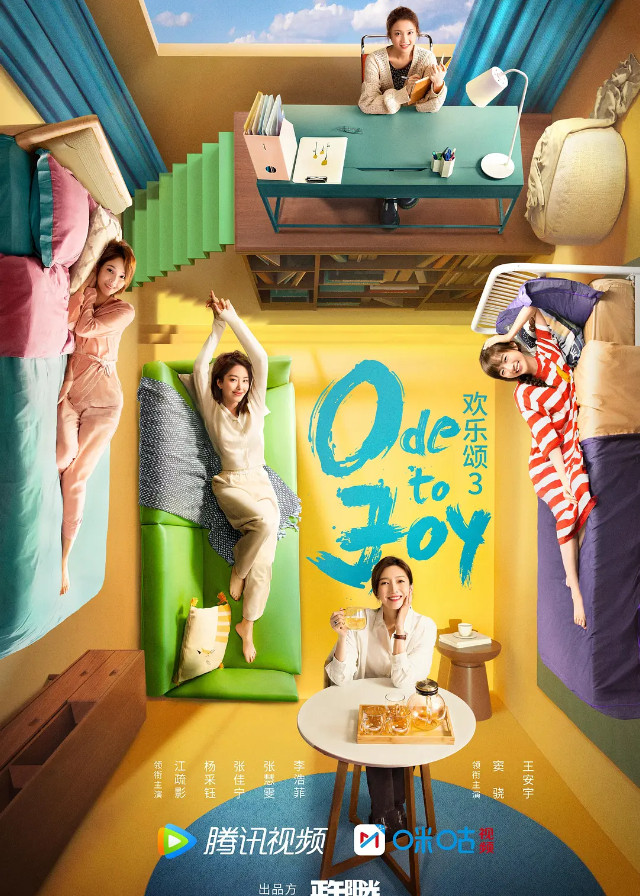 Cast
Synopsis
The five girls who newly moved to the Ode to Joy Community live on the same floor.
Among them, Zhu Che, the hotel manager, and Yu Chuhui and He Yuhong, who had just worked for a few years, shared a suite.
The mysterious and charming Fang Zhiheng and Ye Zhenzhen, who is engaged in life science research, live in the other two suites respectively.
These five girls have very different personalities and different life situations, each facing problems from the workplace, family, and love.
Fang Zhiheng's strange behavior leads to suspicion;
Ye Zhenzhen, the genius, also encounters inexplicable hostility in the workplace;
Yu Chuhui, who is quick-witted by nature, is inevitably opportunistic in her studies and work, but only after suffering losses does she realize that she should work hard step by step;
Zhu Zhe, whose career seems to be going well, suffers from the restriction of a low education;
He Minhong, who is ignorant, is always caught in the dilemma of doing bad things with good intentions... ...
Faced with all kinds of difficulties in life, they go from being suspicious of each other to accepting each other with hearts. In the city of Shanghai, they try to live, warm each other and grow up.
Reviews
You May Also Like
Related Posts