Brilliant Girls – Yin Tao, Song Yi, Angel Zhao
Details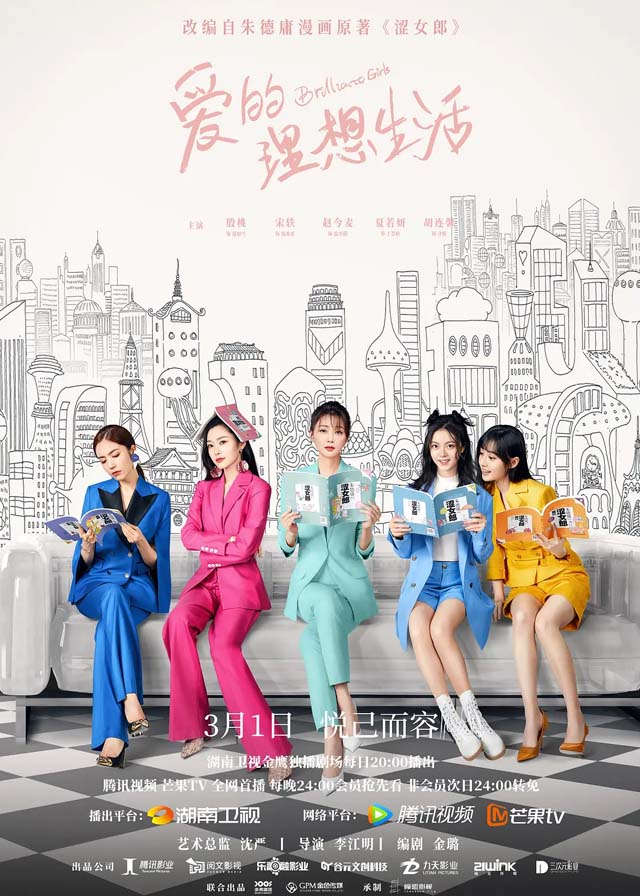 English Title: Brilliant Girls
Chinese Title: 爱的理想生活
Genre: Urban, Romance
Tag: Sismance, Strong Female Lead, Multiple Mains, Smart Female Lead, Chasing a Dream, Manhua Artist Female Lead
Episodes: 43
Duration: 45 min.
Director: Li Jiangming
Writer: Jin Lu
Producer: Fan Xia, Fang Fang
Product Company: Tencent Video
Released Date: 2021-03-01
Watch On: WeTV, MGTV, YoYo Television Series Exclusive, YoYo English Channel
Cast
Synopsis
Dai Xixi has always regarded "falling in love, getting married, having children" as the ultimate credo of a perfect life.
Unexpectedly, she was broken up on the eve of the wedding.
The newborn life of Dai Xixi, who has nowhere else to go, has become a foe of Wen Ruxue, a wedding designer who also lives here in the house of Ding Huiqiao.
In terms of appearance, Ding Huiqiao is even more beautiful than Wen Ruxue, but she is a high IQ low EQ career girl, taking work as the most important goal in life.
And Wen Xiaoyang comes to Shanghai to pursue her dream of comics and becomes a member of this "small family".
The four women with very different styles live under the same roof, with constant friction, relying on each other.
Finally, they find their destiny without compromise.
Reviews
You May Also Like
Related Posts