Yesterday Once More – Bai Jingting, Guo Shutong
Yesterday Once More is a school youth film directed by Yao Tingting, starring Bai Jingting, Guo Shutong, Li Hongyi, Wang Herun, Ding Guansen, and Zhao Wenlong.
The film is based on Liu Tong's novel of the same name and tells the story of Lin Tianjiao, a "good student", and Gao Xiang, a " bad student", who go from prejudice to reconciliation and then to mutual affection, reflecting the growing pains of adolescent students.
Details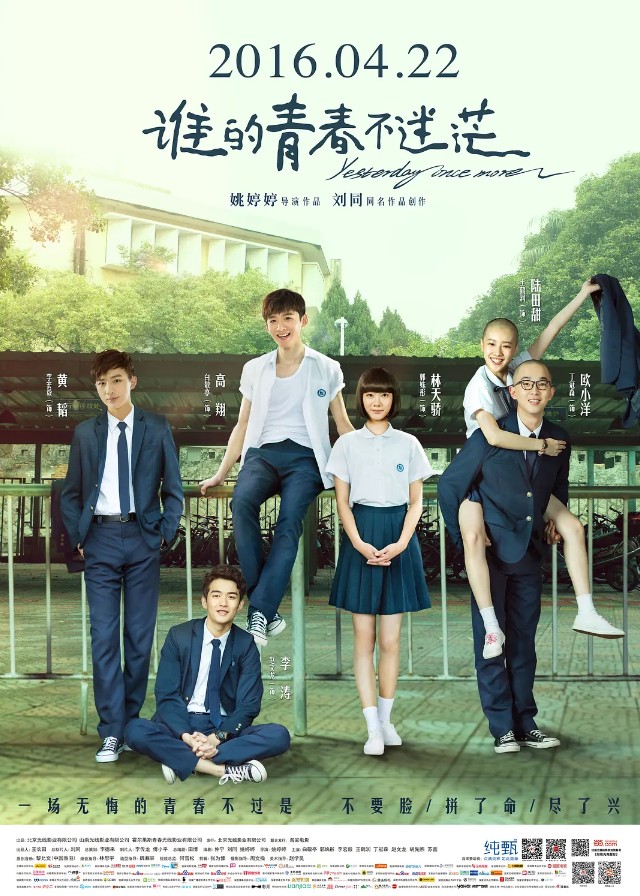 English Title: Yesterday Once More
Chinese Title: 谁的青春不迷茫
Genre: Youth, School, Romance
Duration: 108 min.
Director: Yao Tingting
Writer: Tian Bo, Zhong Ning, Liu Tong, Yao Tingting
Producer: Liu Tong
Product Company: Enlight Pictures
Released Date: 2016-04-22
Broadcast Website: 腾讯视频
Cast
Synopsis
Lin Tianjiao had been living a glorious life until she fell ill during the most important exam of her life - a test that would add extra points to her college entrance exam. In a moment of panic, she decided to cheat to pass the exam.
However, cheating requires skill, and Lin Tianjiao made a mistake that was seen by Gao Xiang. When her textbook fell to the ground, the teacher misunderstood and thought it was Gao Xiang's doing. In a brave move, Gao Xiang took the blame for her.
Little did Lin Tianjiao know that her life would take a different turn from that moment on, all because of the person she despised the most during her entire academic career.
It wasn't that one was attracted to the other, but rather that most teenagers become frustrated not because they genuinely dislike someone, but because they fear the judgment of others, fear becoming different, fear someone entering their hearts, and fear not being able to see what lies ahead.
During this process, the two of them constantly sabotage each other, with Lin Tianjiao swearing to fight for her life...
Reviews
You May Also Like
Related Posts
Does Rosy Zhao Lusi Have a Boyfriend? Her College Boyfriend was Exposed

Bai Jingting and Song Yi Relationship is Revealed, Fans: Good Job!

The Relationship Between Bai Jingting And Sandra Ma Sichun Is True Or Not?

What's Bai Jingting and Tian Xiwei's Relationship? New Life Begins Gets Hurt The Most?

Bai Jingting, Sandra Ma Sichun Fall In Love In "You Are My Hero", Experiencing His First Screen Kiss

Who is Rain Wang Herun's Boyfriend? Thomas Tong Mengshi?

Bai Jingting, Angel Zhao Jinmai Bring The First Hit Drama Of The New Year

Bai Jingting Photos

Li Hongyi Photos

Does Bai Jingting Have A Girlfriend? What's His Ideal Type?

Bai Jingting, Janice Wu Qian's CP Is Less Attractive Than Ni Dahong In "Octogenarian And The 90s"

Li Hongyi Dramas, Movies, and TV Shows List

Guo Shutong Dramas, Movies, and TV Shows List

Zhao Wenlong Dramas, Movies, and TV Shows List

Ding Guansen Dramas, Movies, and TV Shows List

Wang Herun Dramas, Movies, and TV Shows List

Bai Jingting Dramas, Movies, and TV Shows List