You Are My Glory – Yang Yang, Dilraba
You Are My Glory is an urban romantic drama directed by Wang Zhi, starring Yang Yang, Dilraba Dilmurat, Pan Yueming, Hu Ke, Wang Yanlin, and Zheng Hehuizi.

The drama is based on a novel of the same name written by Gu Man, and focuses on the story of popular actress Qiao Jingjing, who is accidentally reunited with her former high school classmate Yu Tu in a game.
Details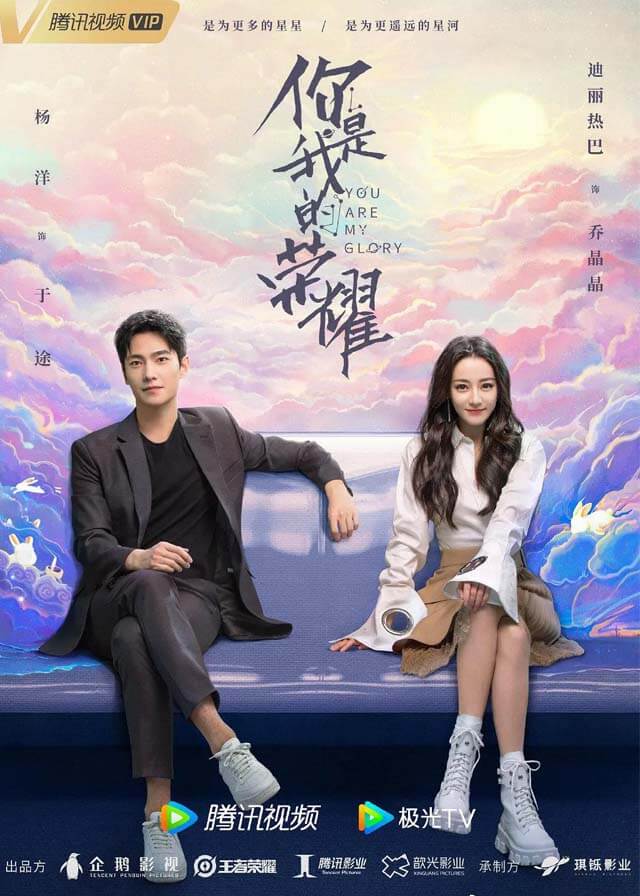 Cast
Synopsis
After ten years, Qiao Jingjing's unexpected to reunite with her former high school classmate Yu Tu in a game, who had rejected her in high school.
They have not seen each other for ten years since the first parting of the high school entrance exam.
However, in fact, he can see her everywhere, in various news media, various large and small screens, even subway ads, bus stops. There is her figure everywhere.
Qiao Jingjing was an ordinary girl during her student times. But after ten years, she transformed into a popular actress, and became the spokesperson of the game "Arena Of Valor"
In order to restore the image of the spokesperson, she starts to practice her game skills. In such coincidence, on the online game re-encounters the game master Yu Tu, and invites him to be her game coach.
Ten years later, she confesses her love to Yu Tu again, but she is rejected once again.
During the period of being her game coach, the relationship between them becomes much closer and they get to know each other better. After losing her, Yu Tu realizes how important she is to him and decides to pursue her with a "love letter".
Reviews
You May Also Like
Related Posts
Chinese Dramas Like You Are My Glory

Yang Yang, Dilraba: Is It Possible For them To Be In A Relationship In Reality?

Yang Yang is Dating Wang Churan? The Media Revealed Their Relationship

Does Dilraba Dilmurat have a Boyfriend? Secret Marriage Rumor Troubled Her Much

What's Yang Yang And Zhao Lusi's Relationship?

Yang Yang's 5 rumored Girlfriend, Vicotria Song Was His Girlfriend?

Yang Yang, Dilraba: The Wedding Scene Of "Jing Tu CP" Was Exposed In Advance.

Vin Zhang Binbin's Rumored Girlfriend, Who Is His Ideal Type?

Dilraba Dilmurat Photos

Yang Yang Photos

The Two Sweet Dramas Starred By Yang Yang, Ding Yuxi, Who Will You Choose?

Will Johnny Huang And Dilraba Declare Together After The Spring Festival Gala

What's Allen Deng Lun and Li Qin's Relationship? The Wedding Has Been In Preparation?

Dilraba Dilmurat Dramas, Movies, and TV Shows List

Yang Yang Dramas, Movies, and TV Shows List

Luo Yunxi and Dilraba His Favorite Actress on the same stage

Dilraba and Johnny Huang were suspected of being in love, fans asked the studio to disprove the rumor.

Yang Yang Was Involved In The Rumor Of Dating His Fan.

Xiao Zhan Ranked 1st, Wang Yibo 2rd - The Most Popular Chinese Actor in Thailand

Dilraba, Leo Wu Lei Playing A Couple In "The Long Ballad" Led A Hot Discussion On The Net.