Love O2O – Yang Yang, Zheng Shuang
Love O2O is a modern romance drama based on Gu Man's novel of the same name, directed by Lin Yufen, starring Yang Yang, Zheng Shuang, co-starring Mao Xiaotong, Bai Yu, Zheng Yecheng, Niu Junfeng, Cui Hang, Zhang He, Ma Xinrui, Qin Yu, Song Yixing, Guan Xin, Zhang Chao, with Vin Zhang Binbin in a special appearance.

The drama tells the story of Bei Weiwei, a straight-A student in the computer department of Qinghua University, and Xiao Nai, a schoolboy and game master who met by chance in an online game and met in reality, thus getting to know and falling in love with each other and finally getting together.
Details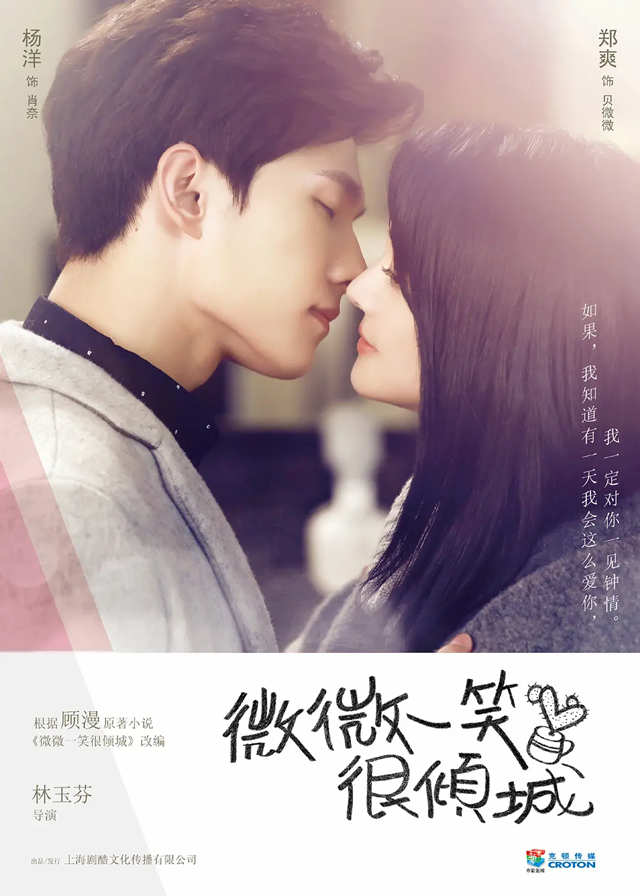 English Title: Love O2O
Chinese Title: 微微一笑很倾城
Genre: School, Romance, Youth
Episodes: 30
Duration: 40 min.
Director: Lin Yufen
Writer: Gu Man, Shen Feixuan, Ouyang Xiaoyun, Li Wenting
Producer: Fang Ying, Xiong Xiaoling
Product Company: GOO ENTERTAINMENT
Broadcasting Website: YOUKU,Netflix, Viki, Apple TV
Released Date: August 24, 2016
Cast

Yang Yang
as Xiao Nai(Yi Xiao Nai He)

Zheng Shuang
as Bei Weiwei(Lu Wei Weiwei)

Mao Xiaotong as Zhao Erxi(Huan Tian Xi Di)

Bai Yu
as Cao Guang(Wei Guang)

Zheng Yecheng
as Hao Mei(Mo Zha Ta)

Niu Junfeng
as Yu Banshan(Yu Gong Pa Shan)

Cui Hang as Qiu Yonghou(Hou Zi Jiu)

Ryan Zhang
as Zeng Shaoxiang(Zhen Shui Wu Xiang)

Ma Xinrui as Meng Yiran

Qin Yu as Xiaoling

Song Yixing as Sisi
Synopsis
The straight-A student and school beauty, Bei Weiwei, aspires to be a game engineer. She played hard to be an online game master with the name of "芦苇微微/Lu Wei Weiwei".
Because she refused to upload her real photo and was mercilessly abandoned by her partner, "真水无香/Zhen Shui Wu Xiang", but accidentally got the admiration of "一笑奈何/Yi Xiao Nai He", the master in online Jianghu.
In order to win the "Couple Challenge", Weiwei readily agreed to ally with "一笑奈何/Yi Xiao Nai He" and form a couple to join the competition.
They have been keeping contact with each other in the net world, but Bei Weiwei never dreamed that the partner who was born to die all the way was the popular figure of the same school, her senior brother Xiao Nai.
Whether online or offline, Xiao Nai is a master with outstanding ability. More coincidentally, he is the head of game development and testing.
Online, they are a couple, offline, they are working partners, fate is so wonderful.
When Bei Weiwei discovers this truth, they naturally get together…