Love O2O – Yang Yang, Zheng Shuang
Love O2O is an urban romantic drama based on Gu Man's novel of the same name, directed by Lin Yufen, led by Yang Yang, Zheng Shuang, co-starring Mao Xiaotong, Bai Yu, Zheng Yecheng, Niu Junfeng, Cui Hang, Zhang He, Ma Xinrui, Qin Yu, Song Yixing, Guan Xin, Zhang Chaoren, with Vin Zhang Binbin in a special appearance.

The drama tells the story of Bei Weiwei, a straight-A student in the computer department of Qinghua University, and Xiao Nai, a schoolboy and game master who met by chance in an online game and met in reality, thus getting to know and falling in love with each other and finally getting together.
Details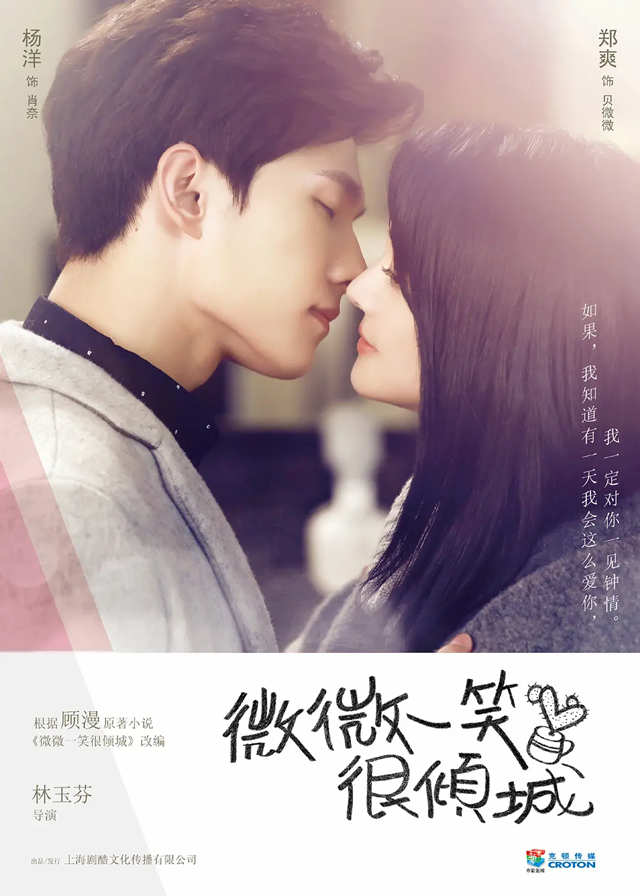 English Title: Love O2O
Chinese Title: 微微一笑很倾城
Genre: Youth, School, Romance
Tag: Gaming, Nice Male Lead, First Love, Smart Female Lead, Instant Attraction, Game World
Episodes: 30
Duration: 40 min.
Director: Lin Yufen
Writer: Gu Man, Shen Feixuan, Ouyang Xiaoyun, Li Wenting
Producer: Fang Ying, Xiong Xiaoling
Product Company: GOO ENTERTAINMENT
Released Date: 2016-08-22
Watch On: Viki, Apple TV
Subtitle:
Arabic, Bulgarian, Chinese, Croatian, Dutch, English, Finnish, French, German, Greek, Hindi, Hungarian, Italian, Korean, Norwegian, Polish, Portuguese, Romanian, Russian, Slovak, Slovenian, Spanish, Swedish, Turkish
Cast
Synopsis
The straight-A student and school beauty, Bei Weiwei, aspires to be a game engineer. She played hard to be an online game master with the name of "芦苇微微/Lu Wei Weiwei".
Because she refused to upload her real photo and was mercilessly abandoned by her partner, "真水无香/Zhen Shui Wu Xiang", but accidentally got the admiration of "一笑奈何/Yi Xiao Nai He", the master in online Jianghu.
In order to win the "Couple Challenge", Weiwei readily agreed to ally with "一笑奈何/Yi Xiao Nai He" and form a couple to join the competition.
They have been keeping in contact with each other in the net world, but Bei Weiwei never dreamed that the partner who was born to die all the way was the popular figure of the same school, her senior brother Xiao Nai.
Whether online or offline, Xiao Nai is a master with outstanding ability. More coincidentally, he is the head of game development and testing.
Online, they are a couple, offline, they are working partners, fate is so wonderful.
When Bei Weiwei discovers this truth, they naturally get together…
Recap
The beautiful and intelligent Bei Weiwei is a sophomore in the Computer Science Department of Qing University. She aspires to become a game engineer and has become a top player in online games under the pseudonym Lu Weiwei. However, due to not uploading her real photo in the game, Weiwei was cruelly abandoned by her in-game partner Zhen Shui Wu Xiang.
Xiao Nai, a senior student in the Computer Science Department of Qing University, is a gaming master known as Yi Xiao Nai He and ranked first on the game leaderboard. As he is about to graduate, Xiao Nai plans to start his own gaming company. When he first saw Weiwei playing games in an internet cafe, he was immediately attracted to her. After seeing that Zhen Shui had married someone else in the game, Xiao Nai took the initiative to invite Weiwei to become his in-game partner.
In order to achieve a good ranking on the game PK leaderboard, Weiwei promised to become a partner with Yi Xiao Nai. Xiao Nai's roommates in real life were curious about who this mysterious person was that made the gaming god fall in love. Xiao Nai did not appear on the basketball court during the school basketball game, but instead brought his mobile game to a press conference and received recognition from major companies. Weiwei and Xiao Nai's in-game partner banquet proceeded as planned, with various top players attending, but Xiao Yu Yao Yao and her companions made sarcastic remarks on their way to the wedding. Zhao Erxi discovered someone on the school forum was slandering Weiwei, and Weiwei traced the IP address to Cao Guang, clarified the situation, and ask Cao Guang to apologize.
Meng Yiran begged her cousin Zhen Shaoxing, who is known as Zhen Shui Wu Xiang in the game, to take her as an intern at the company where her uncle works, which may collaborate with Xiao Nai. Weiwei and her roommates also planned to apply for internships at the same company. On the day of the interview, Xiao Nai also went to the company for a meeting and remained indifferent to Meng Yiran's deliberate approach. During her interview, Zhao Erxi mistakenly mentioned Weiwei's game ID, causing Zhen Shaoxing, who was listening in, to misunderstand that she was Luwei Weiwei in the game. Weiwei confirmed her tutor background to Cao Guang, who then deleted his post and apologized to her.
Weiwei took the initiative to confide her feelings, and Cao Guang couldn't help but develop a secret crush on her. Shaoxiang posted a video on the forum and implied that Weiwei was bothering him, which made her very angry. Late arrival Erxi was pranked by Cao Guang, and they became enemies as a result. Xiaonai suggested a duel with Shaoxiang to help Weiwei resolve the video issue. Weiwei lied and said she liked Xiaonai to reject Cao Guang, but unexpectedly Nana used this as an opportunity to mock him. Roommates advised Cao Guang to establish common interests with the person he likes, so he decided to start playing online games.
Cao Guang challenged Xiao Nai to a basketball game but lost miserably. Xiao Nai found out that Cao Guang was pursuing Wei Wei and challenged him to another game. With Wei Wei's help, Xiao Nai and his friends defeated Meng Guai. Wei Wei wanted to record a video of the main storyline of the game where a female thief falls in love with a musician but is killed. Xiao Nai promised to help her. Zhao Erxi frequently lost in the game and asked Wei Wei to help her defeat monsters. Xiao Nai attended his father's elective course and attracted attention from his classmates, but he was actually trying to get closer to Wei Wei.
Xiao Nai's adaptation of "Female Thief Robbing a Wedding" video deeply moved Weiwei. He secretly observed Weiwei in the library, but she didn't know that Xiao Nai already knew her true identity. Erxi acted righteously in the game and unexpectedly took on a disciple. Weiwei and Xiao Nai successfully won the championship in the video competition. After learning that Zhen Shui and Xiao Yu Yao Yao had met in real life, Weiwei also looked forward to meeting the great god in person. When the acquisition of Zhenyi Technology failed, they privately contacted Lao Yu to try to undermine the deal, but Xiao Nai remained calm and composed.
Weiwei and Xiaonai successfully passed the final level of the game's couple mission. Weiwei was imprisoned at the bottom of the valley, and Xiaonai fought his way through to rescue her. In the game, the Xiaoyu family once again falsely accused and harassed Weiwei, causing her to angrily leave the guild. Zhenyi tempted Lao Yu with a generous reward, and Meng Yiran was caught in a dilemma after learning about her uncle's plan to undermine Xiaonai. Despite her best friend's persuasion, she decided to side with her uncle. Xiaonai was prepared for Zhenyi's actions and calmly dealt with them with his roommates. In the game, Xiaoyu Qingqing once again falsely accused Weiwei, and Xiaonai publicly defended his wife, causing the great god to develop a favorable impression of Weiwei.
Weiwei and Xiaonai met Shaoxiang and Yaoyao by chance during the Couple's Competition, but unexpectedly, Shaoxiang and Yaoyao ran away before the competition. Leader Diemeng asked Weiwei to return to the gang but was rejected, and she was forced to break up with Zhan Tianxia as punishment for Qingqing. Erxi received an internship invitation from Zhenyi Technology, which shocked everyone. Xiaonai had a car accident and missed the final of the Couple's Competition, causing a lot of discussion among the game players. Weiwei was distraught because she couldn't contact Xiaonai, and her roommates were puzzled.
Xiao Nai did not blame Ban Shan after waking up, but Ban Shan felt guilty about the car accident. Wei Wei was worried about Xiao Nai, and Er Xi comforted Wei Wei. Xiao Nai waited by the computer for Wei Wei to come online, while Wei Wei watched videos of Xiao Nai's proposal all day. Cao Guang tried to please Er Xi to pursue Wei Wei, and Er Xi surprisingly developed feelings for him. Cao Guang confessed his love to Er Xi in the game, and they became a couple. Feng Teng proposed to buy the copyright of the proposal video, but Wei Wei immediately logged into the game and learned about Xiao Nai's car accident. Xiao Nai took the opportunity to suggest meeting Wei Wei in person.
Weiwei picked out new clothes to meet Xiao Nai, which confused her roommates. Weiwei waited for Xiao Nai at the agreed location, but was surprised to find out that Yi Xiao Nai He was actually Xiao Nai. Weiwei and Xiao Nai had dinner at a restaurant, and Weiwei couldn't calm down her excitement. Xiao Nai rode a bike to take Weiwei to the basketball court and took the initiative to ease the awkwardness. Xiao Nai's appearance at the basketball court attracted everyone's attention, but his eyes were only on Weiwei. Zhao Erxi and others thought that Weiwei and Xiao Nai were not a good match, but Weiwei spoke up for herself. Xiao Nai talked to Weiwei in public, which shocked everyone.
Reviews
You May Also Like
Related Posts
Chinese Dramas Like Love O2O

Yang Yang is Dating Wang Churan? The Media Revealed Their Relationship

What's Yang Yang And Zhao Lusi's Relationship?

Yang Yang's 5 rumored Girlfriend, Vicotria Song Was His Girlfriend?

Yang Yang, Dilraba: Is It Possible For them To Be In A Relationship In Reality?

What's Allen Deng Lun and Li Qin's Relationship? The Wedding Has Been In Preparation?

Yang Yang Was Involved In The Rumor Of Dating His Fan.

Xiao Zhan Ranked 1st, Wang Yibo 2rd - The Most Popular Chinese Actor in Thailand

Yang Yang Photos

Yang Yang, Dilraba: The Wedding Scene Of "Jing Tu CP" Was Exposed In Advance.

Zheng Shuang's New Apology To Gina Jin Chen Is Hype?

Does Zheng Shuang Have An Affair With Neo Hou? The Hou Minghao Studio Denied The Rumor

The Two Sweet Dramas Starred By Yang Yang, Ding Yuxi, Who Will You Choose?

Zheng Shuang Dramas, Movies, and TV Shows List

Yang Yang Dramas, Movies, and TV Shows List

Zheng Shuang Apologized For Talking Gossip About Deng Lun And Gina Jin Chen's Relationship

Zheng Shuang and Zhang Heng already have two babies?

Zheng Shuang's custody battle began after the adoption plan blocked by Zhang Heng.

Cai Xukun And Zheng Shuang's Fans Quarrel Over The Spokesperson Of PRADA

Zheng Shuang Evaded Tax And Was Fined 299 Million Yuan!