Who Rules The World – Yang Yang, Zhao Lusi
Who Rules The World is a historical wuxia romantic drama produced by Yang Xiaopei and Fang Fang, directed by Yin Tao, led by Yang Yang and Zhao Lusi, co-starring Zhang Fengyi, Carman Lee, Xuan Lu, Lai Yi, Liu Ruilin, Zhang Tianyang, Zhang Haowei.

The drama is based on the novel of the same title by Qinglingyue, which tells the story of Hei Fengxi(Feng Lanxi) and Bai Fengxi(Feng Xiyun), who seclude themself in the mountains to spend the rest of their life together after experiencing the changes of the court.
Details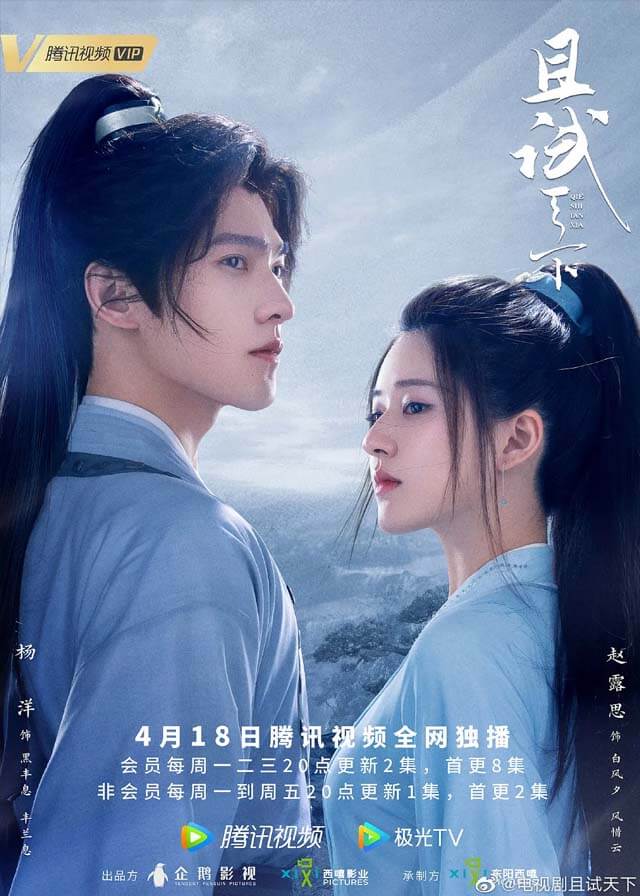 English Title: Who Rules The World
Chinese Title: 且试天下
Genre: Historical, Romance, Wuxia
Tag: Martial Arts, Friends to Lovers, Bickering Couple, Strong Male Lead, Power Struggle, Male Chases Female First
Episodes: 40
Duration: 45 min.
Director: Yin Tao, Yu Yonggang, Shi Zhanli
Writer: Zhang Xiao, Shang Menglu
Producer: Yang Xiaopei, Fang Fang
Product Company: Tencent Penguin Pictures, XIXI Pictures
Released Date: 2022-04-18
Watch On: WeTV, 腾讯视频
Subtitle:
English, Chinese, Thai, Indonesian, Malay, Vietnamese, Korean, Spanish, Portuguese, Arabic
Cast
Synopsis
Feng Lanxi, who has a paragon of beauty and a very deep mind, it seems that everyone is in his calculations, is called "black fox" by Bai Fengxi.
With the name of "benevolent king", Feng Lanxi is very popular among the people.
Determined to win the world, Feng Lanxi marries Feng Xiyun (Bai Fengxi).
Feng Lanxi has cultivated the most beautiful flower "Lanyin Biyue" for eight years just for Feng Xiyun.
Ten years together, there is still a gap between Feng Lanxi and Feng Xiyun.
In the battle of Dongdan, Feng Xiyun is badly injured.
Feng Lanxi realizes his real feeling, not hesitating to use all his energy to launch "Xuelao Tianshan" to save Feng Xiyun, and makes his own face aged 30 years.
After being cured by Jiu Wei, he restores as before.
Feng Lanxi gives up the final struggle for supremacy and the half of the country and retires with Feng Xiyun.
Reviews
You May Also Like
Related Posts
Chinese Dramas Like Who Rules The World

What's Yang Yang And Zhao Lusi's Relationship?

Yang Yang is Dating Wang Churan? The Media Revealed Their Relationship

How is Zhao Lusi and Chen Zheyuan's Relationship? "Yuan Xing Bi Lu" CP is Gaining Great Popularity

Yang Yang's 5 rumored Girlfriend, Vicotria Song Was His Girlfriend?

Does Rosy Zhao Lusi Have a Boyfriend? Her College Boyfriend was Exposed

Yang Yang, Dilraba: Is It Possible For them To Be In A Relationship In Reality?

What's Zhao Lusi, Leo Wu Lei's Relationship? Why Fans Can Not Calm Down

Yang Yang Photos

Zhao Lusi Photos

Zhao Lusi, Ryan Ding Yuxi Refused To Be CP, Will They Played In "The Romance Of Tiger And Rose 2"?

Liu Te, Rosy Zhao Lusi Were In A Relationship? His Ex-Girlfriend Was Rocket Girls' stylist

What's Allen Deng Lun and Li Qin's Relationship? The Wedding Has Been In Preparation?

Yang Yang Dramas, Movies, and TV Shows List

Zhao Lusi Dramas, Movies, and TV Shows List

Rosy Zhao Lusi was Involved in a Dating Rumor, Studio Issued a Statement

Yang Yang Was Involved In The Rumor Of Dating His Fan.

Xiao Zhan Ranked 1st, Wang Yibo 2rd - The Most Popular Chinese Actor in Thailand

Rosy Zhao Lusi, Liu Yuning Gained Large Popularity For "Hao Yan CP" In "The Long Ballad"

Terry Liu Te: Shy To Shoot Kiss Scenes With Zhao Lusi, Don't Mind Being Judged On Looks