The Long Ballad – Dilraba Dilmurat, Leo Wu
The Long Ballad is a historical drama co-produced by Zhejiang Huace Film & TV Co., Shanghai Yanyu Film & Culture Media Co., Penguin Pictures, and Shanghai Yanran Film & Culture Media Co. It is directed by Zhu Ruibin, starring Dilraba Dilmurat, Leo Wu, Liu Yuning, Zhao Lusi, Fang Yilun.

The series is adapted from Xia Da's Comic of the same title "Changge Xing", which won the Golden Monkey Award and CACC for Chinese cartoons.
Details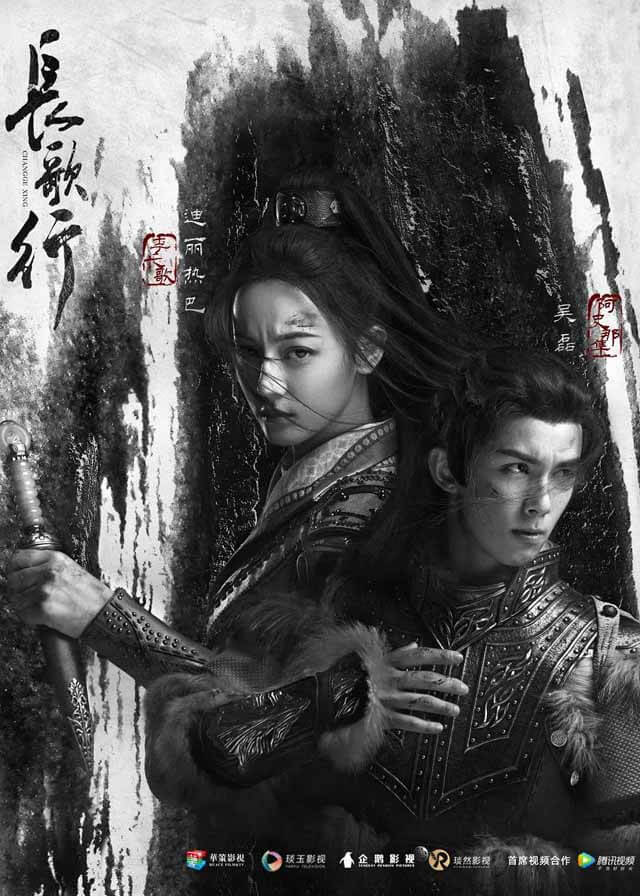 English Title: The Long Ballad
Chinese Title: 长歌行
Genre: Historical, Youth, Romance, Adventure, War
Tag: Friends to Lovers, Revenge, Strong Female Lead, Adapted from a Manhua, Power Struggle, Smart Female Lead
Episodes: 49
Duration: 45 min.
Director: Zhu Ruibin
Writer: Yuan Yufei, Pan Nan, Wang Yuting, Ji Sangrou, Yuan Shuai
Producer: Yan Bei
Product Company: Zhejiang Huace Film & TV Co., Shanghai Yanyu Film & Culture Media Co., Penguin Pictures, and Shanghai Yanran Film & Culture Media Co
Released Date: 2021-03-31
Broadcast Website: Viki, Huace
Cast
Synopsis
In the ninth year of the Tang Dynasty, there is a sudden change in the inner palace, and Li Changge (Dilraba Dilmurat ), the daughter of the former prince, escapes and goes to Youzhou for help.

On the way, Changge meets Ashina Sun (Leo Wu), a secret agent of a grassland tribe who uses the name Qin Zhun, and they become close to each other. Changge smashes a conspiracy in Youzhou, but at the same time, her identity is revealed. She goes to Shuozhou to escape from the disaster.
Changge hides with Gongsun Heng, the official of Shuozhou. She helps fight against the grassland forces, but she doesn't know that the enemy general is Qin Zhun. Changge is shocked and distressed but fights against him.

However, Shuozhou, a lonely city, eventually falls. Changge becomes a prisoner of war and is taken to the grassland. She discovers that the Great Khan has other ambitions by accident. To save the country,Changge makes some efforts but failed. Changge and Sun are separated.
As Changge goes into a life of exile, she gradually learns the truth that the benevolent is invincible and finally puts aside her personal grudges. After discovering that the forces of the former Sui were the mastermind behind the trouble, Changge and Sun join together to protect the peace between the Tang Dynasty and the grasslands.

They finally realize their feelings for each other and work together to overcome the crisis.
Reviews
You May Also Like
Related Posts
Chinese Dramas Like The Long Ballad

What's Zhao Lusi, Leo Wu Lei's Relationship? Why Fans Can Not Calm Down

Rosy Zhao Lusi was Involved in a Dating Rumor, Studio Issued a Statement

How is Zhao Lusi and Chen Zheyuan's Relationship? "Yuan Xing Bi Lu" CP is Gaining Great Popularity

Rosy Zhao Lusi, Liu Yuning Gained Large Popularity For "Hao Yan CP" In "The Long Ballad"

Does Rosy Zhao Lusi Have a Boyfriend? Her College Boyfriend was Exposed

Does Dilraba Dilmurat have a Boyfriend? Secret Marriage Rumor Troubled Her Much

What's Yang Yang And Zhao Lusi's Relationship?

Leo Wu Photos

Dilraba Dilmurat Photos

Zhao Lusi Photos

Dilraba, Leo Wu Lei Playing A Couple In "The Long Ballad" Led A Hot Discussion On The Net.

Liu Te, Rosy Zhao Lusi Were In A Relationship? His Ex-Girlfriend Was Rocket Girls' stylist

Liu Yuning Dramas, Movies, and TV Shows List

Leo Wu Dramas, Movies, and TV Shows List

Dilraba Dilmurat Dramas, Movies, and TV Shows List

Zhao Lusi Dramas, Movies, and TV Shows List

Vin Zhang Binbin's Rumored Girlfriend, Who Is His Ideal Type?

Does Leo Wu Lei Have A Girlfriend? What's His Ideal Type?

Zhao Lusi, Ryan Ding Yuxi Refused To Be CP, Will They Played In "The Romance Of Tiger And Rose 2"?