Sweet Dreams – Dilraba Dilmurat, Deng Lun
Sweet Dreams is an urban romantic comedy directed by Jin Sha, led by Dilraba Dilmurat and Deng Lun, co-starring Zhu Xudan, Chen Yilong, Wang Ruizi, Zhang Haowei.

The drama tells the story of Ling Ling Qi, who has dreams of a career in floristry, and master florist Bo Hai, who bond over flowers and pursue their true love and dreams together.
Details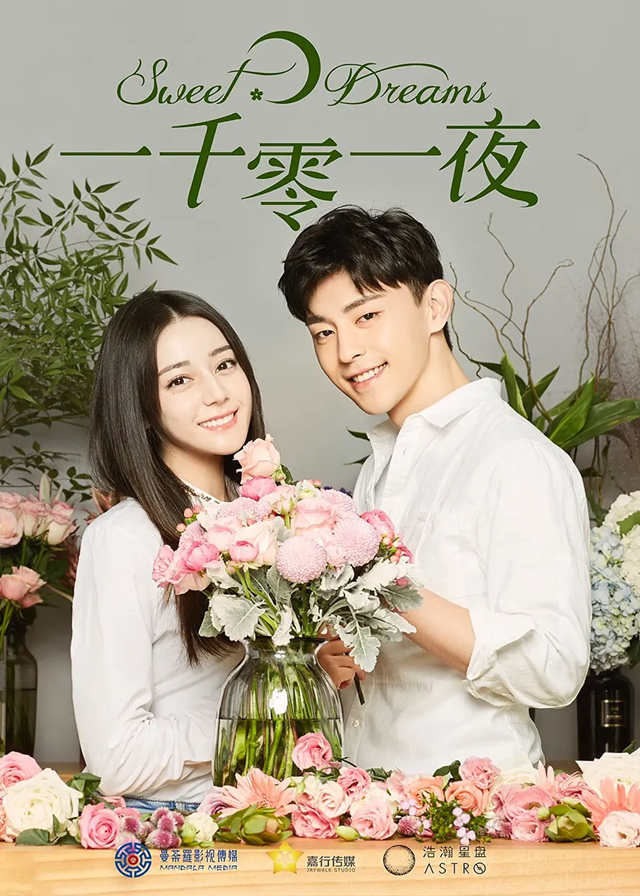 English Title: Sweet Dreams
Chinese Title: 一千零一夜
Genre: Urban, Romance, Comedy
Episodes: 49
Duration: 45 min.
Director: Jin Sha
Writer: Qian Jingjing, Xu Ziyuan, Cheng Tingyu
Product Company: MANDALA MEDIA MEDIA, JAYWALK STUDIO, ASTRO
Broadcasting Website: Tencent Video, YOUKU, Viki
Released Date: June 25, 2018
Cast

Dilraba Dilmurat
as Ling Lingqi

Deng Lun
as Bo Hai

Chen Yilong as Mo Nan

Zhu Xudan
as Zhou Xinyan

Wang Ruizi as Lu Baoni

Zhang Haowei as Chen Mo

Zhang Junming as Lv Dawei
Qu Gaowei as Wen Guangqi

Wang Bingxiang as Shi Ji

Fu Jia as Ling Guoliang
Synopsis
Ling Lingqi, an employee of a floral technology company, is a good girl who is sincere, kind, and helpful, but has a low self-esteem and weak character.
This shortcoming seriously affects her life, making it difficult for her to work well and realize her ideal at work, and also afraid to express her affection to her beloved boss, Bo Hai.
An unexpected opportunity, she and Bo Hai participated in the Hao Meng technology company launching a high-tech sleep improvement bracelet test.
A malfunction in the bracelet's functional magnetic resonance instrument mistakenly transmitted Ling Lingqi's brainwave data to Bo Hai's dream model. The error allowed Ling Lingqi to gain the ability to enter Bo Hai's dream world.
Since she was only in the other's dream, Ling Lingqi temporarily put aside his real-life shortcomings of low self-esteem and cowardice and tried to help Bo Hai overcome the psychological shadows left by his childhood.
The courage in the dream world made Ling Lingqi reflect on her own flaws in life, and she actively worked hard to change herself, gradually becoming confident and brave.
In the intersection of dreams and reality, the two young people heal each other and reap a beautiful career and love!