The King's Woman – Dilraba Dilmurat, Vin Zhang
The King's Woman is a historical romantic drama directed by Liu Xin and starring Dilraba Dilmurat, Vin Zhang Binbin, and Li Tai.

The drama is adapted from Wen Shiren's posthumous book "秦时明月之荆轲外传" and revolves around Gongsun Li, Ying Zheng, Jing Ke and Han Shen, tells a story of intrigue and love that takes place in the palace and the Jianghu.
Details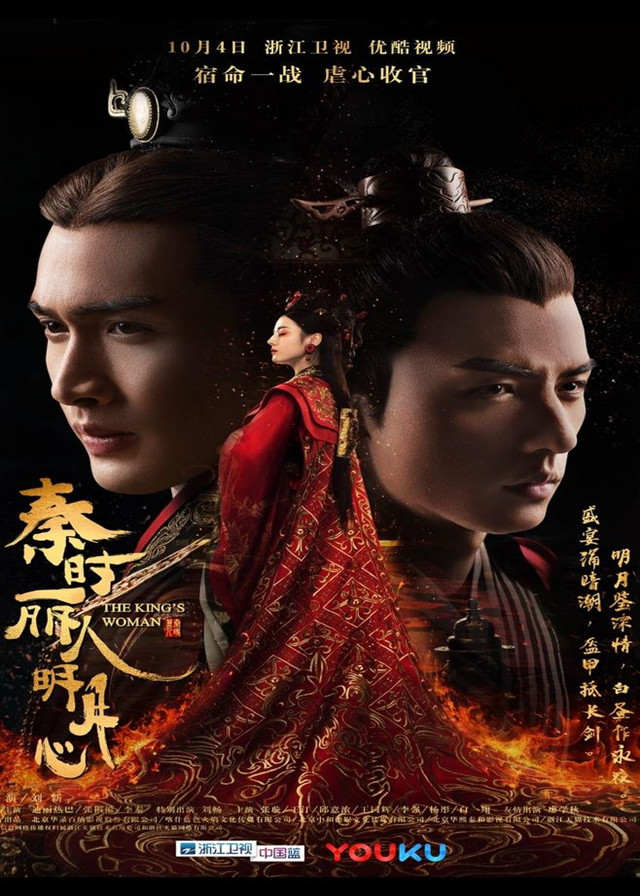 English Title: The King's Woman
Chinese Title: 秦时丽人明月心
Genre: Historical, Romance
Tag: Qin Dynasty, Harem, Strong Male Lead, Love Triangle, Pregnancy, Unrequited Love
Episodes: 48
Duration: 45 min.
Director: Liu Xin
Writer: Chen Huiru, Zhu Xianzhong
Producer: Zhao Wenjing
Product Company: Hualu Baina Film&TV, ZHONGHE MEDIA, BRIGHT TIME
Released Date: 2017-08-13
Broadcast Website: Viki, HLBN 华录百纳
Cast
Synopsis
Since childhood, Gongsun Li and her two senior brothers studied martial arts with her grandfather.
She met and saved a young man, Ying Zheng, who was being bullied. Ying Zheng was obsessed with the young girl.
In the chaos of the warring states, Gongsun Li fell in love with her second senior brother Jing Ke, but they left their hometown due to the war and lived together.
The second brother was injured by poisoning to protect Gongsun Li. In order to exchange for the antidote, Gongsun Li married Ying Zheng and becomes his favorite concubine Li Ji, but she found out that she has already been pregnant.
After the birth of Tianming, Ying Zheng treated him like his own son, and Li Ji was deeply moved.
The elder senior brother, Han Shen, came to the rescue and learned the truth, so he lurked in the palace as a guard to protect her and the baby.
Li Ji found out the soft and delicate side of this cold-blooded man and fell in love with him unconsciously.
Reviews
You May Also Like
Related Posts
Chinese Dramas Like The King's Woman

Vin Zhang Binbin's Rumored Girlfriend, Who Is His Ideal Type?

Does Dilraba Dilmurat have a Boyfriend? Secret Marriage Rumor Troubled Her Much

Did Vin Zhang Binbin Get Married And Have A Child Secretly? He Posted A Response To Celebrate Singles' Day

Yang Yang, Dilraba: Is It Possible For them To Be In A Relationship In Reality?

Will Johnny Huang And Dilraba Declare Together After The Spring Festival Gala

Luo Yunxi and Dilraba His Favorite Actress on the same stage

Dilraba and Johnny Huang were suspected of being in love, fans asked the studio to disprove the rumor.

Vin Zhang Photos

Dilraba Dilmurat Photos

Dilraba, Leo Wu Lei Playing A Couple In "The Long Ballad" Led A Hot Discussion On The Net.

Yang Yang, Dilraba: The Wedding Scene Of "Jing Tu CP" Was Exposed In Advance.

Diliraba's Suspected Pregnancy Triggered The Discussion Once Again

Vin Zhang Dramas, Movies, and TV Shows List

Dilraba Dilmurat Dramas, Movies, and TV Shows List

Jing Tian Coupled With Vin Zhang Binbin In "Rattan", Achieving Big Reversal On Pubilc Praise

The Two Sweet Dramas Starred By Yang Yang, Ding Yuxi, Who Will You Choose?