The Flame's Daughter – Vic Chou, Dilraba Dilmurat
The Flame's Daughter is a historical fantasy romantic drama directed by Leung Sing Kuen and Li Weiji, starring Vic Chou, Dilraba Dilmurat, Vin Zhang Binbin, and Liu Ruilin.

The drama is adapted from Ming Xiao Xi's novel of the same name and tells the story of Lie Ruge, the heir to the Liehuo Villa, who was embroiled in a whirlwind of past events of nineteen years ago.
Details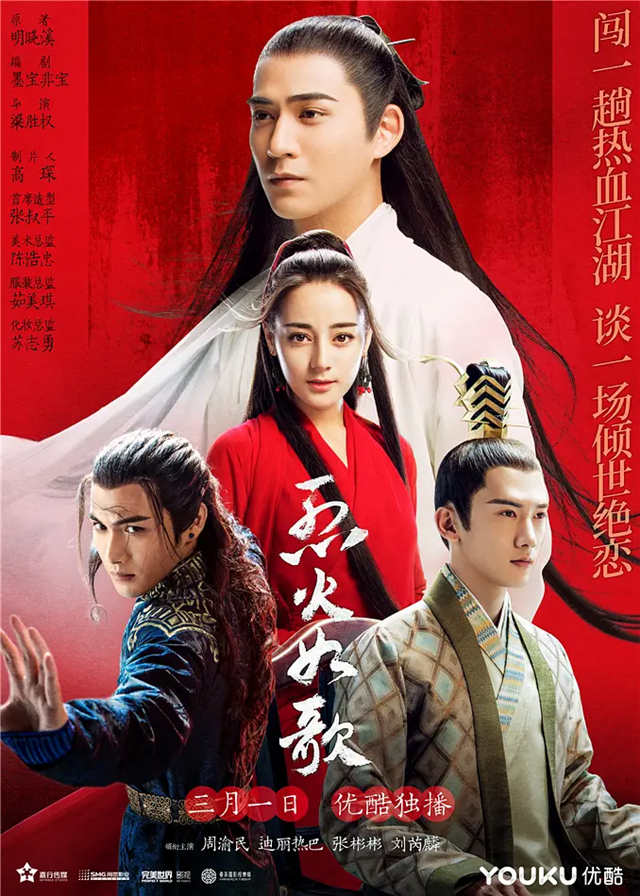 English Title: The Flame's Daughter
Chinese Title: 烈火如歌
Genre: Historical, Fantasy, Romance, Wuxia
Tag: Reverse-Harem, Revenge, Betrayal, Love Triangle, Strong Female Lead, Older Man/Younger Woman
Episodes: 52
Duration: 45 min.
Director: Leung Sing Kuen, Li Weiji
Writer: Mo Bao Fei Bao
Producer: Gao Chen
Product Company: JAYWALK, SMG, PERFECT WORLD, SMG
Released Date: 2018-03-01
Watch On: Youku, MZTV Exclusive, Viki, youku.tv
Subtitle:
English, Chinese, Thai, Indonesian, Malay, Vietnamese, Spanish, Portuguese, Arabic, Dutch, French, German, Hungarian, Italian, Korean, Polish, Romanian, Serbian, Serbo-Croatian, Turkish
Cast
Synopsis
In ancient times, the Anye Palace was a danger to the world. Palace master Anye Luo likes his senior sister Anye Ming, but Anye Ming was married to warrior Zhan Feitian.
In order to protect the child of Zhan Feitian, Lie Mingjing swapped the newborn baby girl of Zhan Feitian and the newborn baby boy of Lie Mingjing, the owner of the Liehuo Villa.
The baby girl was named Lie Ruge by Lie Mingjing, and the baby boy was named Zhan Feng by Zhan Feitian. After the death of Zhan Feitian, Lie Mingjing adopted Zhan Feng.
Lie Ruge grew up with her senior brothers, Zhan Feng and Yu Zihan. Lie Ruge and Zhan Feng fell in love.
Anye Luo discovered that the Liehuo Villa was developing quickly and was determined to destroy it.
He lied to Zhan Feng that the murderer of Zhan Feitian was Lie Mingjing, causing Zhan Feng and Lie Ruge to break up.
Lie Ruge befriended Yin Xue, who adored Lie Ruge and protected her with all his efforts.
Then, Zhan Feng mistakenly believed in Anye Luo and Yi Lang killed Lie Mingjing and framed the Pili Sect.
The butler of the Liehuo Villa, Yi Lang, who was involved in the baby-swapping incident and did a lot of evil, revealed the truth to Zhan Feng.
Zhan Feng realized that he had killed his own father, Lie Mingjing, and he was determined to take revenge on Anye Luo.
Lie Ruge joined hands with Zhan Feng, Yu Zihan, and Yin Xue to defeat Anye Luo
From then on, the Anye Palace disappeared and the people lived a stable life.
Reviews
You May Also Like
Related Posts
Chinese Dramas Like The Flame's Daughter

Does Dilraba Dilmurat have a Boyfriend? Secret Marriage Rumor Troubled Her Much

Yang Yang, Dilraba: Is It Possible For them To Be In A Relationship In Reality?

Vin Zhang Binbin's Rumored Girlfriend, Who Is His Ideal Type?

Luo Yunxi and Dilraba His Favorite Actress on the same stage

Will Johnny Huang And Dilraba Declare Together After The Spring Festival Gala

Dilraba and Johnny Huang were suspected of being in love, fans asked the studio to disprove the rumor.

Yang Yang, Dilraba: The Wedding Scene Of "Jing Tu CP" Was Exposed In Advance.

Dilraba Dilmurat Photos

Dilraba, Leo Wu Lei Playing A Couple In "The Long Ballad" Led A Hot Discussion On The Net.

Diliraba's Suspected Pregnancy Triggered The Discussion Once Again

The Two Sweet Dramas Starred By Yang Yang, Ding Yuxi, Who Will You Choose?

Dilraba Dilmurat Dramas, Movies, and TV Shows List

Vic Chou Dramas, Movies, and TV Shows List