Eternal Love of Dream – Dilraba, Vengo Gao
Eternal Love of Dream is an immortal romantic drama directed by Yang Xuan and led by Dilraba Dilmurat and Vengo Gao Weiguang, co-starring Angel Liu, Wayne Liu, Lawrence Wang, James Li, Yuan Yuxuan, and Huang Junjie, with special appearances by Baron Chen and Dylan Kuo.

The drama is based on Tang Qi's novel of the same title, which tells the story of two thousand years of enduring love and obsession between the empress of Qingqiu Bai Fengjiu and the host of Tai Chen Palace, Emperor Donghua.
Details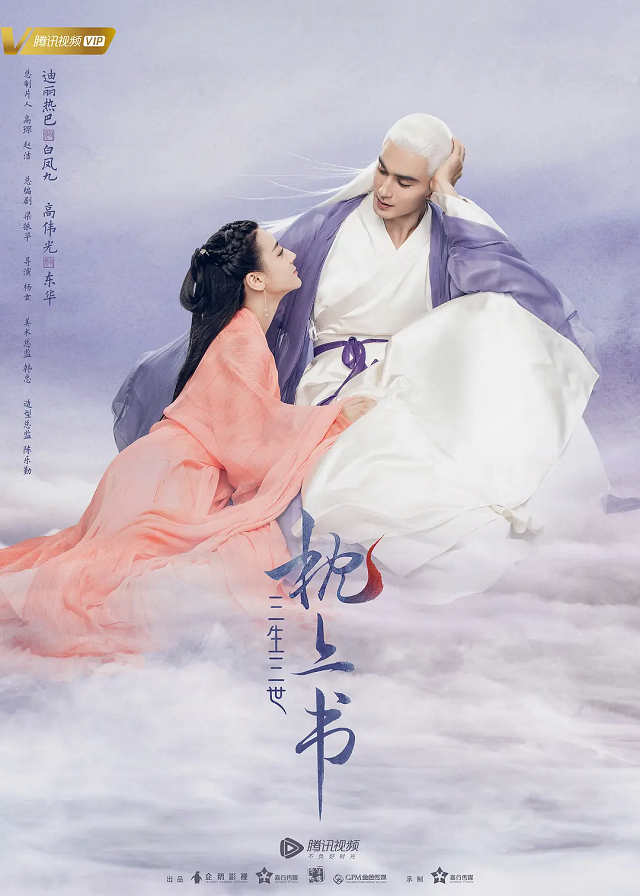 English Title: Eternal Love of Dream
Chinese Title: 三生三世枕上书
Genre: Fantasy, Romance, Historical, Immortal
Tag: Xianxia, Reincarnated Lovers, Female Chases Male First, Cold man/Warm woman, Revenge, Demon
Episodes: 56
Duration: 45 min.
Director: Yang Xuan
Writer: Liang Zhenhua, Hu Yating
Producer: Zhao Jie, Gao Chen
Product Company: TENCENT PENGUIN PICTURES, JAYWALK STUDIO, Huaze Xinxi, Jinse Chitang, Authrule Digital Media
Released Date: 2020-01-22
Broadcast Website: WeTV, TencentVideo, Viki, Prime Video
Cast
Synopsis
The Qingqiu empress Bai Fengjiu was saved by the Donghua emperor. She kept it in mind. To repay the kindness of Dong Hua, Bai Fengjiu went to the Tai Chen Palace as a palace maid for many years.
After Dong Hua was locked into the lotus field of ten evils, Bai Fengjiu transformed into a fox to save Dong Hua.
Since then, Bai Fengjiu accompanied Dong Hua as a fox and learned that Dong Hua will marry Ji Heng, Bai Fengjiu was sad and left.
Later, Dong Hua went to the mortal world to experience the disaster, Fengjiu also followed him.
In the valley of Fanyin, Fengjiu fell into the dream world of A Lanruo and experienced the past of A Lanruo and Shen Ye again. Dong Hua saved Fengjiu in the identity of Xi Ze.
In the battle with the evil Miao Luo, they overcame the evil. Eventually, Dong Hua and Bai Fengjiu got together with a happy ending.
Reviews
You May Also Like
Related Posts
Chinese Dramas Like Eternal Love of Dream

Does Dilraba Dilmurat have a Boyfriend? Secret Marriage Rumor Troubled Her Much

Vin Zhang Binbin's Rumored Girlfriend, Who Is His Ideal Type?

Yang Yang, Dilraba: Is It Possible For them To Be In A Relationship In Reality?

Will Johnny Huang And Dilraba Declare Together After The Spring Festival Gala

Luo Yunxi and Dilraba His Favorite Actress on the same stage

Dilraba and Johnny Huang were suspected of being in love, fans asked the studio to disprove the rumor.

Dilraba, Leo Wu Lei Playing A Couple In "The Long Ballad" Led A Hot Discussion On The Net.

Dilraba Dilmurat Photos

Diliraba's Suspected Pregnancy Triggered The Discussion Once Again

Yang Yang, Dilraba: The Wedding Scene Of "Jing Tu CP" Was Exposed In Advance.

The Two Sweet Dramas Starred By Yang Yang, Ding Yuxi, Who Will You Choose?

Dilraba Dilmurat Dramas, Movies, and TV Shows List

Vengo Gao Dramas, Movies, and TV Shows List